DIY Generation: How to be your own boss by 25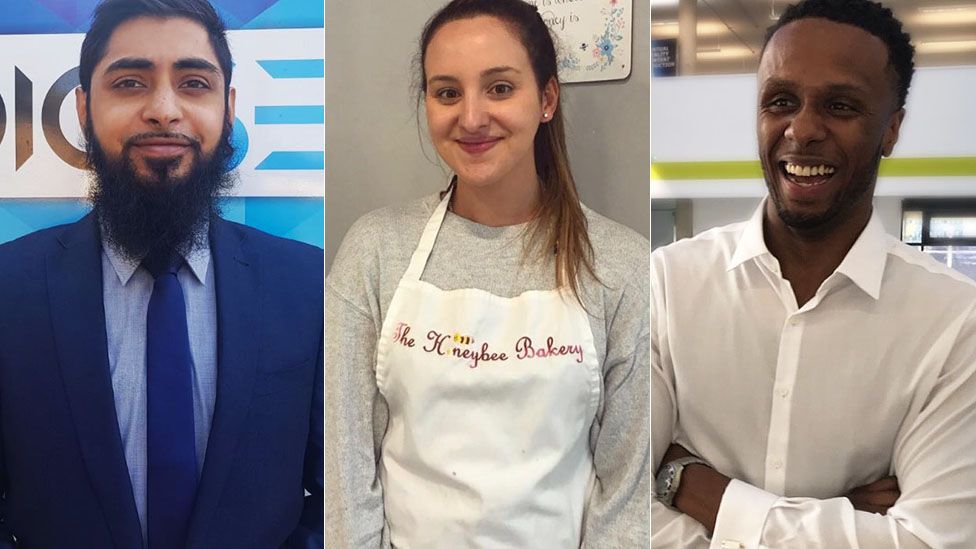 So you've got a business idea which you're sure is going to make you money - but just how do you get the ball rolling?
Most people who want to start up on their own are pretty clueless at the beginning.
There's a lot to think about - the accounts, marketing and the money.
But statistics suggest a growing number of people aged 16-24 are choosing to work for themselves - the figure has almost doubled since 2001.
But the harsh reality is that a lot of people fail - almost half of start-up businesses don't make it past the third year, according to academics at the Enterprise Research Centre.
From an app developer to a bakery owner - Newsbeat asks some young entrepreneurs their top tips.
'The best thing to do is go for it'
Adam Ali, 21, says he wanted to start his business Digisee in Huddersfield because he didn't want to work for anyone else.
"I've been rejected from so many jobs, that I believe I can do better, and I can do it better by doing it myself," he tells Newsbeat.
Adam got involved with a scheme which is run by Dragons' Den star Peter Jones.
Adam pitched his idea and went on to win the National Entrepreneur of the Year - that meant £5,000 prize money and a place to study enterprise at university.
"If you have an idea, a passion," says Adam, "the best thing to do is go for it!
"If you need to learn something, then go and learn it - and surround yourself with positive people."
If you're very lucky you might have a generous family member to give you a cash boost, but if not, the government offers loans for start-ups.
It's lent £54m to 18-24 year-olds since 2012.
Vittoria Capaldi, 20, says she was so young when she started out that she "didn't look like a great candidate" to banks and other lenders.
Instead, she applied for a start-up loan for her bakery business in Glasgow in 2014.
Vittoria borrowed £20,000 over five months.
That paid for baking equipment plus the decor and repairs she needed to start up The Honeybee Bakery in Milngavie, East Dunbartonshire.
"They were definitely more understanding to your business plan and ideas than I felt the banks were," she says.
Get help from bigger businesses
Ashleigh Plummer, 25, developed a sports app but wanted some extra help in marketing it.
He applied to the Gymshark hub at Innovation Birmingham, where he was offered free desk space and mentoring.
The campus has more than 160 digital technology businesses and several big companies, such as Tata and Barclays, have hubs there.
Their aim is to get big businesses to help out start-ups, either financially with mentoring or through networking.
"What brought me here more than anything was Gymshark and the prospect of working with them," Ashleigh tells us.
"The way they do their marketing and run their business is the exact same way I see myself running Sports Easy.
"My mentor will have knowledge I don't have and will be able to shed light on my product - he'll also force me to ask questions."
Ask friends, family and colleagues to get involved
More and more businesses are turning to crowdfunding to give their company a cash boost.
Akshay Ruparelia was just 18 when he started Doorsteps.co.uk two years ago thanks to loans from his family.
Then earlier this year he set up a crowdfunding page to pull more money into the company.
A company that's now worth £18m.
He says customers and staff wanted to invest because they believe in the company - he now has 1,000 shareholders.
Akshay adds: "People want to be part of the revolution."