How country stars Kacey Musgraves and Chris Stapleton cracked Radio 1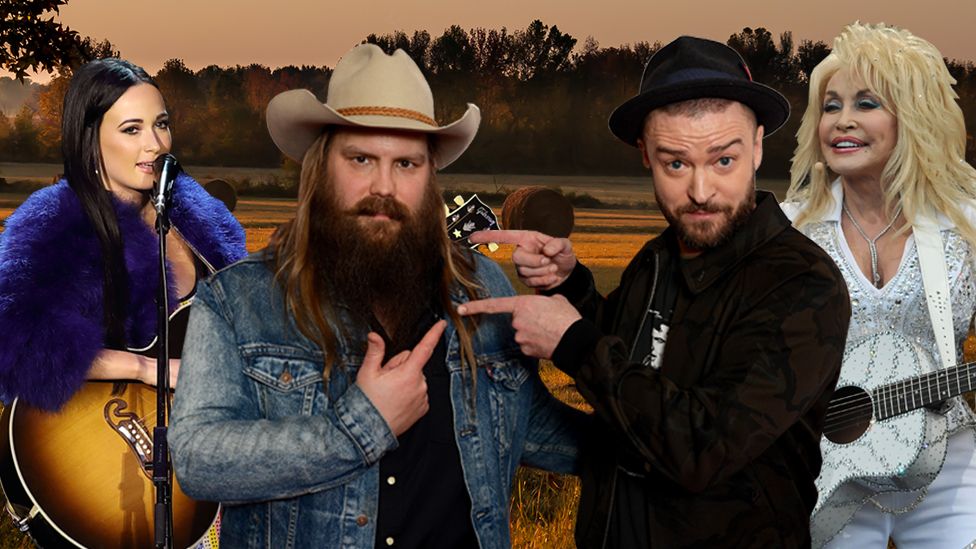 Think "country music" and certain stereotypes probably spring to mind.
Banjos, cowboys, people wearing boots and singing about trucks, guns and whiskey.
But in 2018 the genre has moved away from that.
This is the year that American country, other than Dolly Parton, has had extraordinary success in the UK charts and has been played far more on radio.
A lot of the popularity is down to collaborations, such as Say Something by Justin Timberlake and Chris Stapleton.
One of the major artists bridging the gap between country and pop is Kacey Musgraves.
"When someone asks me: 'What kind of music do you play?' I hesitate to say country music sometimes, even though I'm really proud to be a country artist," Kacey tells Radio 1 Newsbeat.
Earlier this year she supported Harry Styles on his tour.
Thank you @KaceyMusgraves for playing with us for the last several weeks. We've all loved watching you. Travel safe. Thank you. H

— Harry Styles. (@Harry_Styles) July 16, 2018
Her latest album Golden Hour has moved away from the old-school country sound but still uses traditional instruments like the steel guitar.
She says: "It's a little throwback to the 70s but it has a foot in the future too. If Daft Punk made a country record, what would it sound like?
"Surely there is a world where all these influences can live in harmony together?"
Kacey has been actively supportive of LGBT people through her music, and has gained a lot of fans because of it, with the lyrics of Rainbow subtly speaking to those who have had issues coming out.
The appetite for modern country is also down to streaming services and the accessibility of the music to a global audience.
Spotify says the number of people streaming the genre outside of the United States has grown 21% since 2015.
Their main country playlist, called Hot Country, has more than five million subscribers.
The head of country for Spotify, John Marks, says it's a good time for the genre.
He is based in Nashville, Tennessee - the historic home of country music made famous by the honky-tonk scene, the Grand Ole Opry showcase stage and legends like Johnny Cash.
"Those lingering stereotypes of country music being 'stuck in time' are diminishing now," John says.
"So many different artists exist under the country umbrella.
"Everybody is working together from across genres and that's making it easier for people to consume."
"The combination of strong collaborations with streaming is making this music available for people everywhere," John says.
"Not only that, but there is a real authenticity that people connect with."
'Misconceptions for a long time'
Of course, non-US artists are making country music too. Catherine McGrath from Northern Ireland is one of them.
She spoke to us at her sold-out gig at Bush Hall in London: "Now, with streaming services where you can listen to country more easily, people are realising it's more about lyrics and storytelling and real-life experiences."
Catherine, who is 21, says she enjoys seeing young girls at her shows.
"When they come up to me and say they relate to my song, that's what country music is about for me.
"People just need to listen to the music as good songs, and not be worried about labelling it as country. Music is progression, and it shouldn't have to fit into a category."
The former Radio 1 DJ has played a key role in the success of the UK's biggest country music festival, C2C, which has now been running for five years.
It brings Nashville's superstars to London, Glasgow and Dublin every spring.
And C2C isn't the only country festival on the UK scene: 2018 saw new events including Black Deer and The Long Road.
As the artists cross into the world of pop more than ever before, they are hoping more people in the UK will fall in love with country music.