'Justin Bieber's burrito' and other foods eaten 'wrong'
By De'Graft Mensah
Newsbeat reporter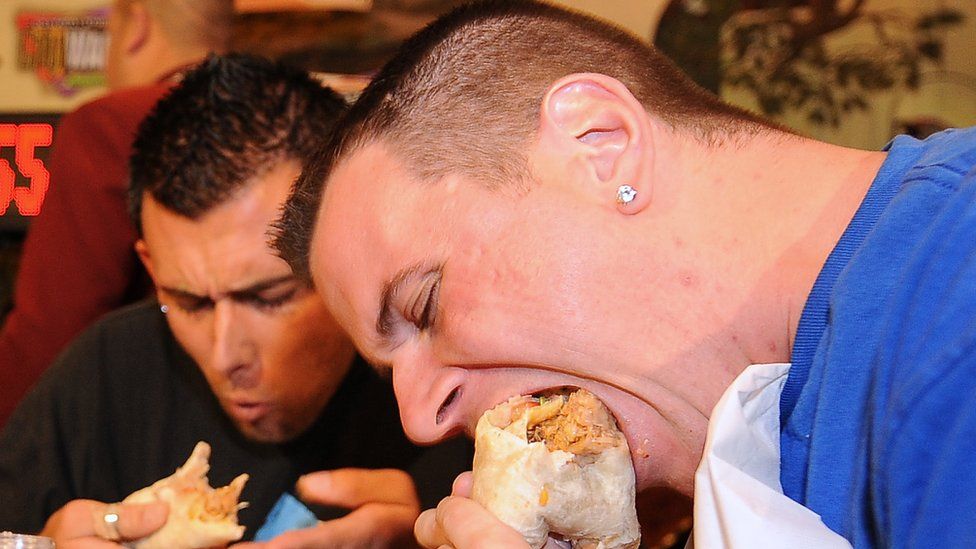 A picture of a burrito has gone viral. Yes, you read correctly. A burrito. And for good reason.
The image is of a man eating a burrito in what is quite possibly the least conventional way to eat a rice-filled Mexican wrap.
And no doubt adding to the confusion is one big question: is that Justin Bieber?
The stranger in question looks scarily like the singer, but has his face somewhat hidden.
Whether it's Bieber or not is a debate lots of people are having.
But what there's less argument about is this alternative way to eat a burrito.
People compared the mystery man's technique to that of an instrument.
Although maybe he's on to something - maybe this is the future?
Justin Bieber is actually a genius. He's eating the middle of the burrito first so he can have a mini-burrito left over in each hand after. JB living in 3018 👀 pic.twitter.com/ETrUO6lRYf

— max 🌊 (@maxrgoodman) October 25, 2018
If you've got this far and are wondering what all the fuss is about, we're worried for you: burritos are obviously eaten upright, right?
This isn't a one-off case.
We all have our own special ways to eat certain foods apparently. Scroll down for some shocks.
Where else to start than with Michael Buble?
In 2016, a picture of the singer eating corn on the cob had everyone talking.
Why? He was eating it like... well, a burrito.
The singer stuck to his guns and you know what, fair play. You do you, Michael.
Skepta v Matt Edmonson v Bananas
Bananas. Surely they're not controversial? Oh how wrong you are.
In a 2010 interview Radio 1's Matt Edmondson got into a debate with grime artist Skepta over what the correct way to eat a banana is.
Skepta was convinced that the proper way is to hold the fruit at the bottom and peel from there.
But Matt was trying to convince the rapper that he probably wasn't eating it in the most efficient of ways.
Although there is no official way to eat a banana, Skepta's way is definitely less conventional.
It's not just the celebs with what some would call "different" ways of eating.
How would you eat a Kit Kat? Most people would snap each finger off one at a time.
But one Twitter user's boyfriend took things to a level they did not need to be taken to.
Biting straight into things seems to be a regular theme.
The easiest - and most fun - way to eat cheese strings is surely to peel off the strands of cheese? Isn't the clue in the name?
Once again, it seems like you are wrong.
I don't understand people who bite string cheese rather than peel it. Why do you want to remove the joy from a very fun snack? 🤷🏻‍♀️

— Christina La Porte (@xtina_laporte) June 21, 2017
I just watched my partner eat a string cheese stick in four bites. Without pulling the strings apart. I'm not sure what to do about this.

— J. Collin Priddy-Barnum (@CollinEyeJoe) August 26, 2018
Oh, the age old debate. Do you eat pizza with a knife and fork, or do you stick with your hands?
Eating with your hands is definitely easier, but you also avoid crumbs with a knife and fork.
But this Twitter user has introduced a new question to the debate: sliced or whole?
Look, the most important way to eat your food is to just eat it. We get it.
But there are definitely some unwritten rules around food - which following the burrito incident somebody has actually written - and with these rules there are two types of people.
Those who abide by the rules and those who really, really break them.