How Courtney Act's The Bi Life is challenging bisexual misconceptions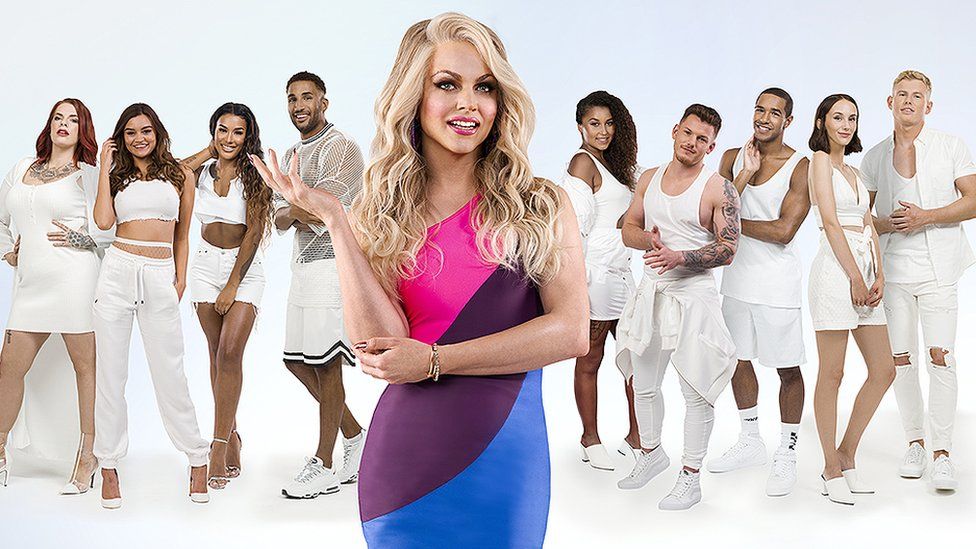 We've seen dating for beautiful people, dating for naked people and now, we've got dating for bisexual people.
The Bi Life premiered on E! this week and it's packed with people who identify as bisexual.
On it, bisexual contestants live in a villa in Barcelona and go on dates with other people from outside the group.
"That support network in the house meant that there was such a strong bond and it was really quite magical," says host Courtney Act.
"It was such a fun experience to see them not having to answer to the traditional tropes and misconceptions of bi people."
Here's what to expect from the show:
After its premiere on Thursday night, the show has gone down well with bisexual people in the UK.
'It showed the range of bisexual experiences'
"I was worried it was going to perpetuate the stereotypes that bisexual people are promiscuous, that we're unfaithful, that we're just in it for sex," says 23-year-old Lois Shearing, who runs online bisexual support form, NetworkBi.
She's rooting for Michael, who went on his first ever date during The Bi Life's opening episode, but says the show is "fantastic" for showing the diversity in the bisexual experience.
"I really liked how Michael's character was displayed alongside characters like Daisy who are really confident in themselves and their sexuality," says Lois.
"I think it really showed the range of experiences that bisexual people have."
It's not just a show for LGBT viewers
And while the show has already got the approval of bisexual viewers, Courtney hopes it will appeal to the rest of the LGBT spectrum and - just as importantly - heterosexual viewers.
"For straight people watching the show, they'll still see straight people going on dates. They'll see one bisexual person and one straight person going on dates," she tells Newsbeat.
"It's a common misunderstanding, that when a bisexual person is dating someone of the opposite sex that they are now straight, or if they are dating someone of the same sex they are now gay.
"The truth is that bisexual people remain bisexual regardless of who they're dating, having sex with or are married to."
But Courtney thinks LGBT dating needs to find its own representation before producers try and mix it with heterosexual romance.
She believes what some viewers might consider "bad behaviour" from LGBT contestants on shows like Love Island is not typical behaviour of the wider LGBT community.
"I think it's a little bit premature to thrust bi and queer people into those sorts of formats," she says.
"It's still really important that in the mainstream we represent ourselves with integrity and dignity."
LGBT representation on mainstream TV is more important than ever
Like many dating TV shows, The Bi Life is a fun, light-hearted viewing experience.
But Courtney believes shows like this can have an important role to play in an increasingly right-wing political landscape.
"Historically, we always see three steps forward, one step back. Maybe this is two steps back, but there's such an insurgence from minorities," she says.
"There are gay people in every community, there are bi people in every community and they can come together with a bit of strength.
"It is more important than ever that young kids growing up in the face of all of this negativity see this."