Sir Philip Green, other famous faces and why NDAs matter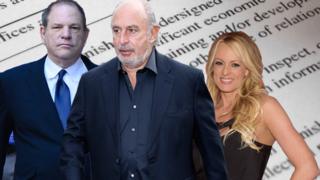 We seem to hear a lot about non-disclosure agreements these days.
They're also known as NDAs or "hush agreements" and rich and powerful people including Sir Philip Green, Donald Trump and Harvey Weinstein are believed to have used them.
An NDA - or non-disclosure agreement - is a contract between two groups or individuals so that information is not made public.
They can be used when an employee leaves a job, so what they know can't be used against their old employer.
Yet what happened with film producer Harvey Weinstein, showed how powerful individuals have been able to use money to cover up allegations of sexual misconduct.
Mr Weinstein, 66, has previously insisted via his lawyer that he has never had non-consensual sex.
Why are we talking about it now?
It's reported Sir Phillip Green's company, Arcadia (which owns shops including Top Shop, Top Man and Miss Selfridge), used NDA clauses with some staff.
The Telegraph newspaper says they came as part of settlement deals - giving payments to individuals - who had made allegations about his conduct.
The paper accused him of inappropriate sexual and racial harassment which he strongly and wholly denies.
It's important to note that, according to the courts, the people who worked for Sir Phillip Green's company entered the contracts freely but were not prevented from disclosing issues with law makers.
His name only emerged after a politician revealed his identity in parliament - under a special rule called Parliamentary privilege.
Jahad Rahman, an employment lawyer who specialises in NDAs, says they seem to be used as "a weapon of choice".
"They are commonly known as a gagging clause [for a reason]. The employer can actually sue you if you break any term of that agreement."
Prime Minister Theresa May said the government will look at "unethical" use of non-disclosure agreements.
When else have they been used?
NDAs are commonly used in the entertainment industry to protect secrets coming out.
People who edited the Harry Potter books, cast members from shows like Game of Thrones, and even MistaJam when he judged the Mercury Prize, have signed NDAs.
"You get the phone call and then you have a meeting at which you sign a non-disclosure agreement," said MistaJam.
"It means you can't talk about a large number of things.... things that people would normally want to ask."
How widespread are they?
Jahad Rahman says settlement deals, which include NDAs, do not mean a person or company is guilty.
"[When an] employee signs a settlement or an NDA, it's merely an allegation, because it has not been tested."
He says most disputes in sexual harassment never see a courtroom and in his view "about 80% settle out of court".
They have also been used in UK politics, with figures showing the House of Commons spent more than £2.4 million through NDAs over the last five years.
In the US, The Wall Street Journal reported adult film star Stormy Daniels signed a non-disclosure agreement, not to talk about an alleged affair with President Donald Trump.
Mr Trump has denied any relationship with the actress and said he had not known about any payments until "later on".
In an interview with comedian Jimmy Kimmel she refused to say whether she signed one or not.
Do the public need to know?
The Daily Telegraph argues it has to expose claims of wrongdoing and is unable to tell the full story, as the courts won't let it.
NDAs can be necessary for genuine business use, but the concern is when they are used to prevent allegations of assault and harassment becoming public.
Follow Newsbeat on Instagram, Facebook and Twitter.
Listen to Newsbeat live at 12:45 and 17:45 every weekday on BBC Radio 1 and 1Xtra - if you miss us you can listen back here.