Why do non-disclosure agreements matter?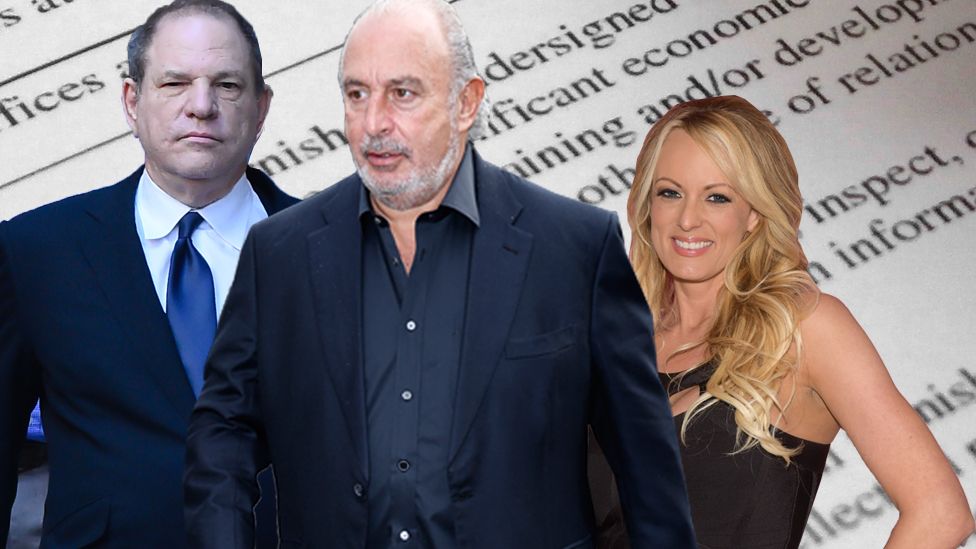 We seem to hear a lot about non-disclosure agreements these days.
They're also known as NDAs or "hush agreements" and rich and powerful people including Sir Philip Green, Donald Trump and Harvey Weinstein are believed to have used them.
NDAs are legal contracts - designed to protect business secrets - that stop people from sharing private information.
They are typically used when an employee leaves a job, so what they know can't be used against their old employer, to gain an advantage.
Why are we talking about it now?
BBC News asked all 136 universities in the UK if they were using them.
The data showed about 300 students have signed NDAs after complaints since 2016, with the total cost paid out being more than £1.3m.
The complaints from students included everything from sexual assault to bullying and poor teaching.
Elsewhere, high-profile cases like that of US film producer, Harvey Weinstein, are an example of how powerful individuals have been able to use settlements, including NDAs, to cover up allegations of sexual misconduct.
Mr Weinstein, 67, has previously insisted via his lawyer that he has never had non-consensual sex. He denies all the charges against him.
And in late 2018, it was reported that Sir Phillip Green's company, Arcadia (which owns shops including Top Shop, Top Man and Miss Selfridge), used NDA clauses with some staff.
The Telegraph newspaper said they came as part of settlement deals - giving payments to individuals - who had made allegations about his conduct.
The paper accused him of inappropriate sexual and racial harassment which he strongly and wholly denies.
It's important to note that, according to the courts, the people who worked for Sir Phillip Green's company entered the contracts freely but were not prevented from disclosing issues with law makers.
Jahad Rahman, an employment lawyer who specialises in NDAs, says they seem to be used as "a weapon of choice".
"They are commonly known as a gagging clause [for a reason]. The employer can actually sue you if you break any term of that agreement."
There is due to be a change in the law governing NDAs after a consultation in 2019.
The plan is to limit their use so they can't include clauses preventing people talking to the police, regulated health professionals and lawyers.
It would also mean an employer would have to make clear in an employment contract what limits could be placed on their use.
After all the recent headlines, we contacted the Department for Business, Energy and Industrial Strategy to ask about their current position on NDAs.
A spokesperson told Newsbeat: "It is absolutely unacceptable for non-disclosure agreements to be used to intimidate victims of harassment into silence.
"That's why we consulted on the misuse of confidentiality clauses in 2019 and plan to make a number of legislative changes in due course."
Although no date has been confirmed for when the new rules will kick in.
They added it was "unacceptable" that universities were using NDAs for complaints.
The entertainment industry often uses them to protect things like plot secrets and prize winners' names.
People who edited the Harry Potter books, cast members from shows like Game of Thrones, and even MistaJam when he judged the Mercury Prize, have all signed NDAs.
"You get the phone call and then you have a meeting at which you sign a non-disclosure agreement," said MistaJam.
"It means you can't talk about a large number of things.... things that people would normally want to ask."
They have also been used in UK politics, with figures from 2018 showing the House of Commons spent more than £2.4 million through NDAs over a period of five years.
What does it mean when you sign them?
Jahad Rahman says settlement deals, which include NDAs, do not mean a person or company is guilty.
"[When an] employee signs a settlement or an NDA, it's merely an allegation, because it has not been tested."
He says most disputes in sexual harassment never see a courtroom and in his view "about 80% settle out of court".
In response to the Next Episode investigation, Georgina Calvert-Lee, a lawyer specialising in sexual assault cases, said most uses of NDAs on students with these types of allegations were "unethical" and likely to be legally unenforceable.
Do the public need to know?
News agencies sometimes argue they have to expose claims of wrongdoing and are unable to tell the full story, as the courts won't let them.
NDAs can be necessary for genuine business use.
They can help businesses keep a competitive advantage, keeping exciting new products secret, so they don't fall into the hands of a competitor.
The concern is when they are used to prevent allegations of assault and harassment becoming public.
This is an update to an original article from October 2018.