Big Brother housemate removed over unacceptable language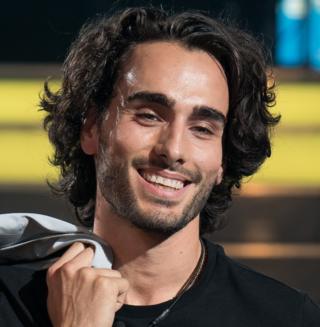 Big Brother contestant Lewis Flanagan has been removed from the house for "unacceptable language" but says he's "not ashamed" of what he's done.
Viewers were shown the moment the 27-year-old from Stockton-on-Tees was called into the diary room and told to leave.
He said that he was "obviously devastated" and that what he said was "unacceptable".
Viewers won't find out the circumstances until Sunday's episode.
Big Brother said there was no choice but to remove him immediately. His response: "I never come here to offend anyone or hurt anyone's feelings."
Lewis went on to say he was "devastated" but "not ashamed".
He said: "I'm not ashamed because I didn't try to offend anyone - it was a slip of the tongue.
"Unfortunately for me my bad language and misuse of certain phrases and certain words has exploded in my face."
"I'd apologise to anyone who I've upset."
"I never meant to upset anyone or hurt anyone's feelings or disrespect anyone from any kind of background, or race or religion, so yeah I'm sorry."
"Obviously I'm going to pay the price."
It's not yet clear what Lewis actually said to be removed but on his Twitter account, which says in the bio it's being run by his family, it said it was "nothing to do with racism."
While some viewers were glad to see the back of him...
Others wanted him to stay...
Lewis isn't the first person to be removed from this series, Ellis Hillon was asked to leave after an investigation into offensive tweets.
This is the 19th and final series of Big Brother.
Follow Newsbeat on Instagram, Facebook and Twitter.
Listen to Newsbeat live at 12:45 and 17:45 every weekday on BBC Radio 1 and 1Xtra - if you miss us you can listen back here.