Indoor Pets: The band selling tea towels to get back on tour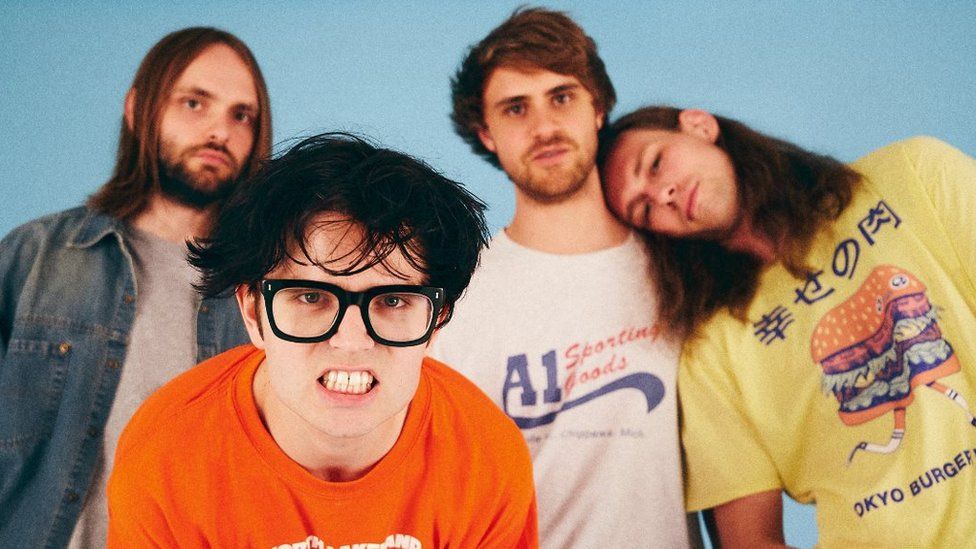 Indoor Pets are a band "used to doing everything" themselves.
But after having "about £10,000" worth of equipment stolen following a gig in Manchester, the group have asked fans to help them get back on the road.
"We hate to be in the position where we need to ask for help," they wrote on Facebook. "However, we didn't want to start a campaign without being able to give you something in return."
The compromise? Tea towels.
Glasgow you were incredibly generous last night 🙏🙏🙏 A MASSIVE thank you to everyone who bought some merch last night💪 you helped us raise a luurrrvly little sum for our pals @IndoorPets 😊 what wonderful wonderful people 👏👏👏 pic.twitter.com/cA9JN12kKx

— BAD SOUNDS (@realbadsounds) October 31, 2018
"We were thinking about tea towels as merch for months anyway," frontman Jamie Glass tells Radio 1 Newsbeat.
And seemingly their equipment being stolen is the perfect time to get them printed.
They'll say: "I helped Indoor Pets buy their gear back, Indoor Pets helped me dry this soapy stack" - which Jamie calls "pure poetry".
Fans have been told to buy them for "as much as they see fit" to raise money for new kit.
Indoor Pets are currently supporting Bad Sounds on a UK tour and had to cancel a show in Glasgow because they were still speaking to police when they were due to be on stage.
Jamie says they've managed to "cobble together" enough kit to keep playing after "friends, family and total strangers" offered them equipment.
"We even had Nothing But Thieves offering up their full lock up of gear but I think we were a bit too scared to touch any of it - it's far too nice for us."
The group, who have been supported by BBC Introducing in Kent as well as Huw Stephens and Jack Saunders on Radio 1, are due to be on Ash's European tour next month - with a UK headline tour and shows lined up in America early next year.
The frontman says he can't see anything being cancelled as long as fans can "put up with our sets sounding slightly different for a bit".
Jamie adds that it's the stuff with sentimental value they've collected "over the last 10 years" that's hard to accept being stolen - and that they still work day jobs so they can afford to make music.
"It's hard to know how to react. It feels like we have to start again."
Jamie says the band don't like feeling sorry for themselves, other than when they're writing.
"I'm the king of that," he says.
"But it's also hard to feel sorry for ourselves when we realise we've been surrounded by hundreds of wonderful people."