Rise Up: Stormzy on his new book and 'groundbreaking' new music
By Nesta McGregor
Newsbeat reporter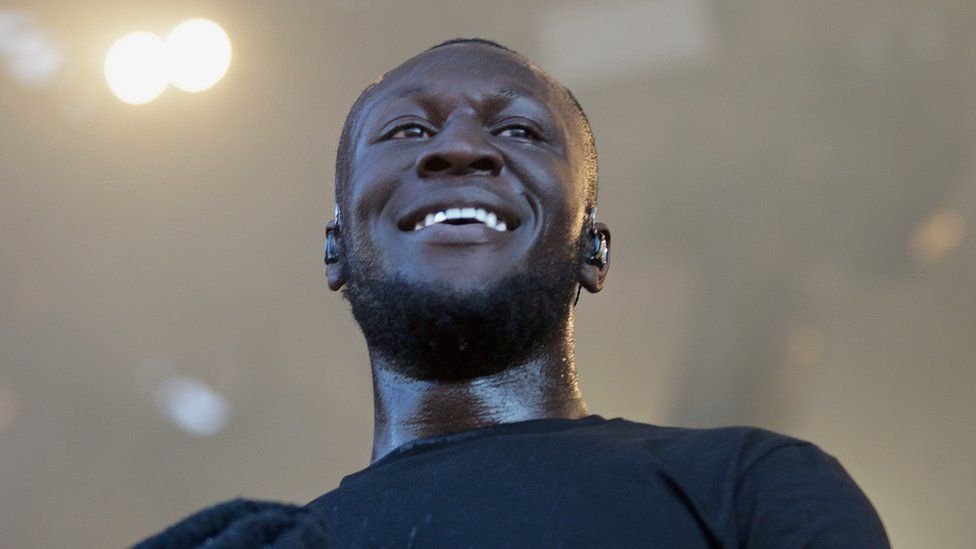 "Where's the woman who's got the magic key that just takes you all the way to the top?"
Stormzy has arrived at the BBC offices in central London just after one o'clock, lunch time - the busiest time to use the lifts.
He's here to talk about his new book, Rise Up, but right now he's asking about Claire - the Radio 1 and 1Xtra receptionist who has a key that overrides the system and goes straight to the selected floor.
"She doesn't play about man, I love her man, she just goes 'click' and you're there."
Mind you, the rapper isn't complaining about having to wait.
In fact, he's happy to go floor by floor: and he wants people to know that's how his brand has been built - level by level, step by step.
The story of the 25-year-old's ascent to superstardom is the subject of Rise Up, the first book released via Stormzy's #Merky publishing imprint in partnership with Penguin.
Stormzy, real name Michael Omari, explains he launched the platform for black authors, who he thinks would otherwise struggle to get their work published.
"I saw people who looked like me, the same age as me, from similar areas, who are great at their craft but didn't have the opportunity for becoming published authors.
"And I thought to myself, 'I'm in a position where I could create something that helps them' - and that's what I'm doing."
Rise Up is co-written by Jude Yawson - who Stormzy got in touch with back in 2014 after reading something Jude had written about the rapper online.
In the book's intro, Jude says: "He could easily have secured an established writer with decades of experience, but he asked me, someone who has never worked on a book before."
Next June, Stormzy will release #Merky's second book.
Taking Up Space, written by Chelsea Kwakye and Ore Ogunbiyi, is a first-hand account of studying at Cambridge University, where Chelsea was the only black female student studying history in 2015.
The last four years have seen Stormzy go from relatively unknown to having a number one album and multiple Brit Awards.
When we spoke to him on Halloween he had a frightening warning for the rest of the music world.
"I've been quiet recently but do you know why - I've been locked in the studio."
He points to his black baseball cap - and lack of haircut - as proof.
"It's not bad is it?" he laughs, stroking his facial hair.
"To me, music is a soul-bearing process. So when I create an album or any piece of music I put every bit of strength inside my body into it.
"This time around I feel like I've created my best work ever. It's groundbreaking."
So Stormzy fans, keep an eye on his beard.
"When I'm ready to release the music that's when you'll see the haircut and beard shaped-up."
'It sounded like lip service'
Originally from Croydon, Stormzy says he believes music has put him in a position where he can be the voice for people who often aren't heard.
He closed the show after winning two awards and rapped: "Yo, Theresa May where's that money for Grenfell? What you thought we just forgot about Grenfell?"
The next day the prime minister's office issued a response directly to his comments, insisting the government has committed £58m to those affected.
Stormzy wasn't impressed.
"I didn't think nothing of it if I'm being honest, it just sounded like lip service to me. I won't be happy until things actually change - until the people in that situation fully receive the help that they need."
The 25-year-old, who has backed Labour leader Jeremy Corbyn, says despite being vocal about some issues he'd never consider going into politics.
"There was a time for a hot minute, I felt like maybe I could get involved in certain campaigns. But I'm not qualified in terms of knowing what's right to say.
"I just live my truth and sometimes it gets mixed up with politics. But hopefully through my music I have enough influence on the world."