WWE stars pull out of Saudi Arabia show after Khashoggi death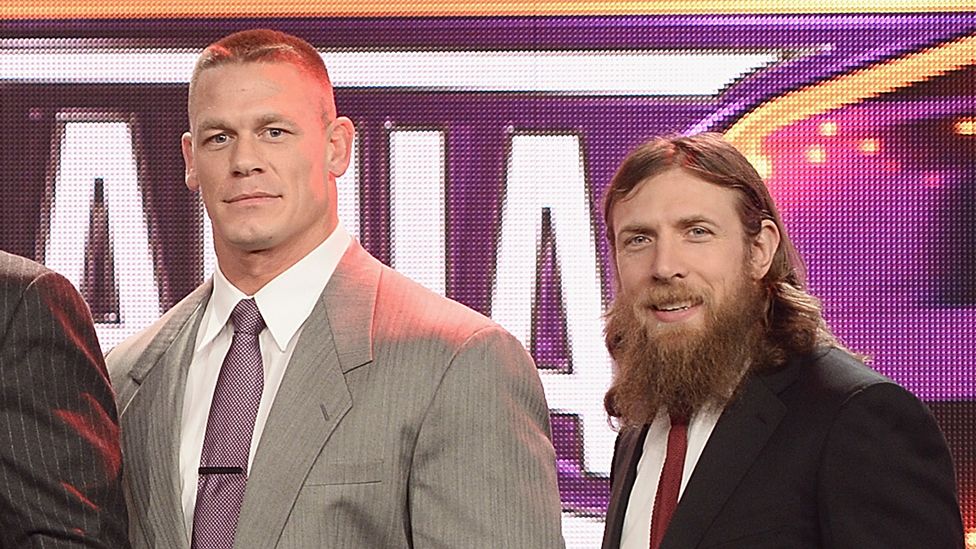 WWE stars John Cena and Daniel Bryan have pulled out of an event in Saudi Arabia which is happening on Friday.
They haven't said why, but some are suggesting it's because of the way the Middle Eastern country has handled the death of journalist Jamal Khashoggi.
He was a critic of the Saudi government who was killed after he went into the Saudi Consulate in Turkey.
John Cena and Daniel Bryan have been replaced in the WWE Crown Jewel, which is happening in the Saudi capital.
The two stars taking a stand against WWE is a big deal, says Kefin Mahon, who is the host of the How2Wrestling podcast.
"It's definitely not common... wrestlers no-showing is usually when they get fired," he tells Newsbeat.
"Wrestlers very much have to be very wary of what they say when it comes to big stances against WWE."
But Kefin says they're both pulling out because of reputational reasons - they might take a hit for performing in Saudi Arabia at the moment.
Why aren't they performing any more?
John Cena has a budding Hollywood career to think about - he's starred in the Amy Schumer film Trainwreck and will be seen in the upcoming Transformers spin-off.
Kefin adds that Daniel Bryan - one of wrestling's biggest names - "does keep his politics to himself," but is "a very ethical sort".
But neither have actually come out and said that they've pulled out because of the death of Jamal Khashoggi.
"They're going to lose out on money, definitely," says Kefin, but he says the two names are too big to get fired completely.
What's the situation in Saudi Arabia?
He also wants to hold more international events in Saudi Arabia, and the country signed a 10-year deal with WWE earlier this year.
But he's also been criticised for oppressing free speech - and the death of Jamal Khashoggi, who was a critic of the government, has added to that criticism.
The first WWE event in Saudi Arabia was held in Jeddah in April this year (it featured John Cena and Daniel Bryan).
Saudi Arabia's sport authority also apologised after the event because footage of female wrestlers was shown on big screens.
Kefin says the event "was negatively received by a lot of wrestling fans because it seemed to be a means to put a lot of pro-Saudi imagery and videos.
"You had commentators in the middle of wrestling matches talking about how progressive and beautiful the city was."
He adds: "The mere mention of the Crown Jewel [this Friday's event] makes most wrestling crowds erupt into boos now."
"In the world of wrestling, as WWE have put forward, nothing's wrong at all," says Kefin.
WWE have written both wrestlers out of their storylines in the past few days.
Bobby Lashley drafted in after he - according to WWE - "unleashed a vicious beatdown on Finn Bálor". He replaces John Cena, "the one Superstar who hadn't won a qualifying match."
Samoa Joe has replaced Daniel Bryan for Friday's performance.
WWE sent this statement to Newsbeat: "As always, we maintain an open line of communication with our performers and will address each situation accordingly."
What's the latest in the Khashoggi story?
The journalist, who was living in the US, had been critical of the Saudi Arabian government.
He went missing on 2 October after he went into the Saudi consulate (similar to an embassy) in Istanbul, in Turkey.
While it was reported that he was killed, Saudi Arabia denied that.
Over the next few days, they kept changing their story until they finally admitted that Jamal Khashoggi was dead.
There's still no consensus on how he died.
Turkey gave an official statement on Wednesday which said: "In accordance with plans made in advance, the victim, Jamal Khashoggi, was choked to death immediately after entering the Consulate General of Saudi Arabia."