Grimsby: Why I love my town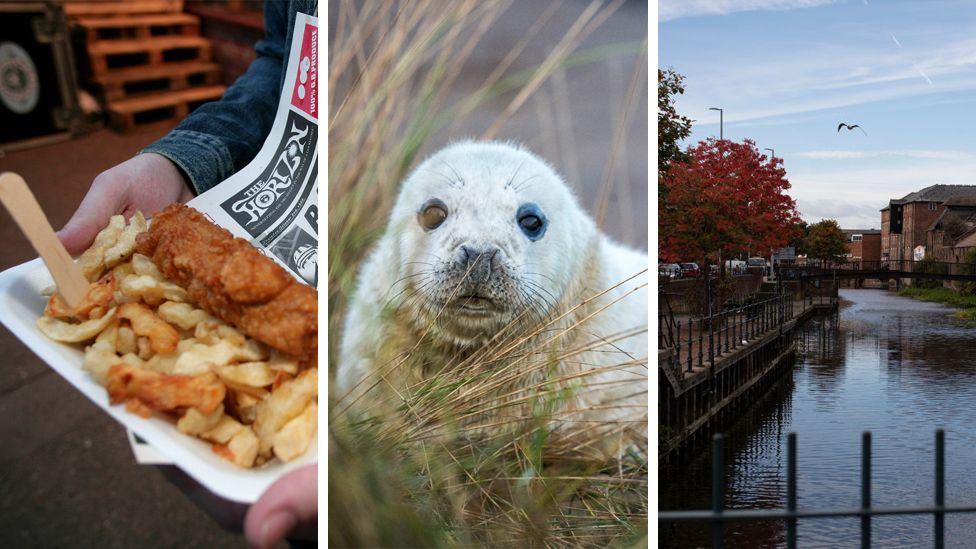 There's more to a town than what's on its High Street, which is why people perhaps shouldn't judge Grimsby too harshly.
That's because it has so many payday lenders, bookmakers, tanning salons and fast food outlets.
But some residents are fed up with the negative portrayal of their town.
"It's actually a really lovely place to be. It's a lovely place to work, the people are so friendly," Emily Lomas, 28, tells Newsbeat.
She moved from Yorkshire to Grimsby three years ago to be with her boyfriend.
"It gets a bad rep and I don't know why. There's some lovely areas and I think it's just portrayed quite negatively."
Friday's report definitely isn't the first time Grimsby has been painted as run down, depressing and depraved - even in recent years.
The coastal town was infamously used as the setting for Sacha Baron Cohen's 2016 film Grimsby, which centred around an alcoholic called Nobby and his 11 children.
And having the word "grim" in the name probably doesn't help people's perceptions.
Emily wants people to discover a side to Grimsby they might otherwise not know about.
Like People's Park, in the centre of town - her favourite spot.
"There's always a bit of a buzz around People's Park - people walking their dogs, having ice creams in the summer, feeding the ducks. People's Park is lovely," she says.
Outside of Lincolnshire, Grimsby is probably best known for its fish.
But did you know that it also has seals?
Donna Nook National Nature Reserve covers more than six miles of coastline in Lincolnshire, and isn't far at all from Grimsby.
During November and December grey seals arrive there to give birth to their pups near the sand dunes.
Emily says it's just one example of the beautiful English countryside that surrounds the town and makes it special.
"It's actually called Great Grimsby, not Grimsby and I mean, what's not great about a place called Great Grimsby?"
The Lincolnshire Wolds have "great views out" according to Emily - and she says you can see over to Lincoln and Lincoln Cathedral.
"There are beautiful villages to go and see and coffee shops to sit in - and in Grimsby itself we've got the seaside very nearby so you can go for beautiful walks along the beach."
And that's without mentioning Grimsby's most famous export... fish and chips.
"They're so good. The fish and chips are the best," Emily says.
So how does Grimsby shake off the reputation it has to outsiders?
Emily thinks it's a bit of a catch 22 - more people need to come to realise it's not as bad as they might have thought, but people won't come unless they think it has something to offer.
"I don't know how to do that but I guess getting more businesses to come and more younger people moving into the area."
But as a Yorkshire native who's moved to Lincolnshire, she's a pretty good example of what can happen if you give Grimsby a chance.
"As an outsider moving in, everyone has made me feel so welcome. This is home to me now."