Truth Project: Child Sexual Abuse Inquiry calls for younger participants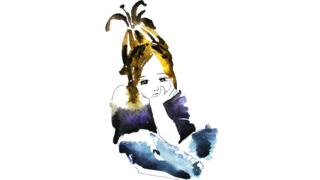 Lucie was 10 when she was first sexually abused.
She was groomed online before she ever met her abuser in person.
"The conversation might slightly change one day to talk about sexual things, and then it might be talking about sending sexual photos," she tells Newsbeat.
The Independent Inquiry into Child Sexual Abuse wants more people like Lucie - not her real name - to come forward with their stories.
It wants to hear from younger survivors of child sexual abuse to be able to give the most up to date recommendations to the government.
If you are affected by any of the issues in this article, click here for advice.
The inquiry, which was set up by the government but is not run by it, started after hundreds of people had come forward to say that Jimmy Savile had abused them as children.
It's trying to find out how victims and survivors of child sexual abuse were treated by authorities including the police or care homes.
For Lucie, 21, it was a failure of the law to convict her abuser. Laws which covered sexual messages didn't exist at the time.
Her abuser still walks free now. Although the abuse became physical in Lucie's case, a conflicting witness statement meant prosecutors felt there wasn't enough evidence to continue the case.
Lucie says that online grooming can be hard to spot when it's happening - after all, chatting to your friends online is pretty normal.
"It's very slow manipulation that people might not recognise," she says.
"But they have to remember that if there's anything that they're uncomfortable with, then it's OK to to block that person and move on."
For her, the grooming "was over two or three years, until we met in person and it became physical sexual abuse.
"I didn't ever tell anybody," says Lucie. "When I was 14, my mum found photos on my phone."
That's when the police got involved.
"At that time, the evidence they gathered from my phone and his phone - they weren't able to prosecute because the law didn't exist."
"He had told me that if I went to the police they wouldn't do anything, I had gone to the police and they didn't do anything.
"Everything that he'd threatened me with had just come true. So it then continued, despite the police being aware."
The abuse went until Lucie was 16. Now 21, she still has flashbacks and night terrors.
"I have a diagnosis of complex PTSD. I am now on medication for that, and I probably will be for the rest of my life.
"It's damaged me in a way that is irreparable I think."
But Lucie now works with organisations including the NSPCC and the Truth Project to share her story and speak to other victims and survivors of child sexual abuse.
"It can help to come forward and it can help people in different ways. For me, sharing my story in the media is how it's helpful to me.
"I just wanted to give young people the confidence that actually you can come forward," says Lucie.
"Online grooming and texting and sexual abuse in that way is a very new thing, and it's important that we share our stories because the abuse that's happening now is very different."
The Truth Project is the part of the inquiry that confidentially listens to victims and survivors of child sexual abuse.
It's not part of the main investigation, which means "the people who come forward get to own what happened to them," says Michael May, who leads its work with young people.
"I hope that people hold on to that idea - the idea that when they come to us, they can be agents of change."
"We have to be really clear that online grooming in itself is a form of sexual abuse," he says.
"The signs are that something happened that made you feel really uncomfortable, that left you in a place where you questioned its appropriateness."
The Truth Project is going into universities to try and reach younger people.
Michael says that there are some questions people should ask themselves before they come forward: "Have you thought about why you want to come? Have you thought about what it might feel like? Have you thought about where you have support already and what support might be necessary to make you feel safe in doing it?"
If you are affected by any of the issues in this article, click here for advice.
Follow Newsbeat on Instagram, Facebook and Twitter.
Listen to Newsbeat live at 12:45 and 17:45 every weekday on BBC Radio 1 and 1Xtra - if you miss us you can listen back here.