Bungle the chow-chow: Why police seized this fluffy dog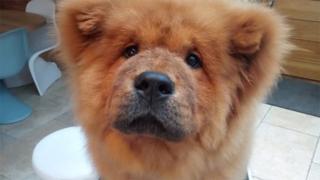 This is Bungle the chow-chow.
The four-month-old pup was seized by police on Saturday after biting a police officer and has yet to be reunited with his owner.
Social media has rallied behind Bungle with 4,000 members of a Facebook group campaigning for his freedom.
The hashtag #FreeBungle has been used on Twitter and an online petition calling for his release has more than 2,500 signatures.
He even made it onto the front page of the Sun newspaper.
It's been reported he might spend up to nine months away from his owner. So what's going on here?
What happened?
Northamptonshire Police say Bungle was seized after an officer was bitten in Stoke Bruene, near Towcester.
The officer was on his way to another appointment when he found out traffic was being held up by a dog on the loose.
"The officer went to assist and while trying to catch the dog, he was bitten on the hand and arm," the police said in a statement.
The force says Bungle was seized because his owner was not present and there was a risk to the safety of the dog and the public.
His owner David Hayes told the Sun he was likely to be separated from his puppy for "potentially up to nine months".
Will he be locked up for nine months?
No. Northamptonshire Police told Newsbeat this is incorrect.
Bungle is currently in kennels and the police say that because an animal is involved, they will want to settle things as soon as possible - but can't currently put a time frame on it.
An investigation is taking place, with co-operation from Bungle's owner.
Police say they are looking at whether the owner has committed any offences under section 3 of the 1991 Dangerous Dogs Act.
What is the law?
It's against the law to let a dog be dangerously out of control.
It applies to public areas as well as private spaces such as a neighbour's house or garden or even in the owner's own home.
A dog might be considered "dangerously out of control" if it injures a person, another animal or makes someone worried it might injure them.
If found guilty, owners can face a range of penalties - from a fine up to 14 years in prison. The dog could even be destroyed.
"Dogs who use aggression are doing so because they feel threatened and are normally experiencing a negative state or are simply just unhappy in certain situations," says Sam Gaines, a dog welfare expert for the RSPCA.
"We really hope that the circumstances under which Bungle bit someone and the reasons why dogs use aggression are taken into consideration."
What have people been saying?
"You are not looking at a dangerous dog. Bungle is a loving family member," wrote dog groomer Jules on the Facebook group, Bungle The Chow.
"Bungle would of acted as he felt necessary and was clearly distressed after getting caught underneath a lorry."
People using #FreeBungle on Twitter are keen that the puppy doesn't spend too long away from his home.
Would it be front page news if Bungle wasn't so cute?
"It is incredibly sad that Bungle has been seized, but there are lots of other dogs that sadly get seized on a regular basis and whose welfare is compromised," says Sam.
She doubts there would have been the same outcry over Bungle if he were, for instance, a four-month-old pit bull terrier.
In 2017, the RSPCA had to put down 82 pit bull terriers simply because of how they looked and people like Sam are campaigning to have laws around dangerous dogs changed.
What does the RSPCA want to see happen to Bungle next?
It wants to see Bungle sent home, mostly because a kennel environment could have lasting negative effects on such a young dog.
"It's really important that the experiences and exposure to different things he gets is really positive and that isn't necessarily going to be the case in a kennel," says Sam.
She says what Bungle experiences in the kennel could prove a challenge if or when he is returned to his owners.
"If he could go home until the point at which the police make a decision about his fate and the courts as well, then it actually would be so much better for Bungle.
"It's understandable why there is a response to Bungle being in a kennel, but it shouldn't be because he's cute, it's because he's a young dog."
Follow Newsbeat on Instagram, Facebook and Twitter.
Listen to Newsbeat live at 12:45 and 17:45 every weekday on BBC Radio 1 and 1Xtra - if you miss us you can listen back here.