YouTuber Dodie: Sometimes it feels like I'm not real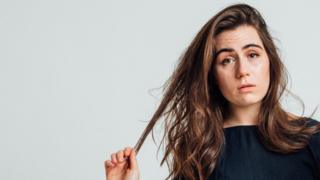 To her 1.7 million subscribers, Dodie is known by the handle doddleoddle.
Up to now, the singer's career has mostly been contained on YouTube - but she's now preparing to, as she calls it, "branch out into the real world".
It's something the 23-year-old knows could affect her mentally, as she suffers from depersonalisation disorder (DPD).
"Sometimes it feels likes I'm not real or dreaming and it's caused me to have depression and all sorts of nasty things."
The mental health condition can leave people feeling spaced out and disconnected.
She's already sold out an upcoming gig at London's Roundhouse and got to number six in the UK album chart in 2017 with her EP, You.
Up until now she's done that without much mainstream promotion - but she says she's ready to step it up.
"If I'm honest, this might make my DPD worse," she says.
"A lot of why I suffer with this condition is because all my dreams have come true! All the good that comes from doing these incredible things creates a lot of stress and pressure.
"But that's what life is and I do love it."
Dodie is open about her mental health and regularly shares her thoughts on it and other issues affecting the LGBT+ community through her vlogs and her songs.
"Time and time again I'll experience something and think I'm the only person in the world feeling that way.
"But then you come online and can share your feelings with others."
She tells us she tried a treatment for her depersonalisation disorder known as Transcranial Magnetic Stimulation (TMS) but says she didn't notice much improvement.
Dodie says she still feels "very spaced out and disconnected" but "feels healthier" in how she's dealing with it.
"I haven't been depressed in a while... so that's nice."
As a YouTuber it's nice to get spotted every so often, but maybe not when you're revisiting one of your own vlogs.
"I got recognised on a train, watching one of my old videos," laugh 23-year-old singer Dodie. "The fan must have thought I was so sociopathic by watching myself!"
She says the YouTube community has helped and shaped her incredibly which has made her question whether she'll be leaving something behind in the music mainstream.
"I've asked myself 'what am I doing?' and 'am I leaving the home made stuff?'. But then something clicked in my head and I realised I can live online and do the more mainstream stuff.
Her track Human was recently Phil Taggart's Chillest Record, and it features one of 2018's breakout stars: Tom Walker.
"He's so lovely and northern," she says.
As she prepares for the new chapter in her career, she says she wouldn't change anything from the last seven years of posting videos.
"It's interesting to have my journey online. People can go back and watch the first thing I wrote, made and talked about.
"It's good to have your growth out there."
Follow Newsbeat on Instagram, Facebook and Twitter.
Listen to Newsbeat live at 12:45 and 17:45 every weekday on BBC Radio 1 and 1Xtra - if you miss us you can listen back here.