England's netballers give tips to young amateurs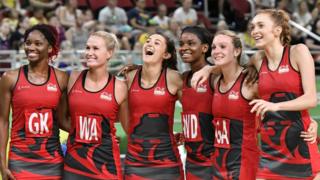 The memories of rainy concrete netball courts and not being picked for the first team at school have probably put many women off playing netball.
But since England's historic win at the Commonwealth Games in April, the number of women playing has shot up.
Figures suggest more than 130,000 women have been inspired to start playing netball,
The sport's expected to keep growing in the build-up to the 2019 World Cup in Liverpool.
For the first time since THAT gold medal, England's netballers are back in action on home soil tonight.
They face Uganda in Liverpool.
So Newsbeat got the team to answer questions from a social club team - covering everything from how to get started to tips on what to eat before a game.
'Grab a friend'
The Cherries play in a social league in south-west London.
For Cherries defender Helen Jackson, it was the fear of returning to a group sport and not knowing anyone.
"I wanted to get back into netball after a long break, but was too nervous to do it.
"It took me about two years until a friend asked me."
England wing attack Natalie Haythornthwaite says one way to overcome the nerves is to start going with a mate.
"Grab a friend and get yourself down to the nearest Back to Netball session.
"You'll feel so much better for doing exercise."
England shooter Kadeen Corbin says netball is "all about having fun".
"Enjoy the environment, enjoy the people around you - no matter what happens, enjoy the game."
'I find it hard to switch off after a game'
Cherries shooter Daisy Page recently returned to the sport after a year off - but says the social league has late games, and she finds it hard to unwind after a match.
The England team hang out a lot after matches and shooter Jo Harten says it's a great way to chill out.
"I like to talk things over with some of the girls, so it usually turns into a bit of a social and we don't just go home after a game.
"Food always brings out happiness in our England team - so you could try that or even just a drink afterwards at the local pub.
"A pub quiz is a great way to socialise too."
And if it's too late, Jo says a relaxing bath can help those achy muscles!
'What other exercise can help me get better at netball?'
Belinda Dehinbo fills in for the Cherries from time to time after after having a baby seven months ago.
Her main aim now is to improve her fitness.
"There are so many things you can do close to home which will help your netball, like jogging in the local park, or doing squats," England centre Jade Clarke says.
"We're all still trying to stay fit and find different ways to do it", Natalie adds.
"We got a good piece of advice the other day about thinking about the process, not the outcome.
"So don't think: 'I need to get fit for next week's game' - think about small steps, take little steps each day until you reach your goal."
'Recovery takes longer now I'm older'
For many women returning to the sport, they find they're not as fit as they were in school or at uni.
Cherries attacker Emilie Parker-Smith has recently returned to the sport after a few years out and says she feels it more in her muscles now she's in her late 20s.
"I get injuries much more easily."
England's most-capped player is Jade Clarke, who's 35 and plays centre.
"I make sure I have enough food and sleep - and I also get in the bath or pool if I can after training."
Natalie recommends stretching for 15 minutes each night to help weary muscles.
'I'm confused about what to eat before a game'
Most social leagues in the UK take place in the evening after a long day at work or college.
Cherries defender and token Aussie Sarah Manning says that's the one thing she struggles with each week.
For Kadeen Corbin, it's all about the pre-match carbs.
"I love a good pasta bolognaise a couple of hours before the game."
For others, like Natalie, a big meal isn't the best route.
"I like to feel a bit lighter before a game.
"If I have a big meal, I feel heavy so I'll have peanut butter on toast with chopped banana on top."
Follow Newsbeat on Instagram, Facebook and Twitter.
Listen to Newsbeat live at 12:45 and 17:45 every weekday on BBC Radio 1 and 1Xtra - if you miss us you can listen back here.