FIFA under pressure over Iran's female football fans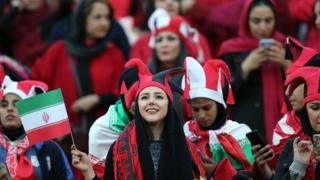 Football's governing body Fifa has been urged to act, after its own human rights advisory panel recommended that Iran is given a deadline for allowing women to attend matches.
In early November, 800 women attended the Asian Champions League in Tehran.
But campaigners say that the fans were specially picked and no tickets were ever placed on sale.
This is despite the fact it was only the second time in 40 years that women were allowed to watch a game.
The new Fifa report has caused huge excitement among the women of Open Stadiums, a campaign group that has passionately operated in Iran for the last 13 years.
"I'm really happy about it because it's the result of us sending letters to Fifa and talking directly for two years," a member of the group tells Newsbeat.
"At any opportunity, we're saying 'please give a deadline to Iran'. A Fifa president came to Iran for the first time in 2013 and President Rouhani promised to let women into stadiums.
"But since then, nothing has happened and there's been no progress."
Some of their earliest protests began outside a World Cup qualifier in 2005, but were marked by violent resistance from the government.
"We showed that we wanted to watch football, but after a year of demonstrating in front of national matches, there was an order to stop us from going there", the group member explains.
"It said that the stadium is not suitable for women, so security forces began to really beat us and they had a really harsh reaction to our protest.
"We were a group of women inside the country that wanted to watch football but could not."
Open Stadiums is also sceptical about the choice of women who were chosen to go to the match earlier this month.
"I watched that game, but I did not go because there was a huge debate between fans in Iran, who didn't think women should watch", the group member continues.
"On social media, people were saying that the women inside were betraying other women because everybody knows it was a show.
"Yes, a group of select women entered the stadium but they were not ordinary fans because they didn't sell a single ticket."
More successful, however, were the screenings of Iran's World Cup campaign, which were transmitted on giant screens to fans in the Azadi Stadium last summer.
"My friends in Tehran were at home and they saw images of people entering the stadium.
"They ran there, got in and had an amazing time. The seats weren't separated, they were mixed and for two matches, they watched it and there were no problems.
"We were optimistic that they would continue, but they didn't.
"It's just really sad because women in Iran are really huge fans of football."
The Iranian Football Association has been contacted for comment. The report accuses the country of "prohibiting discrimination including on the basis of gender".
Follow Newsbeat on Instagram, Facebook and Twitter.
Listen to Newsbeat live at 12:45 and 17:45 every weekday on BBC Radio 1 and 1Xtra - if you miss us you can listen back here.