The 20-year-old behind the Mac Miller viral drawing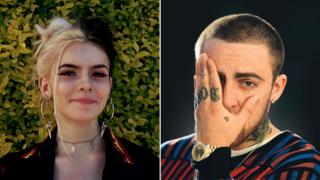 It is nine hours since Danielle Franks, 20, posted her digital painting of Mac Miller online, and the Twitter notifications just keep coming.
Her artwork has had over 310,000 likes from fans of the rapper who died in September and she hasn't been to bed.
"I don't want to miss anything - I've had thousands of messages and tweets," she tells Radio 1 Newsbeat in the early hours of the morning between the beeps of notifications on the line. "It's overwhelming."
Danielle, who goes by the name of Moe, is a digital hyperrealistic artist. She replicates photographs and uses a Cintiq 13 graphic tablet to draw by hand.
Moe's art is so life-like, it's difficult to see that it's not a photograph. But if you zoom in closely, you can see every individual brushstroke.
Her Mac Miller drawing is based on a photograph by Todd Cole for The Fader and was commissioned by a friend.
But it's not the first time Moe's art has been noticed. Post Malone and Lil Peep have shared her work and Moe says she's even been commissioned by Willow Smith.
'I couldn't go outside for six weeks'
Moe, who lives in Cornwall, had her first celebrity artist success last summer after what she calls a "bad mental health phase".
"I couldn't go outside for six weeks," she tells Newsbeat. "In that time, I started listening to Lil Peep. I absolutely adored him.
"One day, I just picked up the tablet... I was never motivated to draw, but for some reason that day, I just did. I drew him, and it took a few days and I streamed a lot of it on Twitch.
"A few weeks later, he retweeted it and put it on his Instagram. That kicked off my career in art and gave me momentum.
"He didn't really know I existed. He didn't know who I am and gave me my entire life."
Now Moe's drawing is her career. She does commercial and personal commissions - and that's despite dropping out of art school.
"My life revolves around the internet. It's everything I do," she tells Newsbeat.
"To think that so many people have liked one tweet of mine today - it's weird how many people a girl sitting alone in her bedroom in Cornwall can reach out to, and maybe cheer up."
Follow Newsbeat on Instagram, Facebook and Twitter.
Listen to Newsbeat live at 12:45 and 17:45 every weekday on BBC Radio 1 and 1Xtra - if you miss us you can listen back here.