Heckling: How to deal with it during a comedy show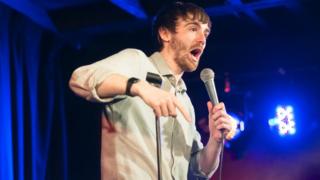 "He just started screaming at me - the next thing I know two of his mates in the crowd were holding him back."
Comedian Ian Smith can't put an exact number on it but says he's performed "thousands" of gigs in the UK and around the world.
Heckling comes with the territory and he's been telling us about one occasion when things turned ugly.
"There was this guy who must have been there with like 20 of his mates and they were quite boisterous," Ian says.
"Instead of walking to the back of the room to go to the toilet he'd walk across the stage really slowly, doing a fake look of confusion like he was lost."
Ian has been talking to Newsbeat about his experiences after Scottish comic Kevin Bridges walked off stage 20 minutes early on Wednesday night.
Kevin said his early departure from the Brighton Dome was partly due to hecklers and partly down to a migraine.
He's promised fans who were at the show a refund and says any remaining money will go to a homeless charity.
Ian has sympathy for his fellow comedian and revealed that his worst experience on stage was when a heckler attempted to attack him.
"So the guy who walked across the stage to go to the toilet, on his way back he decided to stop and chat up two girls in the front row."
The incident happened while he was performing on a boat on the Thames in 2015.
He says after noticing that the women looked uncomfortable, he stepped in and tried to deflect the man's attention.
"I said to him, 'What do you do for a living?' and he says, 'I'm a joiner'.
"Straight off the top of my head I replied, 'I reckon you should join your mates and get off the stage then!'"
Ian says while the crowd saw the funny side of the gag, the man had to be restrained by his friends - before later being escorted out of the venue.
"When it comes to hecklers you kind of hope the venue or security warn people, because I never want to be that guy that asks for someone to be removed."
There are times when heckling can be seen as positive - it can add another dimension to a show, according to Ian.
But when it starts to affect the performer or the audiences, it then becomes a problem.
Ian has appeared at the Edinburgh Fringe Festival, on BBC Three panel show Sweat the Small Stuff and Channel 5 series The Funny Thing About.
He says you can't prepare for a heckler, but some default quips can be helpful.
"If you try and predict a comeback it tends to be unfunny - it can sound like you're then having a conversation with yourself.
"My advice is I sometimes try to ignore them because it might be the attention that they're after.
"And always remember that if you do get thrown off you're not a bad comedian - because you're up there in the first place."
Follow Newsbeat on Instagram, Facebook and Twitter.
Listen to Newsbeat live at 12:45 and 17:45 every weekday on BBC Radio 1 and 1Xtra - if you miss us you can listen back here.