Patagonia's $10 million donation: Why they gave away their US tax savings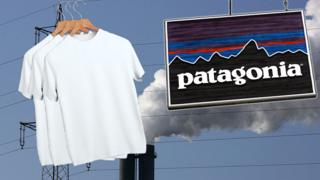 You hear a lot about the dangers of "fast fashion", but one clothing company is using its popularity to make positive change in our environment.
Outdoor brand Patagonia has announced that it will donate $10 million (£7.83 million) to help combat climate change.
The number wasn't plucked out of thin air - it's how much Patagonia saved in 2017 after Donald Trump cut how much tax US corporations have to pay from 35% to 21%.
"Taxes protect the most vulnerable in our society, our public lands and other life-giving resources," said Patagonia's CEO Rose Marcario.
"In spite of this, the Trump administration initiated a corporate tax cut, threatening these services at the expense of our planet."
Donald Trump's December 2017 tax cuts meant huge savings for some of the biggest businesses in the world.
The highest-earning individuals in the US also got a tax cut from 39.6% to 37%.
The US economy grew at its quickest pace in nearly four years following the tax cuts.
And at least 3 million Americans were expecting a pay-rise or bonus as a result.
But Patagonia's CEO has called the tax cuts "irresponsible".
"Being a responsible company means paying your taxes in proportion to your success and supporting your state and federal governments, which in turn contribute to the health and well-being of civil society," she said.
"Taxes fund our important public services, our first responders and our democratic institutions."
'The denial is just evil'
Earlier this week Donald Trump said he didn't believe a climate change report delivered by his own government.
The White House found that climate change will cost the US hundreds of billions of dollars annually and damage people's health.
His stance is part of what has driven Patagonia's decision to donate what they've saved in tax to grassroots environmental activist groups.
"Far too many have suffered the consequences of global warming in recent months, and the political response has so far been woefully inadequate - and the denial is just evil," Rose adds in her statement.
Patagonia previously joined lawsuits challenging Donald Trump's plans to reduce the size of protected parts of the US that belong to Native American communities.
They already donate 1% of their sales to environmental organisations around the world.
Follow Newsbeat on Instagram, Facebook and Twitter.
Listen to Newsbeat live at 12:45 and 17:45 every weekday on BBC Radio 1 and 1Xtra - if you miss us you can listen back here.