The worst things about working in shops at Christmas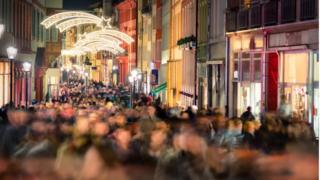 Christmas present shopping might fill you with joy, but spare a thought for the people working in retail this festive season.
The shops are busy, changing rooms get messy and stuff tends to end up lying all over the place.
With stores opening early and closing late, it can also mean long hours and a lot of stress.
Staff end up working even later just tidying up the shop floor.
It tends to be the young workforce who are trying to make a bit of extra cash that end up working the anti-social shifts.
Emma Cunningham tells Radio 1 Newsbeat: "When you're doing 13 or 14-hour days and you're dealing with the public, it's hard to keep that delivery of fantastic customer service.
"Retailers have this impression that young workers have less responsibilities and are more flexible so we get the late shifts on Christmas Eve and shifts on Boxing Day, which takes us away from time with our friends and family."
The 26-year-old works in a well-known high street chain and says she has experienced abusive customers at this time of year.
"Both physical and verbal", she says. "I just think that retail workers deserve the same amount of respect as anybody else."
Bradley Robinson, 24, works in a shop in East Yorkshire.
He agrees with Emma, and tells Newsbeat: "Sadly in recent years working in retail has become more anti-social, both in the hours you work - which impacts your work-life balance but also in terms of the public's behaviour towards shop workers. They can be very rude.
"You often find that you'll come across customers who are frustrated by something and they usually take it out on the first member of staff they come across."
He says that a lot of people he works with also suffer mental health issues and are on some kind of antidepressant.
"A lot of this comes down to work-related stress and many of my colleagues have gone off sick because of it.
"You can end up using your day off to prepare to go back to work the following day and if you're asked to do an overtime shift it can mean not having any days off at all."
Bradley says there's no typical day in retail over Christmas because he finds he's stretched over different departments and quite often has to stay late.
The Union of Shop, Distributive and Allied Workers (USDAW) is a trade union which represents people working in retail.
They help more than 78,000 members aged under 27 and they support the 'Stop shops opening on Boxing Day' petition.
Paddy Lillis, their General Secretary, says: "Young workers are a vital part of the workforce but are often undervalued, underpaid and discriminated against. This can be even more the case at Christmas, which is a very busy and stressful time.
"Early morning starts can also be difficult, particularly for those who don't drive. Public transport can be limited on public holidays and over the festive period and young workers can be reliant on parents, relatives and friends for lifts."
The union says it's calling for the longest possible break for retail staff over the Christmas and new year period.
It also wants shops to be closed on Boxing Day and New Year's Day and close by 4pm on Christmas Eve and New Year's Eve.
Reece West, 23, works in a shopping centre in Manchester. He explains he is working both Christmas Eve and Boxing Day this year as he requested new year off.
He says: "The shops are open until 11pm every day in December, apart from on Sundays. The worst thing is the late nights and always being so tired."
Reece admits there are some good things about working in retail over the festive period though.
"You feel like you are really needed in your job. If an older person comes in looking for something for their granddaughter or grandson, it's really nice to help them find the right gift."
Apart from the customers and the long hours, let's not forget that Jingle Bells can get on your nerves when you're listening to Now That's What I Call Christmas on repeat.
Follow Newsbeat on Instagram, Facebook and Twitter.
Listen to Newsbeat live at 12:45 and 17:45 every weekday on BBC Radio 1 and 1Xtra - if you miss us you can listen back here.