Why I'm scared of Christmas as a single mum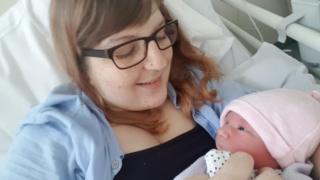 "This will be my first Christmas on my own as a single parent," says Jade, 22.
"I've just moved into a place with nothing and I'm finding it all a bit overwhelming and difficult. I'm petrified to be honest, I don't know the first thing of what to do."
For many single parents, Christmas can be hard because of the added financial pressures that it brings.
Action for Children says a quarter of UK parents get into debt at this time of year.
Jade has a 15-week-old baby and keeping on top of her bills and rent is already a struggle.
"I've got bills coming out in January which I'm not sure how I'm going to sort. I've also got three to pay before Christmas," she told Radio 1 Newsbeat.
She's getting support from the charity Action for Children as well as financial help from the government but says they "send confusing letters so I sometimes need support with those types of things".
Jade became pregnant when she was a student at Leeds Trinity University. She's taking a year off to look after her daughter Violet but hopes eventually to qualify as a teacher.
"I love Christmas and it is a big thing for me but I'm struggling with the concept that this Christmas is going to be so different from the previous ones," she told Newsbeat.
"I'm worried about feeling alone with my baby and I'm panicking majorly about the whole transition.
"Everyone is so excited online and posting pictures of all their expensive things. I'm worried because I can't afford anything. I have bought some presents for Violet on Facebook as you can buy second-hand toys in bulk for cheap.
"But because they aren't brand new, it makes me feel awful."
She says they'll create their own traditions and plans to make snowflake decorations for the house. They'll also visit Jade's mum on Christmas Day who Jade says has been a "great help" since Violet was born.
Action for Children's chief executive, Julie Bentley, told Newsbeat that thousands of families were asking the charity for help, either with budgeting, providing a meal or access to food banks.
"No parent should be forced to face the appalling choice between 'eating or heating' at Christmas," she said, "but this is the reality for far too many in the UK today."
Follow Newsbeat on Instagram, Facebook and Twitter.
Listen to Newsbeat live at 12:45 and 17:45 every weekday on BBC Radio 1 and 1Xtra - if you miss us you can listen back here.