The Game Awards 2018: God of War and Red Dead Redemption win big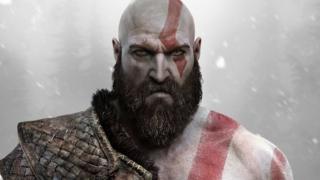 The adventures of a Spartan and a rugged Wild West outlaw have swept the board at this year's The Game Awards.
Big budget titles God Of War and Red Dead Redemption joined Fortnite in taking home trophies at the event.
God Of War won the big one - Game of the Year - ahead of Assassin's Creed, Celeste, Spider-Man, Monster Hunter and Red Dead Redemption.
It also won an award for game direction and was named Best Action or Adventure Game of the Year.
Red Dead Redemption won awards that highlighted its storytelling and production values, winning for narrative, music, game audio and performance.
Fortnite won Best Ongoing Game and Best Multiplayer Game and there were also two wins for independent game, Celeste.
'Emphasis on the good in games'
Analysis by Steffan Powell, Newsbeat gaming reporter
The Game Awards is a chance for the gaming industry to prove it can pull off an awards ceremony that is as full of glitz and glamour as any Hollywood event.
This year we saw something pretty rare. Some big bosses from Microsoft, Sony and Nintendo on the stage together - sharing the limelight.
In 2018 the industry has come under intense scrutiny. Cases of Fortnite addiction being one reason. Donald Trump's claims that gaming is responsible for gun violence another, and suggested links between gaming and gambling a third.
What we saw last night was some of the most powerful people in the industry coming together to try and change that narrative. They tried to emphasise the good in games and spread a message of unity among the community.
As for the awards themselves, the major talking point after the show was also the big question going into it. What is better - Red Dead Redemption 2 or God of War 4? This time the Greek God pipped the cowboys.
You can make a strong case for either game - and so last night's decision is unlikely to stop people asking that question for years to come.
What else happened at the event?
But the event wasn't just about celebrating the games of this year, there was also a lot to get excited about for 2019.
A number of big name studios also used the event as a platform to premiere trailers for upcoming releases.
New trailers were revealed for Far Cry: New Dawn, Marvel Ultimate Alliance 3, new games in the Dragon Age and Mortal Kombat franchises as well as The Last Campfire - a new title from the creators of No Man's Sky.
The ceremony also reunited God Of War actors Christopher Judge and Sunny Suljic to present the Best Content Creator award to streamer Ninja.
Follow Newsbeat on Instagram, Facebook and Twitter.
Listen to Newsbeat live at 12:45 and 17:45 every weekday on BBC Radio 1 and 1Xtra - if you miss us you can listen back here.