Raheem Sterling: The Man City star, off the pitch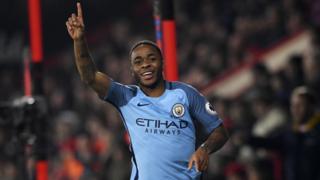 Chelsea have now suspended four people from matches after allegations of racial abuse towards Raheem Sterling on Saturday.
If you look closely at the incident at Stamford Bridge, the 24-year-old Man City player appears to chuckle as the crowd shout in his direction.
His first football coach Paul Lawrence isn't surprised.
"From a young age he's always had to put up with a lot of that anyway," he told Radio 1 Newsbeat. "It's due to the area he's from and due to the background he's from.
"He would get a lot of people fouling him, all the time, in every single match we played. That alone lets you be able to deal with other things in life that gets thrown at you."
With eight league goals and six assists already this season, there's no doubt that on the pitch, Raheem Sterling has turned in some headline grabbing performances.
However, the Manchester City and England attacker says it is "unacceptable" the way newspapers cover stories about black players.
While his main on-field task may be to attack, over the past few years Raheem Sterling's had to defend himself against several tabloid headlines.
In his most recent Instagram post he suggested black players were treated differently, using a Daily Mail article to highlight his claim.
His first coach agrees: "There's always been negative things written about him but it's like they never print any of the good stuff.
"They never print the positive things that people should be hearing. For example he's bought a house for his mum and sister. He's helped open a school in Jamaica for underprivileged children."
Sterling also made headlines for his gun tattoo, which was revealed in a picture from a training session prior to the 2018 World Cup in Russia.
He later explained it was in memory of his father who was shot dead when he was young.
While it may seem like he's always in the papers, here are three things you might not know about the 24-year-old England player:
Bathroom cleaner
Raheem Sterling was born in Kingston, Jamaica and moved to the UK when he was five.
While studying for her degree his mother, Nadine, cleaned hotels.
In an article written earlier this year, the footballer revealed he and his sister would regularly go to work with his mother.
"I'd be arguing with my sister, like, 'No! No! You got the toilets this time. I got the bed sheets'," he wrote.
Mo Salah! Mo Salah! Mo Salah!
At City's Etihad Stadium, he's used to 54,000 fans on average screaming his name each game.
But the same can't be said at home as his six-year-old daughter Melody Rose is a Liverpool fan.
The father of two says he regularly finds his daughter singing a song about The Reds' Egyptian forward Mo Salah.
The England star spent five years at the club before joining Manchester City for £50m in July 2015.
Grenfell Tower fire
Raheem Sterling started his football career at Queens Park Rangers.
The club's Loftus Road stadium is a mile away from Grenfell Tower, where 72 people died after a fire in June 2017.
He is reported to have made a 'substantial' donation to a fund for victims of the tragedy.
"It is only a small step, but small steps lead to big changes if we all come together.
"This is a deep and sad situation, one that's close to my heart and hard to swallow. I would like to help in the best way I can," Sterling told BBC Sport shortly after the fire.
Follow Newsbeat on Instagram, Facebook and Twitter.
Listen to Newsbeat live at 12:45 and 17:45 every weekday on BBC Radio 1 and 1Xtra - if you miss us you can listen back here.