Little Mix, Jay-Z and Demi Lovato are a typical part of our day jobs
By Steve Holden
Newsbeat music reporter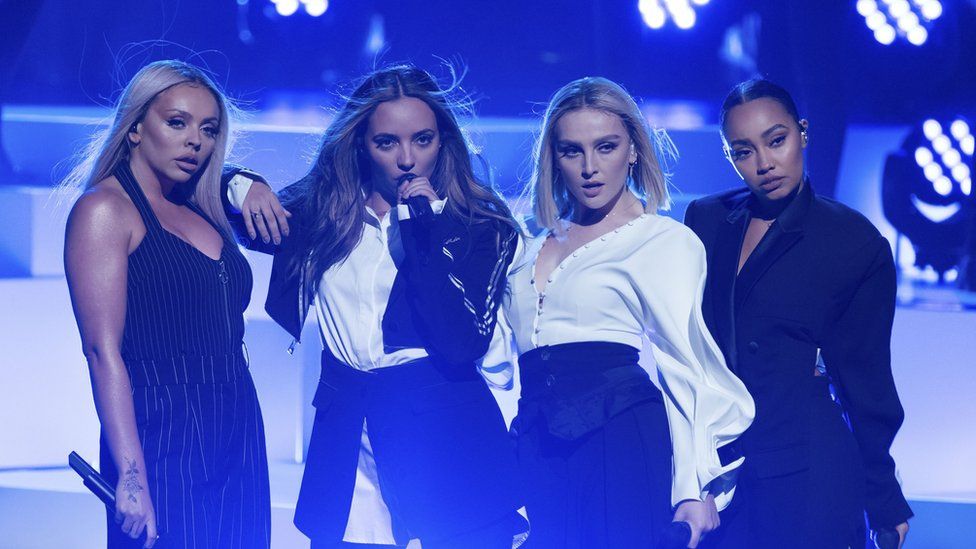 Imagine your working day involves messaging Little Mix so you can channel the emotion of Perrie and Zayn Malik's break-up.
Or the most surreal moment in the office involves a conga line with Nicki Minaj and Beyonce while Jay-Z plays the Grease soundtrack off a laptop.
But that's the life of leading songwriters Sam Roman and Kamille, who help some of the biggest stars in the world create their massive hits.
"Jay-Z was playing Summer Nights. It was a bit weird," says Sam (known as Romans), who's signed to the rapper's Roc Nation company.
Warning: The rest of this article contains strong language
Romans and Kamille got together with Irish singer-songwriter Ruth-Anne Cunningham to share the secrets of their success.
They're all singers in their own right but they work with some huge acts including:
• Little Mix • Clean Bandit • Elton John • Niall Horan • Jennifer Hudson • One Direction • John Legend • Demi Lovato • Jonas Blue • Alicia Keys • Mary J Blige • Jess Glynne... and many more
'I was so angry for Perrie'
One job of a songwriter is to get into the headspace of the artist they're writing for and Kamille is essentially the fifth member of Little Mix.
She worked with the band loads, including on their latest album LM5 and is also in a WhatsApp group with the girls.
"Before we get into an album I'll be asking them what is happening with them. I like to know exactly how they're feeling," she tells Radio 1 Newsbeat.
As most people imagined, Shout To My Ex was a reaction to Perrie Edwards and Zayn Malik's break-up.
"I remember being on the piano in Los Angeles and I wrote Shout Out To My Ex for Perrie. I was so angry for her, and how she felt, that it was the only thing I could have written at the time.
"The girls are very much part of everything that I do. When they're not around, I take their ideas and everything becomes part of their songs."
All three say they have to resist the urge to become best mates with the artist they're working with.
"You have to act chill," says Kamille. "You can't be a groupie around these people because the last thing they want is for you to be fangirling.
"You have to transfer their innermost thoughts into an amazing hit."
Ruth-Anne says working with Jennifer Hudson was scary.
"She asked me to sing the demo the way I would sing it and I felt like I was on The Voice and she was going to give me a critique."
One of Romans' biggest moments came when he worked with his idol Elton John.
"That was a strange experience," he says. "We were there with Clean Bandit.
"Elton's method is to have a lyricist (usually Bernie Taupin) and he puts the lyrics to music. But for this session we were sat around a piano singing weird melodies.
"For him, it was an alien process. It was interesting seeing someone as legendary as that also feeling slightly uncomfortable."
For Kamille, her working relationship with Little Mix has turned into a true friendship and the band asked her to appear on their track More Than Words.
"It's one of the reasons I love them," she says. "I can't think of any artist that's featured their writer on a song."
Likewise, Ruth-Anne has struck up a strong friendship with Niall Horan and he even invited her on stage in Dublin to sing the song they co-wrote together,
All three songwriters admit it's disappointing when a track you get hyped about fails to do the business.
They say it's far better to have a song that does so much better than you expected it to.
In Ruth-Anne's case, it was Work Bitch by Britney Spears.
"Anyone who knows me would wonder how I'm a part of that song because I'm so emotional.
"It was a novelty song that I helped write in about 20 minutes. I didn't think it would turn into anything and then suddenly I was on a call to Britney.
"It was one of those Frankenstein songs where different parts were put together to create something iconic."
She also says she never expected Niall Horan's Slow Hands to be a hit while Kamille says Power by Little Mix was made "off the cuff, last minute and it was probably one of the biggest songs off Glory Days".
One of the most challenging parts of being a songwriter is coming up with a huge hit and then giving it to someone else.
Ruth-Anne reveals JoJo's Too Little Too Late was originally intended to kick-start her own musical career.
"The song didn't feel like me," she says. "I was offered record deals because of it but I always had in my mind that JoJo would sing it.
"I don't follow fame and I've never regretted giving it away."
Kamille agrees that "songs come to us" and if a song is meant for another artists then "give it away".
She admits it can sometimes be tough seeing people she's worked with hit the big time.
"I wanted to be an artist from day one. I used to be a vocal coach on The X Factor and helped other people become artists.
"I used to cry in the toilet as you have to give yourself to these artists and then you have to watch their success.
"But it taught me about patience and it told me about giving. You have to be quite selfless as a writer.
"It's not about you. You have to be humble and write an amazing song for someone else and let them have their moment.
"That's an amazing part of who we are as writers. Writers should be celebrated."