Covid: UK teens held in Sicily hotel for more than three weeks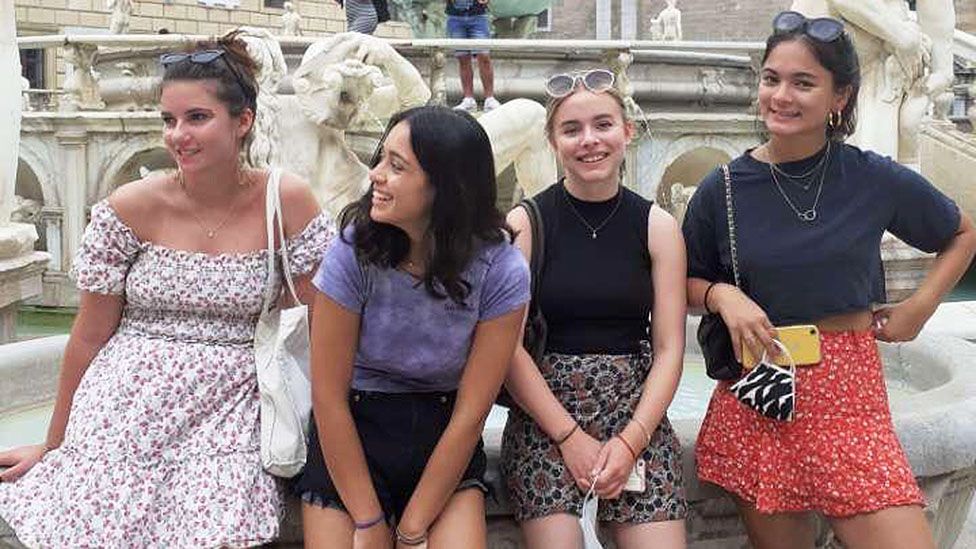 When Millie, Lily, Lily Rose and Rachel finished their A Levels this year, they just wanted to get away for a few days.
They flew to Sicily, Italy on 8 September (it was on the UK's safe list at the time) and they had a pretty good trip until they were ready to fly home.
On 14 September they all experienced coronavirus symptoms - they'd lost their sense of smell.
They reported this to their Airbnb host, who arranged for them to have a coronavirus test.
After testing positive, an Italian ambulance collected them from where they were staying and took them to a hotel being used to house people self-isolating due to coronavirus.
Now, 22 days later, three of the girls are still there in solitary confinement.
'We can hear people crying and shouting'
"We are in neighbouring rooms and we see each other briefly when we're collecting our food because it's left outside our doors," Lily Rose, who's 18, tells Radio 1 Newsbeat, from the hotel.
"We can pop our heads out as we're collecting our food to see each other, but that's it."
Lily, Lily Rose and Rachel are isolating on the tenth floor of the hotel. They've been tested for coronavirus several times, and have been told they can leave when they return two consecutive negative tests, which is a local measure.
"Some days are better than others," Lily Rose says.
"It's just a lot of waiting around with not much to do and that can really take a toll on your mental health.
"There are some instances we can hear people crying and shouting out and protesting and that's scary. That isn't nice when you're on your own."
The girls can't communicate with anyone else where they are in isolation, they have no idea when they might be allowed to go home and there are armed guards outside the building, making sure no one leaves.
Foreign office in 'regular contact'
A spokesperson for the Foreign Office told Newsbeat that it has been in "regular contact" with Lily Rose, but that it must adhere to "local health restrictions".
"The length of quarantine is based on local measures to control the spread of Covid-19," says a government spokesperson.
"But where we have had concerns about food, rooms and medical issues affecting British nationals, we've raised them directly with the Italian authorities."
Millie, who's also 18, returned a negative and an inconclusive test and has been allowed to go home.
"I'm so glad to be home and with my family," she tells Newsbeat.
"But I feel so guilty about the girls being over there and I know how horrible it is for them."
Millie's upset about the double testing rules in place in Sicily. In most places, it's recognised that after two weeks anyone who showed symptoms of coronavirus is no longer contagious.
The group has been in isolation for more than three weeks.
"It was 21 days for me and I'm lucky because obviously I'm home, for the others it will be longer," Millie adds.
"But it was 21 days without going outside, without having any fresh air and without seeing anyone, really.
"And the people you did see couldn't communicate with you very well. So that was probably the most difficult part."
'We wish we were being treated differently'
The rooms, Lily Rose says, aren't clean.
"Once a week, they come in and mist everything down - I'm assuming it's an antiviral antibacterial spray.
"There's food and hair on the floor. It clearly hasn't been cleaned for a while."
But despite everything, they don't regret reporting their positive symptoms.
"We have all discussed this, it was the right thing to do and we would never want to have got on a plane knowing we could have infected anyone - even though our symptoms were so minor," Lily says.
"We just wish we were being treated differently and we wish that we were home. We're all missing home a lot."