Cassette sales double in a year with Lady Gaga best-selling album on tape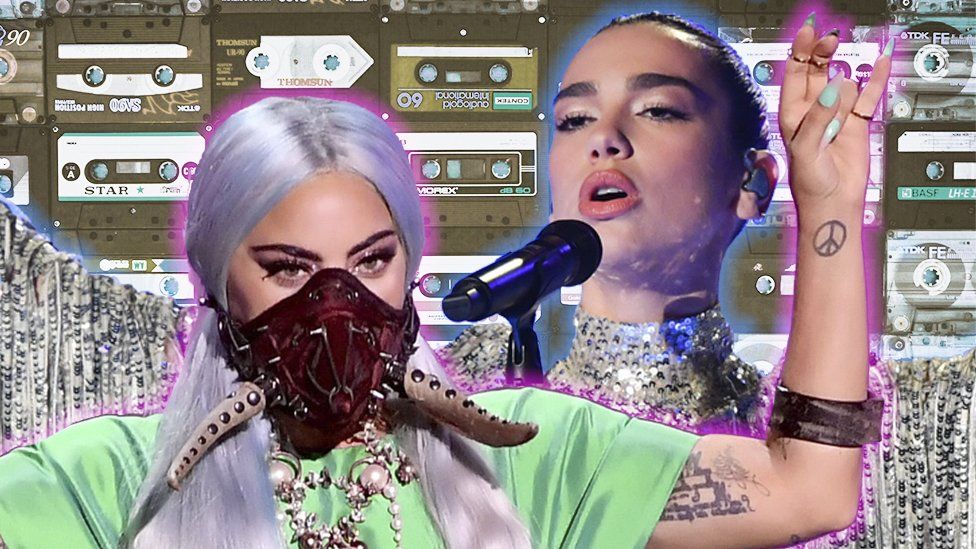 Cassette tape sales are estimated to have doubled this year compared to 2019.
The British Phonographic Industry, which represents record labels, projects 157,000 tapes will have been sold in the UK in 2020.
That's the highest number since 2003, when compilation Now 54 - featuring the likes of Busted, Girls Aloud and Oasis - was the biggest seller on tape.
Now, the top sellers are Lady Gaga, 5 Seconds of Summer and Yungblud.
So what's behind the rise of cassette tape sales?
Firstly, it's important to note that cassette tape sales represent a tiny fraction of music sales this year.
They're dwarfed by the 4.8m vinyl albums sold, which is the highest since the early 90s, according to the BPI.
Among the top 10 best-selling vinyl records of 2020 were classic albums from Fleetwood Mac, Amy Winehouse and Nirvana.
However, all the albums in the cassette top 10 were 2020 releases - from artists such as The 1975, Blackpink and Selena Gomez.
Of course, the main bulk of music was listened to on streaming services - that accounted for 80%.
But cassette sales have been going up for a few years now, which BPI boss Geoff Taylor puts down to "the timeless appeal of collectable physical formats".
That's something Tallulah Webb agrees with.
She started her own label, Sad Club Records, four years ago, and they release all their music on tape.
"I think cassettes are the way forward for DIY artists," the 23-year-old tells Newsbeat.
"It gives them something to put out physically, and it gives them a potential to make money."
Tallulah adds that with artists not able to gig this year, fans have taken to other ways to supporting their favourite artists.
"People's eyes open and realise they can't just stream their favourite artists… they need to contribute a bit more."
So why tape over other physical formats for some people?
Firstly, Tallulah says cassettes nowadays have much better sound quality than they used to.
She also works in a record store and thinks that the older people who come in still associate tapes with a hissy, lower-quality sound than vinyl or CDs.
But younger people don't remember when tapes didn't sound as good: "They're the ones buying, because they're the ones thinking it's really cool."
That's another reason tape may be making a comeback.
The vinyl revolution of recent years was partly fuelled by people looking for something different to digital downloads and online streaming.
Now vinyl is pretty widespread again, are tapes the new hipster medium?
"There is a bit of that," says Tallulah.
"Some people are probably buying it to take pictures of it and put it on Instagram.
"But that's not really hurting anything, and it's still helping the cause."
While Tallulah's tapes are on a much smaller scale compared to the top-selling cassette artists, she thinks big acts releasing on tape help her record label too.
"When I started, it was a lot harder to sell them," she says.
"Now it's got a lot easier because people are seeing the larger artists doing it. So it has helped me."
She adds: "I think people genuinely like the format.
"The amount of times I listen to a playlist on Spotify, and I skip a song… And then you put a cassette on, and you can't skip it.
"There is something really nice about that."
Predicted best-selling cassette albums for 2020
1. Lady Gaga - Chromatica
2. 5 Seconds Of Summer - Calm
4. The 1975 - Notes On A Conditional Form
8. Dua Lipa - Future Nostalgia
9. Haim - Women In Music Pt III
10. The Streets - None Of Us Are Getting Out Of This Life Alive
Based on Official Charts data. Final figures will be confirmed on 4 January 2021.