Covid: How to help someone who's grieving
By Lindsay Brown
Newsbeat reporter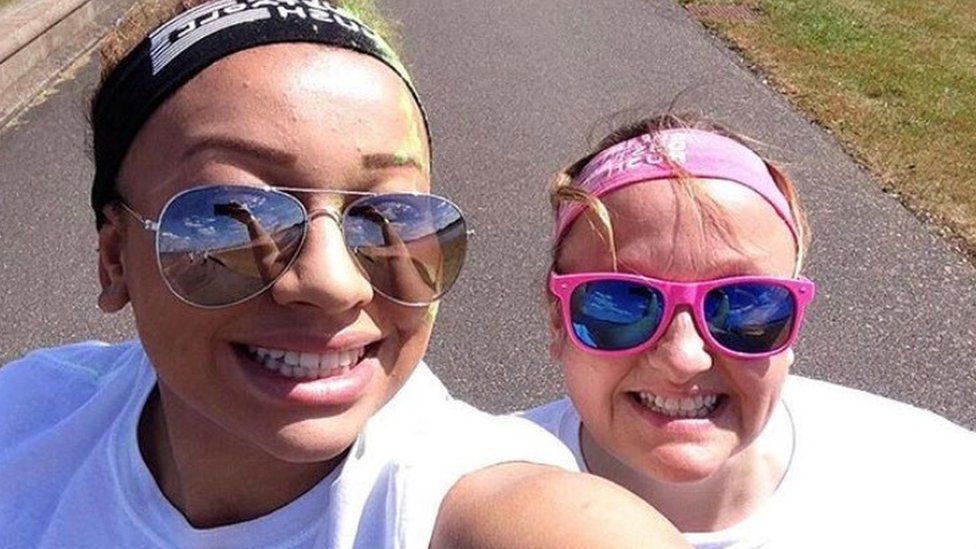 The number of people who've died with Covid in the UK has passed 100,000. It's a devastating number and it leaves behind many thousands of grieving friends and families. So how can you support someone through the loss of a loved one?
"For every person who dies, around eight to ten people are significantly affected," psychotherapist Julia Samuel tells Radio 1 Newsbeat.
Restrictions on going to funerals and rules around household mixing mean the normal support networks might not be as easy to reach.
Here's what you can do to help someone dealing with grief.
"Your friend will need your support for a lifetime," Amber Jeffrey says. Amber set up the Grief Gang podcast and Instagram page after her mum Sue died. She says the idea was to reach out to others like her.
The 23-year-old suggests being specific when offering help. "Don't use the phrase 'let me know if you need anything' - instead just do something.
"So be like, 'I'm not going to ask you what you need, I'm going to bring round a lasagne and leave it on your doorstep, or pick up your washing'."
She says anything that makes life easier for the person grieving is likely to be a big help.
Listen more than you speak
"The single best thing we can do as a friend is to listen - whether that's on the phone, Zoom or Snapchat," Julia says.
"Listen five times more than you talk. As a friend we feel we have to fix it and make it better, but then of course we say all the wrong stuff."
Julia says acknowledging a person's loss can be a huge comfort too.
"Just by saying sorry your grandfather or father or aunt died, it's an act people will remember forever."
It was a combination of speaking and listening to others that helped Lobby Akinnola, who lost his dad Femi to Covid-19 last April.
"I started listening to podcasts - 'Griefcast' and 'I'm Terrible Thanks for Asking'. Just hearing other people's stories and hearing that they'd been through this kind of thing and it doesn't have to be the end," he says.
Grief counselling also helped. "Just that opportunity to talk. There's always something of an expectation that kids will just bounce back, but it knocked me for six."
Grieving isn't like the movies
"There's a Hollywood idea of grieving, so you might expect your friend to be sobbing and not able to get out of bed - and that's true for some people," Rosie Rawson says.
The 28-year-old's mum, Trish, died after getting Covid-19 in May. Rosie says grief isn't consistent. Some days are OK - you might be laughing and happy. Other times you want to curl up and watch a film.
"The best thing to do as a friend is not put your opinion on how someone should be grieving or how they should behave. Let them do what they need to do or say what they want to say."
Julia agrees, adding that sometimes a grieving person may want lots of sex or want to dance and have fun. "Let them be whoever they are and let them say funny jokes," she says.
"When I first heard dad died, I just fell apart. Completely fell apart. I wasn't doing anything, wasn't getting up in the mornings, I was barely looking after myself," Lobby says.
"What I'd say to others going through grief is, you're going to feel what you feel.
"There's no right or wrong way to grieve. Don't pressure yourself that you have to be a certain way. The other advice I'd give is just talk about the person that's gone. Not just about their death, there's a whole life of a person before that. "
Remember significant dates
"We're very bad at talking about death," says Rachel Wilson, who founded The Grief Network.
It's an online community for bereaved young people, which she set up after her mum died.
The 28-year-old says checking in on dates like anniversaries, religious events or birthdays really helps. "It's not just the first week or month your friend will need support - continue to check in - allow them to remember their lost one.
"If it's a parent of your friend for example, even if you don't have many memories, it's really nice to hear about them so share those memories. And don't worry about upsetting them, they already feel sad and it's not your fault."
Remind them they're not alone
It's lonely grieving in a pandemic, especially at a time when you aren't able to meet up with friends and family and have a hug.
Hannah Brady's dad Shaun died in with Covid-19 in May. She says it's really important to stay in touch with your friends.
"I would encourage people to private message, drop someone a text, a call, or send a card. It reminds them that although they are alone in grief, that you're there to walk through it with them."
Don't always expect a reply
Rosie says having to reply to all the WhatsApp messages, texts and letters she received was overwhelming. A simple message followed by the words "don't feel you have to reply" relieved her of that stress.
"It takes the pressure off so I could respond when I had the headspace. There's a lot of admin with having to reply - sometimes to people you haven't spoken to in ages."
And don't give up on them!
"Even dropping a call without checking it's OK allows the grieving person to decide whether they want to chat," Rachel says.
"If you've tried a couple of times and there's no answer - don't give up. They may not be feeling up to it now - maybe a few weeks or months down the line they may well be."