Indian farmers' protests: Why they matter to British Indians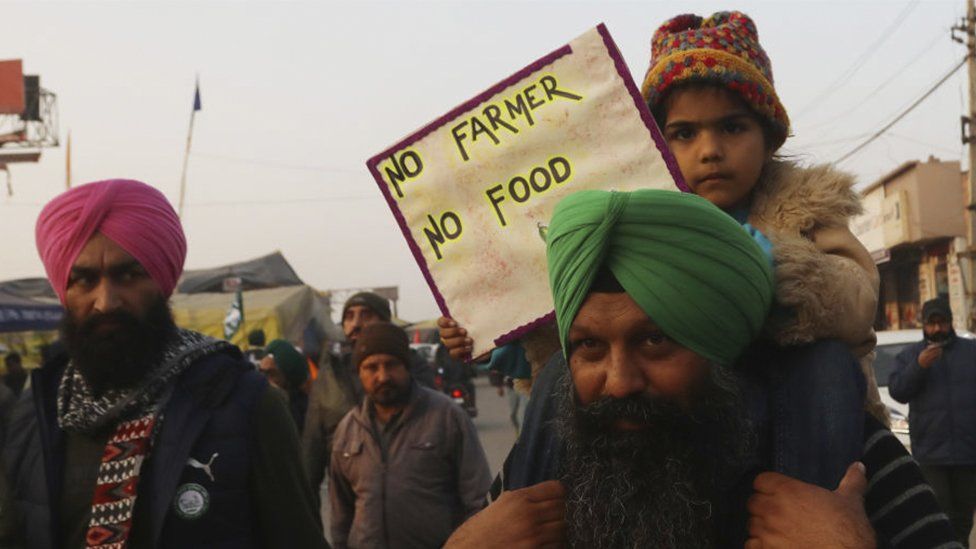 "I think it's a great win for the farmers who have been protesting," says 31-year-old Kiren Dhadwal, a British Sikh of Indian descent who lives in the UK.
Farmers and their families have been protesting in India for a year, camped out in Delhi demonstrating over the government's new farm laws which they think will ruin their livelihoods.
Young Brits of Indian descent may be almost five thousand miles away, but the issue has been affecting many of them and their families.
When we spoke to Kiren earlier this year, it was seeing her parents and grandparents glued to the TV, getting angry and upset, which made the situation in India hit home.
Now, with the U-turn, she says things are "heading in the right direction and we want to make sure this is done properly".
"It's an emotional day for British Asians and Indians around the world."
Over the past year, lots of the protesters have travelled from the states of Haryana and Punjab, which are areas that grow lots of food.
What were the new farming laws?
The three new farming laws were brought in last summer.
They loosen the rules around the sale, pricing and storage of farm produce - which means farmers can sell directly to private buyers, instead of government-controlled markets where they get a minimum guaranteed price.
The government said the changes would leave farmers better off by making markets more efficient and attracting more investment.
But in January India's supreme court put the laws on hold "until further notice".
"There's a real respect in our culture of where you come from," Kiren says.
"They're the ones who are providing food internationally­ - the grains, the turmeric, the wheat… a big proportion of it does come from India."
India's government, led by the Bharatiya Janata Party (BJP), initially said these laws would increase farm incomes and productivity.
Some experts say the U-turn by the government is because of important upcoming elections in states which have lots of farmers - with supporters of the law disappointed in its repeal.
"We need to make sure it's not just a tactical move with elections coming up to help Modi win," Kiren adds.
'There's a need for reform'
We spoke to a man from Nottingham, who's Hindu. He didn't want to be named over worries he'd be attacked online. His parents gave up farming to move to the UK - and says most of his family have since had to sell off land back in Punjab.
"There are middle-men who take a big chunk of profit from the farmers," he explains.
"There's a need to protect them from that and to also give them a better deal."
He's mostly worried about the protest causing religious divisions.
"What worries me is that division filters over here - and as communities, we become divided and that would be really sad."
More than 40% of people in India work in agriculture.
And Balraj Purewal, 20, says if he was there right now he'd be a farmer.
"All my family are. It's just not fair. They're taking the minimum wage away," he told Newsbeat.
"My uncle goes back to India every year to check on his crops and check on his team. My cousin has been going to the protests.
"The police have been torturing and beating up our community," he claims. Many others have made similar allegations but they're hard to independently verify.
A tractor rally by farmers led to violence which left a protester dead and hundreds of police officers and protesters injured. Some demonstrators stormed Delhi's historic Red Fort on India's Republic day and occupied it until police chased them away. This was seen as an attack on India's sovereignty.
'For the last 50 years it's not been enough'
Manu Khajuria is from a Hindu agricultural family and argues there have been no reforms in decades.
"The land came from an ancestor through his service in the army," she explains. "It's also brought food on our tables."
Manu's grandfather and dad had to work other jobs on top of being farmers because they didn't make enough. She says her generation has had to find something else.
From her family home in west London she says: "It is not enough, we need to diversify to get us more money."
Tani seems genuinely angry when we speak to him. "Punjab is very much the motherland of India," says the 28-year-old.
"This is our Mecca, this is our mother. It's because of this mother that I'm here today talking to you.
"If you're coming from an Indian background, this is very much of interest to you, irrespective of whether you're Sikh, Muslim, Christian or Hindu - this is very much an Indian threat.
"It's the heartbeat of India. Without Punjab there would be no India."
Tani felt the new laws would allow farmers to be exploited and has spent the last six months campaigning online.
"Should we not get our own way, it would be devastation. It would be a loss of identity," he added.
An earlier version of this article was published in February 2021.