Elisa Lam: What really happened in the Cecil Hotel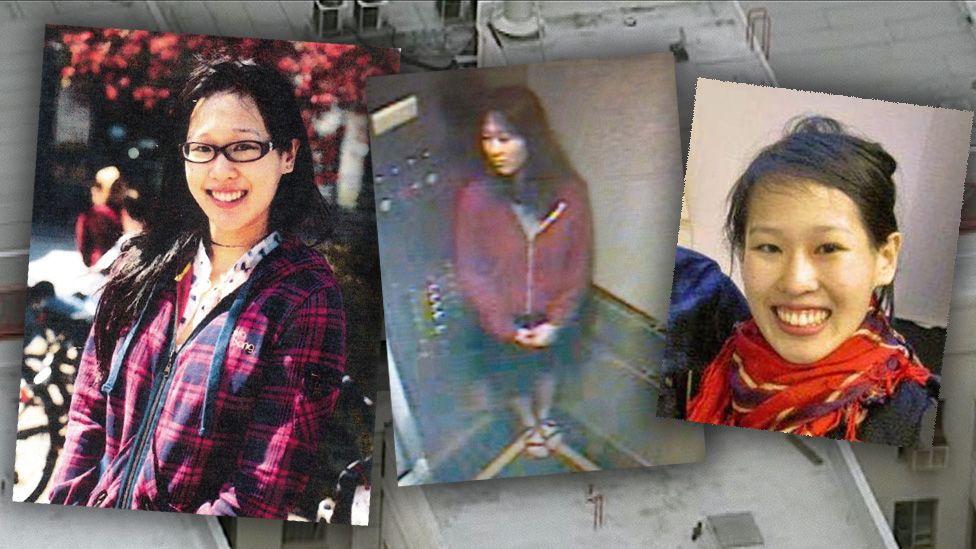 A viral video. Online sleuths. An internet mystery. We've been here before, right?
We have indeed. If you watched Netflix's Don't F*** With Cats in 2019, then some of their new show The Vanishing at the Cecil Hotel might sound familiar to you.
But this documentary series, and the story of Elisa Lam, is something very different.
Elisa was a 21-year-old Canadian student who disappeared in 2013 at the Cecil Hotel in downtown Los Angeles while she was travelling across the US.
A video of Elisa, filmed in a hotel elevator before she vanished, went viral when it was released by LA police during their investigation.
The elevator doors didn't close. She appeared to be speaking with someone unseen. Her movements were strange. She jumped in and out of the elevator. Then, she vanished.
Elisa's body was found in a water tank on the hotel's roof 19 days after she was first reported missing.
Some people said the video was evidence of supernatural activity - and there are still conspiracy theories about Elisa's disappearance to this day.
And that's one of the reasons director Joe Berlinger wanted to make this series.
"This story has been told before, but I think it's been done very irresponsibly in the past," Joe tells Radio 1 Newsbeat.
"For the average viewer it's another compelling story you watch and then move on to the next.
"But for who this happened to, it's the worst moment in their life. It's a real tragedy for that person and that family."
'We need to talk about the ghost stories'
The circumstantial evidence in the Elisa Lam case is compelling.
The video, the similarities to the plot of horror movie Dark Water and even suggested links to a tuberculosis test called Lam-Elisa are all part of what's driven the conspiracy theories and ghost stories that are still popular online today.
"We certainly need to talk about the ghost stories and contextualize them," Joe says.
"It's not like you can avoid it, because that's a big part of the story."
Those ghost stories were partly driven by the findings of 'web-sleuths' who were working to piece together Elisa's final moments at the same time as the LA police department.
Several feature in this series, showing the "tunnel-vision" of people if they only focus on coincidences and conspiracies.
Joe says that sometimes, web-sleuths can do "wonderful things" but in Elisa's case, "their actions were a little misguided".
Elisa's family don't feature, other than in archive news footage, but they knew Joe was retelling the story.
"I think they just were wanting to move on," he says.
"If you look at the other tellings of the story, you'd see she's the victim of some horrible, evil presence that took control of her.
"Those kinds of narratives, I think, are incredibly disrespectful and probably why the family just didn't want to deal with another show that was going to exaggerate the circumstances of the tragedy."
The LA police, coroner and manager of the Cecil Hotel at the time do, however, speak for the first time about what happened.
'I haven't watched the other documentaries'
The hotel manager was Amy Price - and it wasn't the first time she'd been asked to speak about this.
"Usually, I just roll my eyes and think, 'oh, here's another one'," she tells Newsbeat.
"There have been so many pieces done on this and to be honest, I haven't watched any of them."
This one, she says, "felt right".
The Cecil Hotel, at the time of Elisa's disappearance, wasn't a typical hotel.
Set in the heart of downtown LA, which has a massive homelessness problem, some floors were for visitors like Elisa, while others were short or long-term accommodation for people who lived in this "skid row" area.
After Elisa's disappearance, fingers were pointed at residents and the hotel staff, which Amy says was "stressful and heartbreaking."
"From the beginning, when Elisa went missing, I just had a bad feeling about it.
"She was traveling alone and I really thought that she must have gotten mixed up with the wrong crowd and that wouldn't be hard to do in downtown Los Angeles."
The BBC is not responsible for the content of external sites. YouTube content may contain adverts.
Skip youtube video by Netflix
Allow YouTube content?
This article contains content provided by Google YouTube. We ask for your permission before anything is loaded, as they may be using cookies and other technologies. You may want to read Google's cookie policy, external and privacy policy, external before accepting. To view this content choose 'accept and continue'.
The BBC is not responsible for the content of external sites. YouTube content may contain adverts.
End of youtube video by Netflix
Before Elisa's death, the hotel already had a bad reputation. It was a place with a history of suicides, overdoses and a place where several high-profile serial killers had stayed.
It was even the inspiration for American Horror Story: Hotel, which starred Lady Gaga as a vampire living in a penthouse.
But for Amy, before Elisa's disappearance, it wasn't a bad place at all.
"There's a lot of darkness that people like to revisit, like Richard Ramirez, Jack Unterweger and of course, Elisa Lam, but I mean, it wasn't awful to work there," she says.
"We had a great team, we were running a business, and I enjoyed it."
'Humans behind the folklore'
And Joe was committed to telling the story of people like Amy, as much as he was telling Elisa's.
"My reputation for being responsible probably helped convince Amy to talk, and I think her perspective is really essential," he says.
"There are real human beings behind the folklore.
"These were people who were doing the best they can, with limited resources, to run a hotel as best they could in a crummy neighbourhood."
Amy's out of the hotel business now and is working as a jewellery designer - and also writing a book about her own experiences at the Cecil Hotel.
"I want to share my story," she says.
"But this isn't a horror story or anything like that. This is a story about struggle."
The Vanishing at the Cecil Hotel is on Netflix now.