Pokemon 25th anniversary: How two superfans will celebrate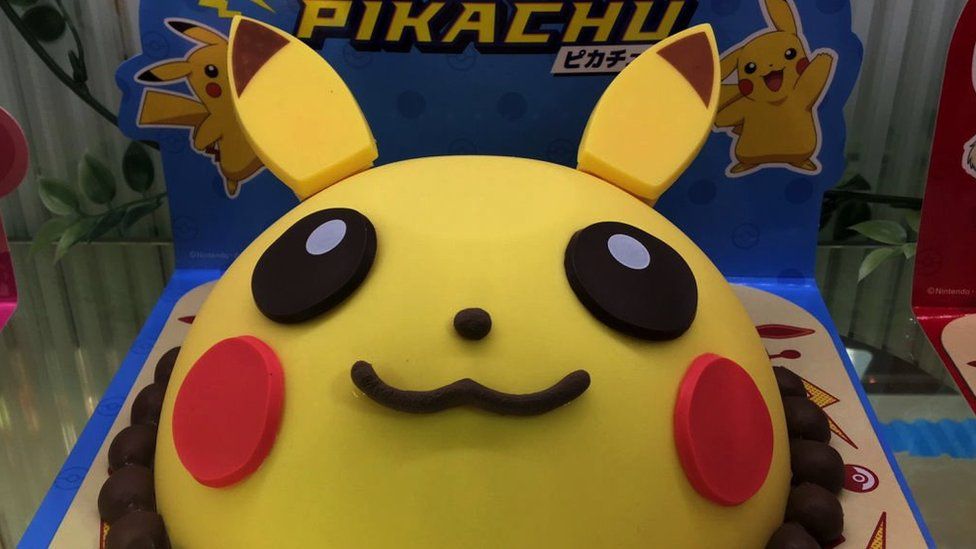 Wander down one of Kyoto's picturesque side streets and you'll come across a metal plaque on an anonymous office building.
It reads: Nintendo Playing Card Co. And it's the original headquarters of the gaming giant.
But it was that original work making playing cards that provided the inspiration for one of Nintendo's most enduring brands. It's Pokemon of course - a brand that celebrates its 25th anniversary this weekend.
Not bad for a game that, as its central concept, consists of capturing and enslaving animals and forcing them to fight each other.
And for Joe and Marti, it's more even than that. It's the thing that brought them together - and it's now their job.
Joe runs Serebii, one of the planet's biggest Pokemon websites, and Marti - Virtually Marti as she's known online - is a Twitch streamer.
They've both been fans pretty much from the get-go.
"It started for me back in 1999 when Pokemon first started to come into the UK," Joe tells Radio 1 Newsbeat.
"I instantly just fell in love with Pokemon. And since then it's just grown and grown and grown."
"I got (the game) Pokemon Blue, Christmas Day 1999," adds Marti. "I was nine years old and I remember SM:TV Live being on the TV and watching the cartoon. And it was one of my most memorable Christmases."
The couple met when they were working for Official Nintendo magazine.
When you play Pokemon, you take on the role of a trainer, scouring the countryside for the creatures. You capture them inside a Poke Ball, and you then begin to nurture them and train them.
Pokemon can gain new abilities and even evolve into larger, more powerful creatures.
As you assemble a team of Pokemon, you use them to battle with other trainers in a quest to be - as the cartoon's theme song memorably put it - the very best.
But from humble beginnings as a card and video game, Pokemon has exploded, with toys, clothes and even a big-budget Hollywood movie starring Ryan Reynolds.
The word Pokemon is a contraction of the words "Pocket Monster"
Pikachu's name is made up of two sounds - "pika" for the fizzing and sparkling of electricity, "chu" for the squeaking of a mouse
The original games featured 151 different Pokemon, and for purists they're still the best
It was the release of the augmented reality mobile game Pokemon Go in 2016 that sparked this recent Poke-renaissance.
"It skyrocketed again," remembers Joe, "back to how it was when it first came out... everything was Pokemon, everywhere."
"Merchandise everywhere," Marti agrees. "You could get clothes on the High Street, not just for kids, but for adults as well."
"I didn't have any Pokemon clothes until Pokemon GO came out ... it wasn't just about the kids anymore."
So how will two superfans be celebrating this weekend's big 25th anniversary?
"We're going to have a Discord call with some friends," says Marti, "and watch the Post Malone concert."
Yes, you heard that right. Both Post Malone and Katy Perry will be live-streaming gigs to mark the big occasion.
Joe and Marti are also primed for some special anniversary announcements - but nothing's leaked. New game? New characters? New cartoon? Nobody knows.
Whatever it turns out to be, Joe can't wait: "The fan community is going to go crazy and hype over whatever comes!"
"The community is really the best thing about Pokemon - the people going to the events, meeting people, trading is just brilliant."
"And whilst we haven't been able to do that recently, the online community has really pushed forwards and it's just such a nice place to be."