James Arthur wants to showcase more music on his Twitch channel
By Vikki Blake
Newsbeat reporter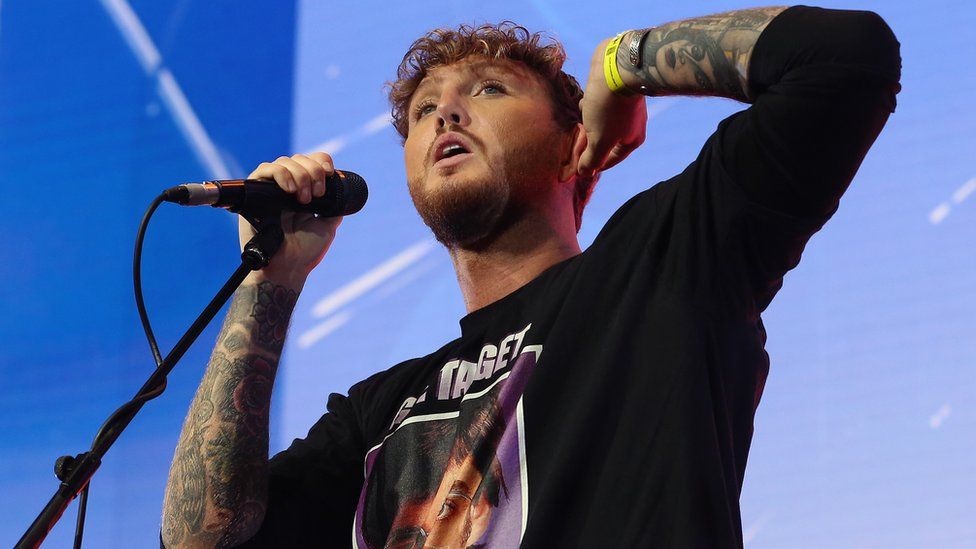 James Arthur says he premiered his latest hit track, Medicine, to a couple of hundred fans while streaming Fifa on his Twitch channel.
As the country stayed at home and musicians were stopped from performing live to large gatherings, James says his viewers "got an exclusive of the new single" late one night in between matches.
It's something he hopes he'll do more of in future - blend his passions of music and video games and see "where that can go".
"That's where everything's headed," he tells BBC Sounds podcast Press X to Continue.
James grew up playing Mario and Duck Hunt on the original NES console and has played games ever since.
"Me and my management have talked a lot about doing a big stream - an all-encompassing thing - where we'll play some Fifa and do some music," he says.
"I'm very much in the early stages of that right now. I only play Fifa. It's just me and a bunch of my mates playing.
"But at some point, I want to do it regularly, and on a bigger scale."
James says that the immediacy of live streaming - where viewers are "seeing the best in me, seeing the worst of me" - also enables him to connect with his fans in a way they couldn't by any other means.
"It's more accessible than anything, isn't it?" he says. "They're sitting with me for four or five hours as I'm playing Fifa.
"They get to feel like they're hanging out with me and my boys - we've got a bunch of my friends from back home - so they get to see a different side of my personality, one that you would never see in an interview or on the usual kind of things that I do. There's no filter."
And if James ever needs a reminder of where he comes from, he says playing with his mates from home will "knock him down a peg or two.
"I've never been allowed to get too big-headed," he laughs, adding his team - Wollop United - is always looking for new opponents to keep him on his toes.
"But luckily I am the best Fifa player out of me and my mates - it's not even close!"
As his track Medicine climbs the charts, many fans might be surprised to hear that the song was inspired in part by the community and friendships James forged online during lockdown.
"The song is inspired by all the things that get you through a dark time," he says.
"A lot of friends of mine are not gamers, but they found that games - whether it be on their phone or whatever - really got them through it.
"I think we all struggled during the first lockdown. I know a lot of people struggled not socialising, not seeing friends and family.
"I found that [through gaming], you really get to know people. And it's a really healthy, social thing to do.
"You're engaging with people, which can only be a good thing.
"Gaming really got me through that time," he adds. "Playing video games massively helped with my mental health."
And even though it's "a little bit unclear right now" about when he and other artists will next be able to perform live, James says he and his team are discussing live stream ideas that would also include gaming, too.
Fortnite occasionally hosts gigs live from inside the video game itself - including high profile shows with artists such as Travis Scott, Marshmello and Dominic Fike.
James says it's a "really, really cool" idea to offer players respite from the in-game action with a little music, blending the best of both music and video games together for one spectacular event.
"It makes total sense to me," he says. "I think it's great."
More from Press X to continue