'My pet has helped me so much during the pandemic'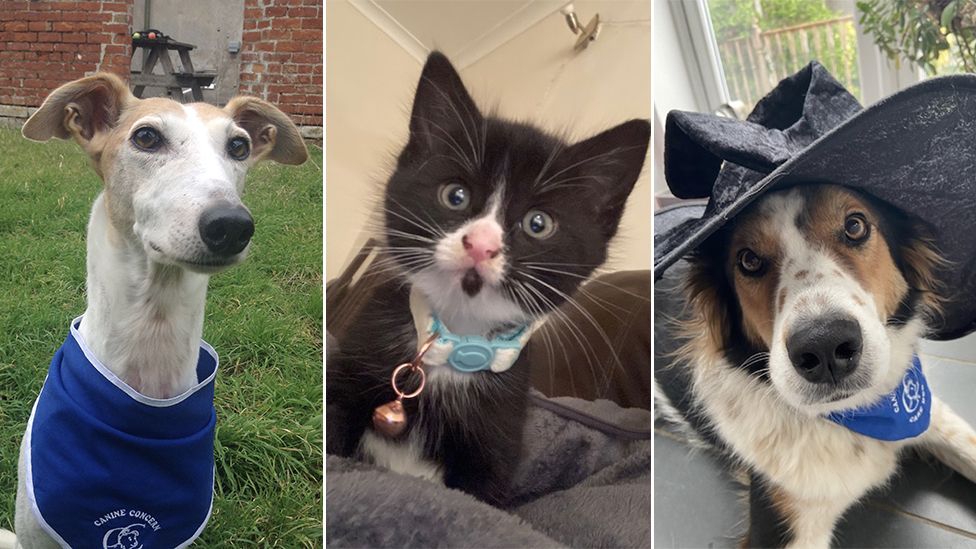 "I don't know what I would have done without him," 24-year-old Francesca Balon tells Newsbeat.
She's registered blind and credits her guide dog, Sean, with getting her through a year of lockdowns.
"He's a real character and it's funny because he's so clever when he's working but he has absolutely no common sense," she says.
Francesca had Sean three years ago when her vision started to worsen, hitting her confidence.
"He's helped me so much with this, especially over the past year," she says. "Taking him for a walk has meant I've still had a reason to go out and it's stopped me from losing my confidence.
"Initially, I was really nervous about social distancing when out walking, but Sean seemed to pick up on my anxiety and would turn around to help reassure me.
"He's also so energetic, so there's no choice but to get out and walk him each day."
There's been an increase in demand for pets since the first lockdown and 24-year-old Raisa Daya has had a kitten, Chip, since January.
Raisa, who uses the pronoun they, has struggled with depression and anxiety for several years.
"I work as a stage manager and was feeling very anxious in the first lockdown when the theatres shut down," they say. "I couldn't see an end of the lockdown and felt really low."
"But getting Chip this year has given me something to get out of bed for. He's a great sense of entertainment and my housemates love him, too."
Raisa was also previously paying for a therapist but has stopped that since Chip arrived.
"He's saving me money because he's had such a positive impact. Obviously pets can't heal everything and I still need medication, but they really do help."
'Animals expect nothing in return'
Research by the University of York found that of almost 6,000 people surveyed, nearly 90% of pet owners said their pet had helped them cope better emotionally during lockdown.
Charity Canine Concern runs care visits across the country, taking dogs into schools, prisons and hospitals.
Because of the pandemic many of the visits have had to stop, but it has still found a way to support people, such as 16-year-old Mia.
"I have autism and have really struggled with the change of adapting to home-learning" she says.
"At school, we have a support dog called Max who helped make me feel comfortable when I was struggling with stress and feeling overwhelmed."
Mia has not been able to see Max in lockdown, but has received regular emails, including photos of him dressed in different costumes.
"It's so nice to wake up in the morning, check my emails and see a picture of him," she says. "It's a real boost to the day and has made a difference in lockdown.
"Animals give so much to us but they expect nothing back in return"
Bath Spa University runs a similar scheme through Canine Concern.
Sophie Batchelor, who works in the wellbeing service, helped set it up two years ago.
"We have six dogs registered with us who visit the campus, and it's been hugely popular with the students," she tells Newsbeat. "You can immediately see the positive impact the dogs have."
"Although face-to-face visits haven't been able to happen in the past year, we've been finding other ways for the students to have contact with the dogs."
One of those who has benefited is second-year music student Katherine.
"I struggled to meet people when I first joined university and the dogs really helped me do that through the scheme" she says.
"During the lockdown we've had video calls with the dogs. They aren't always the best at the video calls though," she laughs.
"But it's been a great way of staying in touch with other students and has really helped me to feel less isolated."