Gyms re-opening: 'Everyone's raring to go - but take it slow'
By Michael Baggs
Newsbeat reporter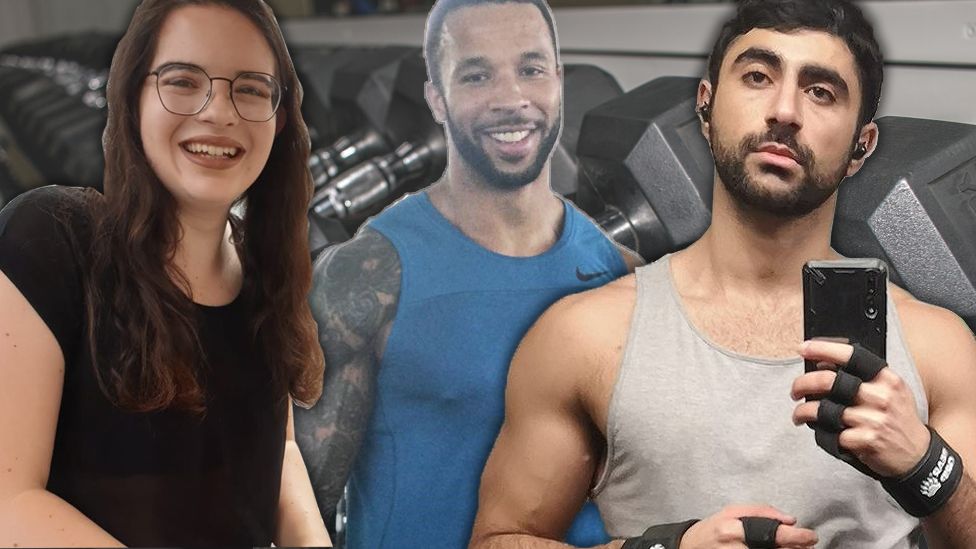 The gains. The pump. The changing room selfie. That sweet, sweet serotonin rush.
There are lots of reasons to be excited about gyms re-opening in England - they've been closed all of 2021.
Gyms in Scotland are due to re-open on 26 April, in Wales it's 3 May and it's not been announced when they'll be back in Northern Ireland.
Marc McLaren is a gym manager and personal trainer in Manchester and is "absolutely buzzing" about things re-opening as English lockdown rules ease.
He's expecting things to get pretty busy.
"I think everybody's raring to go now," he tells Newsbeat.
'It's hard, but take it easy'
But Marc's urging caution and says people need to know that they won't be able to pick up where they left off in 2020.
"I've already seen it on the group chats, online, on social media - people can't wait to get in and use this machine, that machine - everybody's got in mind what they're going to do," the PureGym manager says.
"But as hard as it is - and it will be the same for myself and the personal trainers - take it slow, easy."
"With us coming back after such a lay-off, everybody's in the same boat. Just take your time. You won't have the same intensity or weight you did last year."
He says that even after a few session with lighter weights or less intensity than before, you'll still feel more of a burn that you'd get working out at home.
And now, more than ever, it's important for gym-goers to warm up and cool down properly to avoid injury, he says.
"Lean on the team," he advises.
"Everybody's had extra training on safe ways of working and on returning to the gym after a long lay-off."
'I missed the social aspect'
Kitty Bates is on a countdown.
The 21-year-old isn't your average gym-goer - she competes in Strong Women competitions and she's got seven weeks between gyms opening and her next one.
"I've got a small amount of kit that I bought in the first lockdown when we all kind of freaked out and all the prices went through the roof, so I have been able to train to some extent," she says.
"The gym I go to is not like a commercial gym. Everyone there is friends with each other. We all get along both inside and outside the gym."
And while she's managed to keep in touch and meet up with her gym friends, she has missed them yelling at each other.
"Getting to scream at them to get that last lift, pull up a deadlift, being there to support them, that kind of stuff - I've really missed the social aspect of it."
'I could cut out the world'
Chris is missing the social aspect too, but he's also keen to get back to the physical changes and mental health benefits he gets from regular workouts.
"Going to the gym was time for me to kind of put my earphones in and cut out the world for an hour," says the 25-year-old.
"The gym was the way to start my day in a good mood so that I just feel better working through the day."
Chris will be following Marc's advice and taking things really slow when he's back in the gym, especially since he's had problems with his lower back due to exercise before.
"I'm not in the mood to do that again. So I usually jog to the gym, that helps as a bit of a warm-up."
He's got his gym schedule for the next few weeks worked out on a spreadsheet and during lockdown has been using weights his brother didn't want.
What about online workouts?
If you're not ready to race back to the gym, don't worry. Most of the UK's big chains will continue the online service they provided during the past 12 months.
David Lloyd believe members will use what's offered online as "complimentary to their experience, rather than as a replacement."
PureGym says it is "confident that gyms and home workouts can co-exist" in the future and will continue to provide all the online services it introduced during the pandemic.
GymBox says it will continue to invest in its online classes as people return to its London-based spaces.
For people worried about how three months without gym workouts has affected their fitness or muscle mass, Marc says it'll all come back quickly.
"Your body can get back to a state it has been in previously, and it will be easier than getting there originally," he says.
He says we all just need to "graft and put the work in."
"But I think everybody's going to enjoy that now," he adds.