Body image affects half of men's mental health, new study shows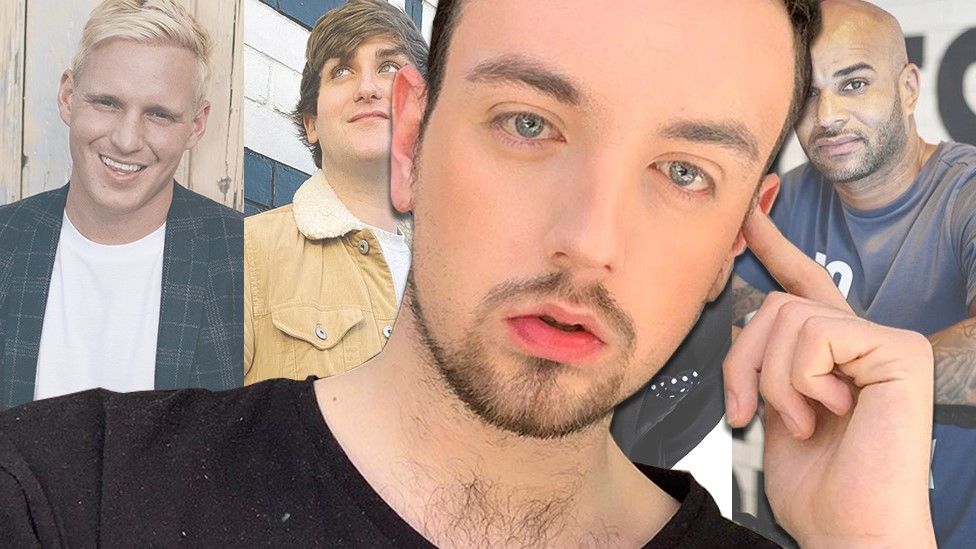 Almost half of UK men say poor body image has affected their mental health, according to a new study.
Research by suicide prevention charity Campaign Against Living Miserably (CALM) and Instagram found 48% of men aged 16-40 had struggled because of how they feel about their body.
Of 2,000 males asked, 58% said the pandemic had affected how they feel about their body in a negative way.
Only 26% said they were happy with how they look.
And 21% said they don't feel comfortable talking to anyone about it.
'Everyone was getting fitter - except me'
Spencer Cooper, 22, is among the 48% - and says the pandemic played a big part in his poor body image and mental health.
"During lockdown, I saw everyone was doing home workouts on Instagram Live and on Facebook, I was thinking, 'Right, okay, I'm going to try that,'" he tells Radio 1 Newsbeat.
"I did a couple, but it wasn't for for me, I couldn't do it, and I think I made myself feel quite guilty for that.
"Everyone on social media seemed to be getting fitter, healthier and doing well - and I seemed to be doing the opposite."
Spencer says that even though the new figures are high, he would have expected them to be even higher.
"When your clothes start not to fit, the shops aren't open and all of a sudden you don't look good, you don't feel good and you're very unhappy in your body image," he adds.
"When you already didn't feel good to start with because of the pandemic and not seeing friends, it hits you quite hard."
Spencer feels the reason some men don't feel comfortable chatting about how their body image affects their mental health is because men are simply "programmed not to".
CALM and Instagram are launching a new series, CALM Body Talks in an attempt to start that conversation.
Body image campaigners Jamie Laing, Stevie Blaine, Leon McKenzie, and Russell Kane are all involved in the series.
"Growing up I was quickly aware that my body was different to those around me," Stevie Blaine tells the BBC.
Stevie says he struggled with his weight during his teens and later when he experienced hair loss in his late 20s - and says he went through "a decade of self-hate".
CALM Body Talks aims to promote positive body image in men - but of course it's something that affects women too.
'Men missing from the conversation'
"Women face these issues everyday too, and that's why it has been so great to witness the rise of the body positivity movement over the past few years," says Jamie Laing.
"You scroll through hashtags like #bodypositivity and #selflove on Instagram and you see so many women sharing experiences of body changes during lockdown, advice for self-care and motivational messages to support their community.
"It's hard to ignore the fact that there is a stark gender divide here, and men are often missing from the conversation."
Spencer says his self-esteem is affected by what he sees in his feed.
"I think there's this huge expectation to look and act a certain way," he says.
"The image that keeps flashing through my mind is these buff, ripped muscly men who post their bodies on social media a lot.
"Social media is still kind of dominated by these images of how you should look as a man."
'Instagram causes pressure on boys'
During the first coronavirus lockdown in 2020, CALM says it saw a 40% increase in calls to its helpline and visits to its website by 16-24-year-olds double.
CEO Simon Gunning admits Instagram has been part of the problem for young people's body image.
"Unquestionably Instagram has caused the pressure for adolescent boys to be big and muscly, it is unhealthy and unattainable," he says.
"This campaign tackles the issue at its core, body image on Instagram."
"Body image issues are massively prevalent in women and girls. The same pressures apply to men but we don't discuss it in the same way - the way we portray body image for men is decades behind. There is no debate for men on this topic."