Charlie Bit My Finger video to be taken off YouTube after selling for £500,000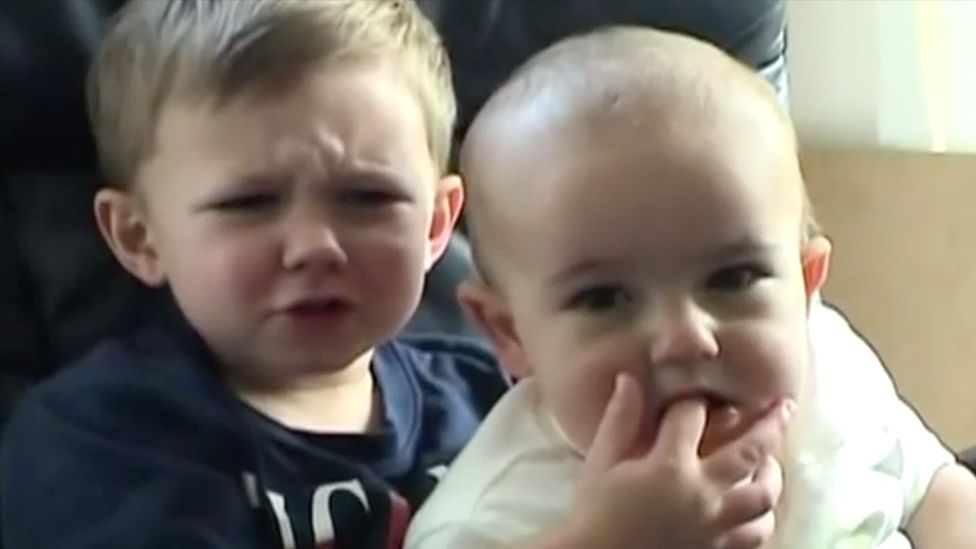 As one of the original viral videos, the Charlie Bit My Finger clip is a little piece of internet history.
But now the much-loved clip of baby Charlie gnawing on his brother Harry's finger will be taken off YouTube after it was sold for $760,999 (£538,000).
The Davies-Carr family auctioned the clip as an NFT, a non-fungible token.
Bids came into their auction page throughout the weekend, but the price dramatically increased in its final hours on Sunday.
The bidding battle was between two anonymous accounts.
"3fmusic" eventually outbid "mememaster" for the video, which has been watched more than 880 million times since it was put on YouTube in 2007.
The clip had been due to be removed from the video sharing platform on 23 May, following the auction - but at the moment it's still there.
An NFT is like a certificate to say that you own something digital. It means original versions of viral videos, memes or tweets can be sold as if they were art.
It's a lucrative business for those who own viral clips.
NFT (non-fungible token) technology is a growing trend in the digital art world.
Grimes, Johnny Depp and even Twitter founder Jack Dorsey have all sold NFTs of their work for large sums.
And the 10-year-old internet meme, Nyan Cat, sold for $580,000 (£409,000) in February.
An NFT is a bit like a collectible certificate of authenticity, but its owner does not actually buy the copyright itself - meaning the artwork the NFT represents can still be shown wherever the original artist or creator chooses.
This means it's an unusual move for the creators of Charlie Bit My Finger to choose to remove their video from YouTube.
Buyers choose to invest in NFTs for a number of reasons, including nostalgia - but whether this turns out to be an investment with long-term potential, or just a temporary craze, remains to be seen.
Sunday's spending spree means the mysterious anonymous bidder will become the owner of the Charlie Bit My Finger clip.
But it also gives them a chance to create some follow-up content.
The auction page says the NFT winner will be given the opportunity to "recreate a hilarious modern-day rendition of the classic clip" that will feature "the original stars, Harry and Charlie".
Now aged 17 and 15, it's the right time for Harry and Charlie to "embrace the next iteration of the internet", the site adds.
The video was uploaded to YouTube by Harry and Charlie's dad, Howard, in 2007, because he couldn't email it to their godparents in America.
The family website says the clip was filmed as "a part of catching random moments as the boys were growing up", and that it "unintentionally went viral".
They haven't said what they're planning on doing with the money.