Harambe: Gorilla photo to be sold as an NFT five years after he was shot dead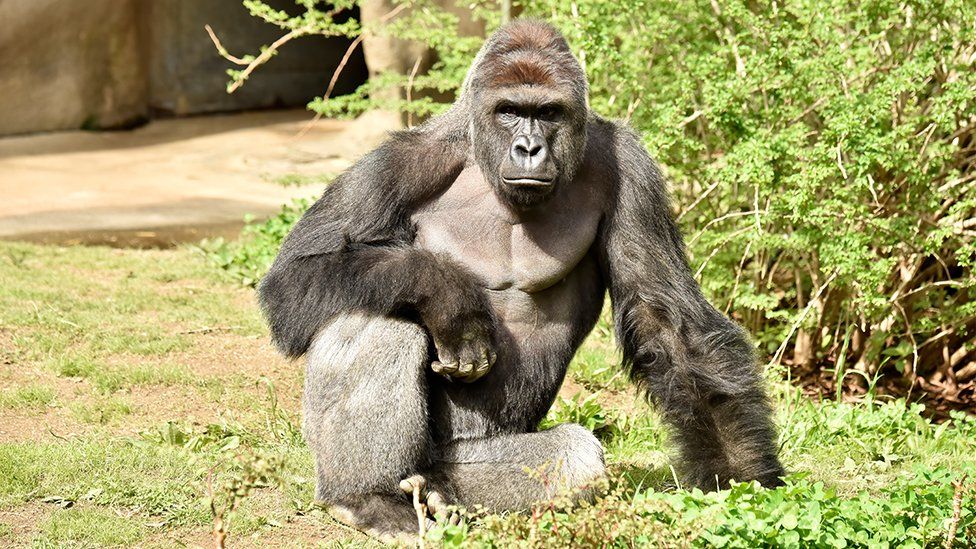 A photo of the gorilla Harambe is being auctioned off as a non-fungible token (NFT) to mark five years since he was killed.
The western lowland gorilla was shot dead at Cincinnati Zoo after a three-year-old boy fell into his enclosure.
After Harambe's death, #RIPHarambe and #JusticeForHarambe began trending and protests and vigils were held around the world.
An NFT is like a certificate to say that you own something digital.
It means original versions of viral videos, memes or tweets can be sold as art.
A comparison with the art world would be owning an original Picasso painting versus owning a print - the Harambe NFT in this case is the original artwork.
Harambe's official photographer Jeff McCurry took thousands of photos of Harambe over the course of 14 months.
The one being sold off is one taken on the day they met, when Harambe was first put on exhibit at the zoo.
It's been shared more than five billion times online, the organisers of the auction say.
"I considered Harambe a true friend," Jeff said.
"My many hours spent with him were always special and intimate.
"While I will never stop taking photos as long as I live, I know I'll never find a better subject that means as much to me as Harambe."
Despite backlash from animal rights campaigners and others online, Cincinnati Zoo defended the decision to shoot Harambe after he grabbed and dragged the boy.
Soon, people started sharing memes and jokes making fun of the online mourning.
In the summer of 2016, petitions were created in the gorilla's honour, including calls for him to be turned into a Pokemon Go character, printed on dollar bills and carved into Mount Rushmore.
A few months before Donald Trump was elected US president, a poll in Texas suggested Harambe would get 2% of the popular vote in the election.
The zoo wasn't impressed by the jokes, though.
It came off social media and closed its gorilla enclosure for a while afterwards.
In today's 'joke Facebook events that it turns out people are taking seriously' - there are about 60 people at a Harambe vigil by Hyde Park pic.twitter.com/TLPoubbXdL

— Tara Mulholland (@tara_mulholland) October 28, 2016
"The sheer absurdity of Harambe as a social issue was a really easy thing to mock," Vox writer Aja Romano told the BBC in 2016.
"I think it spoke to a level of outrage fatigue. If you're seeing people freaking out about a dead gorilla, over say thousands of people dying in the Syrian refugee crisis, then what do you do with that anger?
"The only way to sort of express your anger was to just turn this sort of worship of Harambe and turn this deep cultural grief over Harambe's death into a meme."
The image of Harambe is the latest bit of internet culture to be sold as an NFT, after the Disaster Girl meme sold for £341,000 and the Charlie Bit My Finger video went for £538,000.