Charlie Bit Me NFT sale: Brothers to pay for university with auction money
By Alice Evans
Newsbeat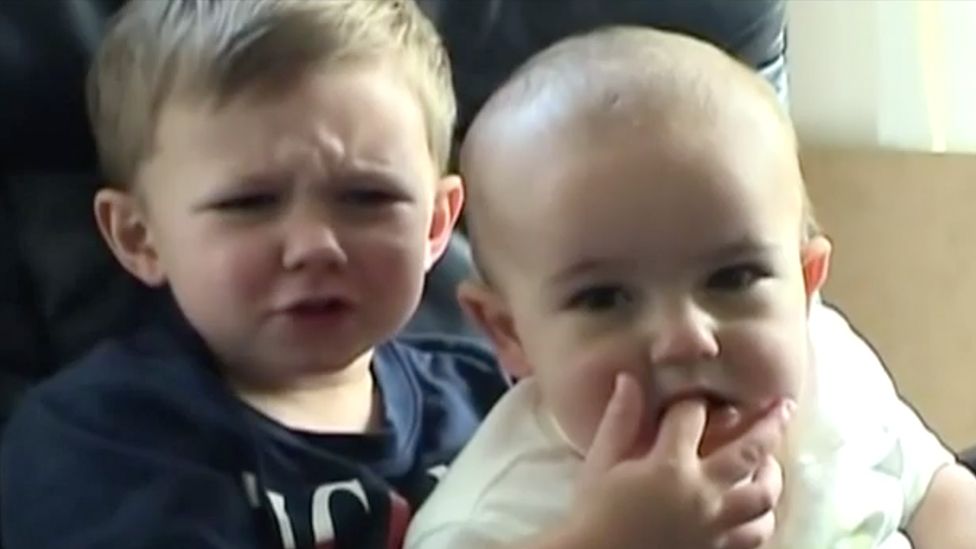 With no such thing as TikTok in 2007, the best way for Howard Davies-Carr to send a clip of his sons to their godparents was to put it on YouTube.
Some 14 years and 885 million views later, the clip of baby Charlie biting his brother Harry's finger is still one of the internet's most viewed videos.
As well as fame, the video has brought riches - it recently sold as a non-fungible token, or NFT, for £500,000.
The boys now say they'll use the money to go to university.
Harry, who is now 17, tells Radio 1 Newsbeat he wants to study "some kind of engineering" at either University College London or Imperial College London.
Charlie, now 15, isn't yet sure what he wants to study. But he says the money generated by the video will also cover the uni fees of his two younger brothers, Jasper and Rupert, if they want to go.
"I can't even remember doing it so making money off it, and having experiences off it, is really cool," Charlie says.
"We've been to America twice from it, I went round Sky's studios, and we've met a lot of cool people. It's just an extra part of our life that's quite interesting."
An NFT is like a certificate to say that you own something digital. It means original versions of viral videos, memes or tweets can be sold as if they were art.
It's a lucrative business for those who own viral content - including the Davies-Carr family.
The auction last month came down to a tense bidding battle between two anonymous accounts, with "3fmusic" eventually outbidding "mememaster" at $760,999 (£538,000).
"It was quite exciting seeing the numbers go up, and everyone's reaction to that," Harry says.
"We were on a Clubhouse call with whoever else wanted to listen in, so we were there the whole time that it was being sold."
The boys' dad, Howard, says they had offered to take the video off YouTube as part of the NFT auction, to make it a more desirable collector's item to those making bids.
But the buyer is "quite happy" for them to leave the original clip up.
Howard says the family, who live in Buckinghamshire, has now made an estimated £1,000,000 off the video over the years - but he's made sure to keep the boys "very grounded" in how they live their lives.
"The biggest change to our life is that instead of having two children, or three children, we have four children - and we saw the money as a way that actually we can afford that comfortably," he adds.
He says he's always encouraged Harry and Charlie not to let the fame get to their heads either.
"By the time they're adults, I want them to be more than just the video," he says.
"You see fame come and go, it's very fickle. So we've never viewed this as fame, we've never viewed it as a source of income."