Afghanistan: British veterans' mixed reactions to Taliban uprising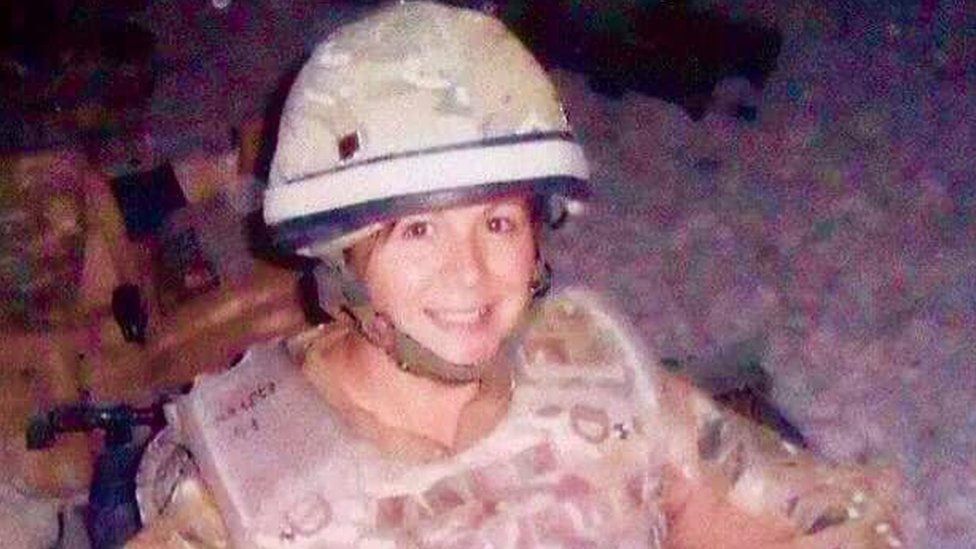 For current and former soldiers in the British Army, the scenes unfolding in Afghanistan are bringing back a lot of traumatic memories and mixed emotions.
Andria McMurray served for 19 years as a soldier and team medic and says she lived off "fight or flight" during her tour in Helmand province, in southern Afghanistan, in 2010.
It was "definitely the most frightening" of the seven tours she's done.
Andria tells Radio 1 Newsbeat that during the "tough tour" one colleague was killed in an explosion, and two others had to be sent home after being shot.
Despite those horrifying memories, Andria feels a lot of good came from the British Army's time there.
"As soldiers we are deployed for a reason, and our reasons at that time were to help the Afghan people and to stop Al-Qaeda from advancing.
"I also believe we helped with education and women have been more free. They've learnt a lot and there's been some good out of it.
"It hasn't all been in vain."
Although she says it's "awful" to see what's happening in the country and her thoughts are with the citizens terrified for their future, she thinks it is the right decision to remove troops and allow Afghans to "fend for themselves".
But Andria, who lives in Worcester and is now training to be a nurse, questions if there could have been a "better exit strategy" by the international military coalition.
As US and other international troops began to leave Afghanistan in June, the Taliban launched a rapid advance. They've now seized control of the country - leading to chaos at airports and international fears for the futures of people who do not manage to flee.
Some 454 British troops have died during the conflict in Afghanistan, with thousands more injured.
Jack Cummings from Didcot in Oxfordshire is one of those. The 33-year-old lost both his legs during his second tour of Afghanistan - and right now he's feeling angry.
"My 11-year anniversary of getting injured was on Saturday - as squaddies we call it, a bang-aversary," he tells Newsbeat.
Usually Jack's "bang-aversary" would be a quiet time of year.
"But seeing everything going on I needed to vent my anger and say something."
'I lost my legs for our country'
"It came from the heart," he tells Newsbeat.
"I'm angry, I'm sad, I feel betrayed - I've lost my legs for our country and seeing what's happening to Afghanistan is horrendous and heartbreaking."
"It's totally knocked me for six and I know I'm not the only one. Talking to my mates, everyone's feeling it and some are struggling right now."
Stu, who recently left the Army after 16 years and can't be identified because of his current job says he's also feeling disheartened with the situation.
"It's disappointing and gives this feeling of being back to square one… the Taliban were in power before we went in and they've come back within a matter of weeks - that element can feel like it's wasted effort."
In 2009 Stu says many of his colleagues were injured or killed.
"The sad thing is families are still grieving - I can't imagine what they are going through.
"Possibly one of the only comforts you could cling on to is that they'd done something meaningful and made a difference - and to feel it wasn't must be unbearable."
Stu has reached out on social media to try to support his former colleagues and friends, as he can see they're struggling with their mental health.
He says several people he's served with have taken their own lives in recent years, "and it gets to a point where enough is enough".
"Maybe it takes those guys who aren't struggling to lead the way and reach out to those who are - and hopefully some good will come out of that."
UK troops brought 'peace and stability'
Prince Harry, who spent 10 years in the Army including two tours of Afghanistan, has also encouraged military veterans to "offer support for one another".
He issued a statement through his role as patron of the Invictus Games Foundation, which supports veterans' recovery through sports competitions.
"Our clinicians are also keen to remind veterans to try not to forget the positives of their time in Afghanistan," the charity's chief executive Jeff Harrison says.
"The UK servicemen and women helped to bring peace and relative stability to Afghanistan for almost 20 years. Girls were able to study and attend school, women were able to take positions of leadership and authority.
"However, we know it's hard to consider the positives achieved over the past two decades when there is so much fear and uncertainty about the future of Afghanistan, and so we urge both current and former servicemen and women to talk about their feelings and seek help if necessary."