Aaliyah albums streaming: 'Her influence is absolutely everywhere'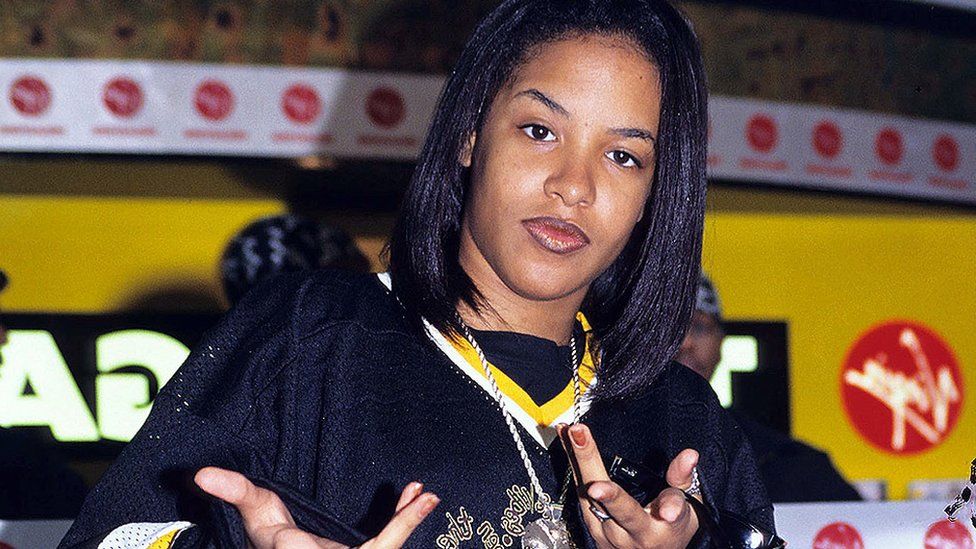 Scroll through New Music Friday releases on streaming services today and you'll find an album called One In A Million.
It's 25 years old and has sold more than eight million copies worldwide - but it's not been available to stream before today.
One In A Million is the second record by the much-missed US star, Aaliyah, an artist whose career is defined by both her musical legacy and the tragedy of her untimely death.
She was one of the fastest rising stars in the world when she died in a plane crash in 2001, aged 22.
The album is the first of five to drop on streaming services over the next few months - none of which have been available due to her family's grief and complications between record labels over rights to the records.
In the seven years before her death, she recorded music that helped define the 90s r&b scene, and her legacy can still be felt and heard in music today.
"Her influence is everywhere, absolutely everywhere," Birmingham-based singer/songwriter Jaydonclover tells Radio 1 Newsbeat.
"There was a timeless quality to her music - but there was a level of class that she brought with swag and melodies," says 27-year-old musician Samson Ashe.
Both name Aaliyah as one of their biggest influences and favourite artists. 20 years after her death, and both are thrilled for a new generation who will get to experience her music as it streams for the first time.
Aaliyah was just 14 when she recorded her debut album, Age Ain't Nothing But A Number, which gave her a US top ten and UK top twenty hit, Back & Forth, in 1994.
She followed it with One In A Million in 1996 and Aaliyah in 2001, along with a string of international hits such as If Your Girl Only Knew, Try Again and UK No.1 hit, More Than A Woman.
For most of her career, Aaliyah worked closely with producers Timbaland and Missy Elliot, but her debut album (her only release you could stream before today) was produced by R Kelly.
During her career, details of their relationship unfolded, revealing the disgraced musician had married Aaliyah when she was just 15, using forged documents which stated she was 18.
But her music career continued to thrive, and as well as an increasing success in the charts, she had modelled for Tommy Hilfiger and began acting, starring in the 2000 hit movie, Romeo Must Die - with more roles confirmed that she never got to fulfil.
In August 2001, Aaliyah and a team flew to the Bahamas to film a video for her single, Rock The Boat.
On their return journey, the group took a plane which was smaller than the one they had flown out in, overloading it with people and equipment.
After taking off, it crashed almost immediately, killing Aaliyah, seven other passengers on board and the pilot - who it's believed had lied to get his pilot's license. He was also found to have traces of alcohol and cocaine in his bloodstream after the incident.
Aaliyah's legacy: 20 years later
Aaliyah has been part of Jaydonclover's life since she was very small.
She's still got a home video of her and her mum dancing to Aaliyah's hit Are You That Somebody, filmed on Christmas Eve in 2002.
"I remember it being recorded on the camcorder," she says.
"We've still got the footage of me just dancing along, singing along and choreographing all these dances with my mum trying to catch up with me."
Today, Jaydonclover is a singer too and is inspired by Aaliyah in both her sound and her look.
"For me it's how she approaches the songs - her soft delivery, her soft tone, how she flows over Timbaland's beats," she says.
"These beats aren't necessarily the softest of beats, but she finds a way to be soft on them, to do her thing and be Aaliyah.
"I'm quite soft with how I deliver my words and my tone, but I do that on hip hop beats, so in that sense, it's very much a similar situation going on with me and my producer."
It's the same for Samson, who says Aaliyah's work with Timbaland taught him to take risks with his music too.
"I think the one thing I get from Aaliyah is to not be afraid to try different sounds, don't be afraid to try different things, but always know your route back home," he says.
"Always know the foundation of where you're coming from so you don't get lost in a sound that isn't yours."
Samson also believes Aaliyah set the blueprint for modern artists like Beyoncé, as one of the first of her era to branch out into ventures outside of music.
"She was a triple threat in entertainment, no one was doing that at that moment in time," he says.
"Now, you have the Beyoncé model, and no one was really doing that - music, modelling, movies, being a triple threat - and Aaliyah was the pioneer of that."
He also says she would sing about sex in a very different way to her r&b contemporaries.
"She's the only person that could sing something like Rock The Boat," he adds.
"It's a very graphic song but she talks about it in such a classy way that you're like: 'Ok, that can still be played on daytime radio because it's talked about in a classy manner'."
And in an era where other female stars were singing tracks, often written by men, about stealing someone else's boyfriend, Aaliyah's lyrics stayed out of other people's relationships.
"A lot of the time singers would be talking negatively about the situations of love whereas Aaliyah would just talk about them kind of in a nicer way, in a softer way," says Jaydonclover.
'You'll always catch Aaliyah's vibe'
But music has changed greatly since the late 90s. Pop songs today are under three minutes long to grab attention from the first beat and to satisfy the algorithms and playlists of Spotify, Apple Music and every other modern music platform.
"People today, they just have a different relationship with music," says Jaydonclover, whose favourite Aaliyah song is either Are You That Somebody or Come Over.
"I just hope that they're able to appreciate the legacy she's left behind and just understand that we don't always have to be so harsh, so brash and so loud, it can accompany you when you relax, and when you're chilling."
And for Samson, who says the title track from the One In A Million album is his favourite, it's all about the vibe.
"What Aaliyah always brings is a vibe. When you're listening to One In A Million or you're listening to Rock The Boat, it's a vibe," he says.
"People need to allow her music to breathe and you'll always catch the vibe."