Festivals: Drug supply issues and low tolerance add to overdose fears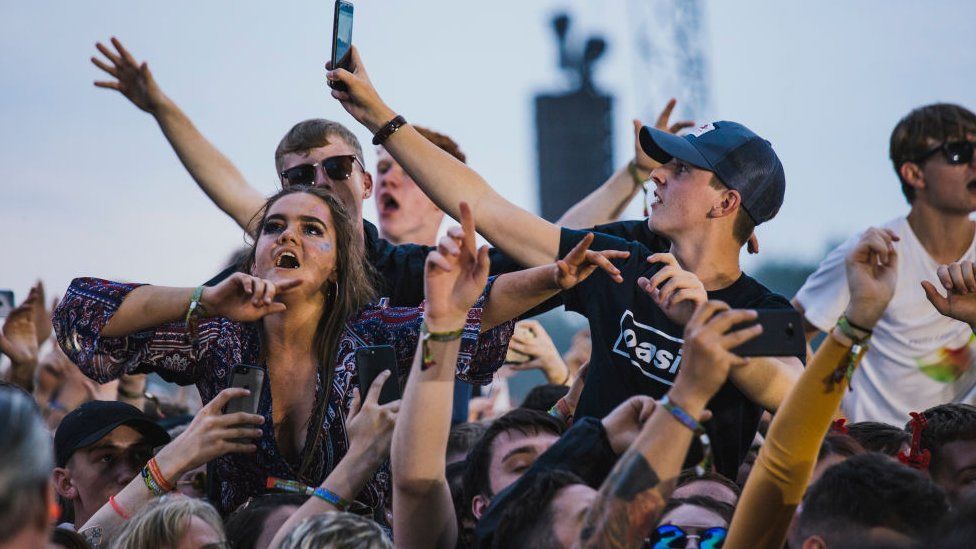 This weekend's a big one for festivals - about 500,000 people are heading off to events such as Creamfields, Reading and Leeds, and Lost Village.
But campaigners say the risk of drug overdoses could be higher than usual.
The Loop says supply chain issues could mean people end up taking stronger or more dangerous drugs.
And there are fears people's tolerance will be lower if they've had a break from taking drugs during the pandemic, as so many events have been called off.
Radio 1 Newsbeat has spoken to several people who regularly take drugs at festivals.
They say that while some people spent lockdown partying hard in their kitchens, for most people it's been a quieter 18 months than usual.
Drugs 'inevitable' at festivals
James is going to Creamfields this weekend and describes himself as a "frequent user" at festivals.
He thinks more on-site drug testing should be on offer.
"It's inevitable people will use at big events... if you have [testing] available then it'd mean you could find out exactly what's in your product, while also being able to seek advice on how to maximise your own safety," he tells Newsbeat.
He also believes some festivals put out mixed messaging about drugs on social media.
"I saw one share a post on Instagram about a woman who took them into a festival and went to prison, which is scare-mongering.
"Then a few hours later the same festival posts how nobody will judge people if they take drugs and seek welfare advice.
"But if someone sees that first post then why would they want to seek help, if there's a chance they think they could be jailed?"
'Lives are being lost unnecessarily'
Anna Short's campaigning for more drug safety checking at festivals, and better education for users.
Her 17-year-old niece Anya Buckley died at Leeds Festival in 2019 after taking a mixture of drugs.
MDMA was the main factor in Anya's death and "she wasn't aware of what she was taking and how strong it was", Anna tells Newsbeat.
"Had she been able to test her drugs on-site we could've found ourselves in a very different situation."
"We have to be realistic about the fact we're never going to stop people from taking drugs, especially at festivals and nightclubs. [But] we know from talking to Anya's friends and other young people that they want to be able to find out more about drugs and how they can stay safe."
Anna believes so much more can be done by festival organisers.
"The ones that haven't got testing facilities in place need to appreciate that lives are being lost unnecessarily. It's also really important that people need to be able to access water, areas of shade and know they can get non-judgmental advice.
"Anya had her whole life ahead of her, and that's been taken away."
The Loop is an organisation that tests drugs at nightclubs and festivals, letting people know exactly what they're about to take.
And its director Prof Fiona Measham is worried about the next few days.
"This weekend is an exciting time but we are concerned if people haven't been out and about partying for 18 months they will have lower tolerance if they happen to be taking them, so there's a greater risk of overdose."
And there's another factor adding to her concerns.
"A combination of those things mean there's a shortage of certain party drugs and suppliers are selling other drugs instead - such as cathinone instead of MDMA."
'Be extra careful this weekend'
Cathinone is a stimulant and the effects are considered similar to MDMA and amphetamines. It can sometimes be cut with caffeine and the risks include damage to the heart and nervous system.
The charity FRANK warns that because many cathinones are still relatively new on the market, little is known about them and so the risks are unpredictable.
Fiona says the supply chain issues could therefore "lead to more drug-related harms".
"We want people to be extra careful this weekend because of that," she says.
Melvin Benn, from Festival Republic, which runs a lot of the UK's festivals, said the organisers took customers' welfare "very seriously" and extra measures to discourage people from taking drugs have been put in place this year.
Festival Republic didn't respond to a request about whether it has plans to test drugs on-site for users.
FRANK provides a confidential service to anyone wanting information, advice or support about any aspect of drugs.