Vaccine passports: Covid rule change a 'blow to those most at risk'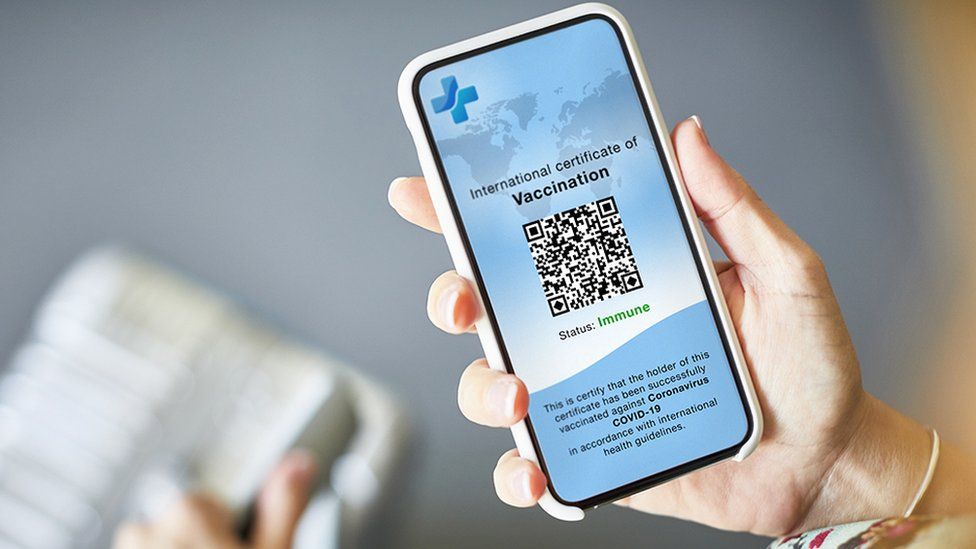 You check your pockets before you leave the house - phone, keys, purse, wallet… and vaccine passport.
The aim of vaccine passports, supposed to come in at the end of the month, was to reduce Covid cases and avoid lockdowns.
But it was criticised by venues, some MPs and people who've not yet been vaccinated.
Laith Alobaidi tells Radio 1 Newsbeat the lack of a vaccine passport is "another blow to sick and disabled people, the most clinically vulnerable to Covid".
The 26-year-old lives with Crohn's Disease, and due to the medication he takes to manage his health, he's highly immunocompromised and clinically extremely vulnerable.
He's spent most of the last 18 months shielding, even when the guidelines have said it's safer to go outside.
"Many of us are used to being more cautious around catching viruses because we're more prone to it," he says.
Laith, from Devon, feels vaccine passports would make him feel more comfortable attending clubs and events.
"It would give me reassurance. And it feels like there aren't too many accommodations for the most vulnerable at events."
He says he's less likely to go to a club or large event following the government's change of mind.
"If I knew everybody there was vaccinated, it would make me feel safer."
'A real and rational threat'
One of Laith's symptoms is needing the bathroom quite frequently, and he has to think about whether it will be a clean environment.
"So that's another layer of uncertainty and anxiety that's come with the pandemic."
It's not just anxiety he feels being immunocompromised and attending events - but a "real and rational threat" to his life.
For 22-year-old Ana, the effect of Covid on the arts is why she wanted to see vaccine passports introduced.
She works part-time at a London theatre and feels anxious because of the close proximity of people - including some who may not be fully vaccinated.
"We are one of the industries that have been closed the longest, and have had to function on our own," the theatre student tells Newsbeat.
"If I sit in on a show, I have people next to me, they cough, they sneeze, they don't wear masks."
"It's quite a small theatre, the corridors are narrow, so in the interval when everyone rushes to the toilets, they're talking loudly and not wearing masks, I feel very claustrophobic and unsafe."
She's worried that if she gets the virus, it'll hurt her work and education.
"I don't get paid if I take time off and I'm at university so it would impact my studies."
And without a vaccine passport, she has no intention of going to a nightclub or festival "for a very long time".
But the change of heart on vaccine passports could come as a relief to people like Izzy Lock, who has chosen not to have the vaccine.
"I'm a healthy 27 year old girl", she tells Newsbeat. "Although the [side effect] risks are small, I'd rather not risk it at all."
"I think people shouldn't be penalised for having a choice of what they put inside their body," she says.
"Clubbing and attending to Arsenal every so often are two things that I enjoy, so I wouldn't really have a choice."
The nightlife industry has welcomed the move to scrap vaccine passports for now.
For Aaron Mellor - the boss of Tokyo Industries, which owns 45 clubs in the UK - it's a massive weight off his shoulders.
"The only certainty throughout all of this has been the government's total uncertainty in everything," he tells Newsbeat.
He says because a night out can be spur of the moment. it's different to events like festivals where people pay and prepare months in advance.
"Any form of capacity restrictions or social distancing mechanics is super difficult to manage and control."
Kate Nicholls, chief executive at UK Hospitality, says the policy would have discriminated against young people.
"It's right to keep it in reserve, should the situation worsen and to be able to look again at that. But the costs of vaccine passports far outweighed the benefits in our eyes."
She says there was potential for sales to dip up to 40% if the scheme went ahead - and to check passports you'd need more staff.
"This would cause an increase in costs for business because you'd need to check everybody who was coming in. So you'd see squeezed margins of businesses struggling to stay afloat."
Michael Kill, chief executive of the Night Time Industries Association, says there's still frustration that businesses have been "left to hang and it's affected business, staff and ticket sales".
He believes the industry has worked hard with lateral flow tests and PCRs to mitigate the spread of the virus and passports would have been "a step too far".
"I do think there'll be other mitigations that will come as we move forward and potentially see infection rates go up. But they're challenges that we need to face."
"These industries have supported the public health strategy for over 18 months, people have lost jobs, businesses and homes. We don't want to marginalise them further now," he says.