Fifa 22 soundtrack: Why getting on it is a 'bucket list' moment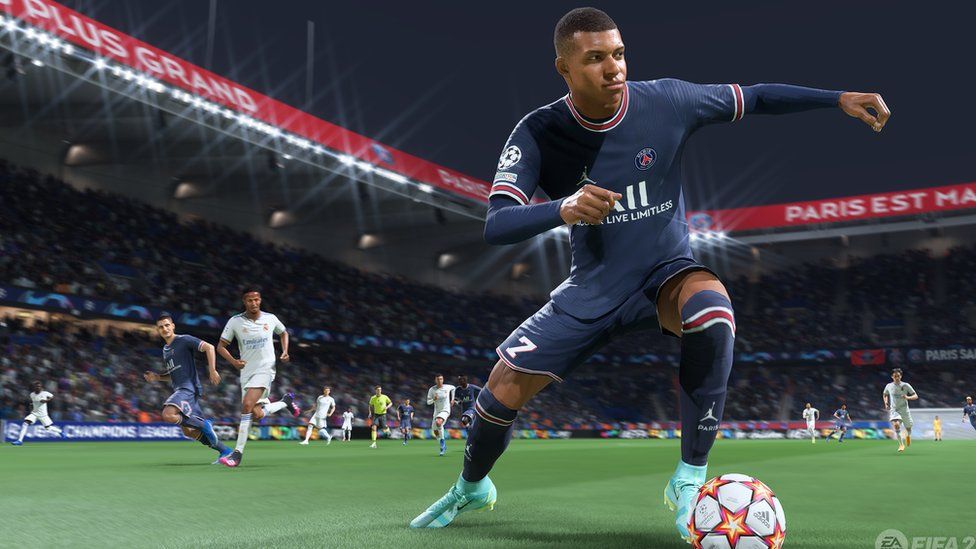 Let's be honest, if Fifa ever put a music festival on, it would probably have the best line-up of all time.
For the last 20 years or so, the game's soundtrack has blended well-established artists with brand new singer-songwriters to create a unique football mixtape.
Everyone from Blur and Muse to Skepta and Billie Eilish have featured and songs become ingrained in people's heads as they get ready to play.
The 2022 soundtrack has been revealed with tracks from Little Simz, Glass Animals, Joy Crookes and Chvrches.
Alongside some of these familiar names are even newer artists like Willow Kayne, who says appearing on Fifa 22 is a "bucket list" moment.
"It's an honour to be on the soundtrack. It's a big achievement for me," she tells Radio 1 Newsbeat.
Her anthem Two Seater features on this year's edition of the game and she admits it's one of the "five things" she wanted to achieve when she started making music.
"I remember when we made it, I thought it sounded like a Fifa tune at the time. When it came out, I had a lot of comments with people saying the same."
As well as the prestige, the exposure for a new artist can be massive. "I'm now a total Fifa girl," she says.
And since revealing the news on Instagram, Willow also says she's had former classmates (who she says never got on with her) get in touch to tell her how sick a moment it is for her.
"Success is the best revenge."
Getting featured is a huge profile boost and a way for up-and-coming artists to gain new fans, but sometimes it can work the other way round, too.
Also on the playlist is emerging British rapper V.I.C., whose fans told him how good his track A Teen would sound as part of Fifa's soundtrack.
He dismissed the idea at first, but then started to think about how he could make it happen and how he had nothing to lose.
"I feel everybody likes a David and Goliath story. How does someone who's an unsigned, unknown person do something with everyone watching? Everybody's scared to fail," he says.
At the time, he was working night shifts at Amazon and says he was on his "last legs" when it came to trying to break into music.
He put a video out introducing himself, the song and how it might sound good on Fifa. He says he went to sleep and woke up to 300,000 views with loads of people tagging the makers, EA Sports.
"It's mad that it will get the song to a huge audience. People still remember the song they were listening to when they were getting slapped on Fifa 20 years ago."
Blur - Song 2 (1998)
Gorillaz - 19-2000 (2004)
MGMT - Kids (2009)
John Newman - Love Me Again (2014)
Billie Eilish - You Should See Me In A Crown (2019)
Foals - The Runner (2020)
Skepta - Same Old Story (2020)
Other artists on the soundtrack also know the power the game can potentially have on a song's success including James Smith, the lead singer of Leeds-based band Yard Act.
The group has known for months that their track The Overload would be featured this year but have had to keep the news it secret for a few months.
"It feels like a milestone," says James. "I won't say it's the reason I got into music but it definitely feels like one of those things that you can check off and feel pretty good about."
James remembers the "bonding experience" of playing Fifa when he was growing up, with artists such as Gorillaz, LCD Soundsystem and Groove Armada sticking in his head.
"The game is part of every gamer's life, whether you're a devoted addict or just a passing fan. It's relatable for so many people. Even my mum knows about it."
He says other people's validation of his music "instantly changes" his own opinion of it.
"It makes you see things in it that you didn't see before. It makes you more confident and it reinforces your abilities."
The perfect marriage of music and football
Analysis by Steffan Powell, Newsbeat gaming reporter
Fifa's release is a moment that millions of gamers around the world await eagerly every year.
How well the game is received can vary considerably. For example, Fifa 18 got high praise from reviewers and scored a Metacritic rating of 84, compared to last year's title, Fifa 21, which received a much lower 72.
However fans and reviewers rate the updated gameplay and graphics, the success of the soundtrack is separate and has a life of its own.
If a song is one of those tunes that come on when players fiddle with their Ultimate Team line-ups or wait for their mates to join an online game, then it can make careers.
Not many other games have music curation that makes such an impact - and by investing in such a strong line up for Fifa 22 developers are clearly keen to keep this legacy going.