Genshin Impact earns $2 billion after 'unheard of' success in first year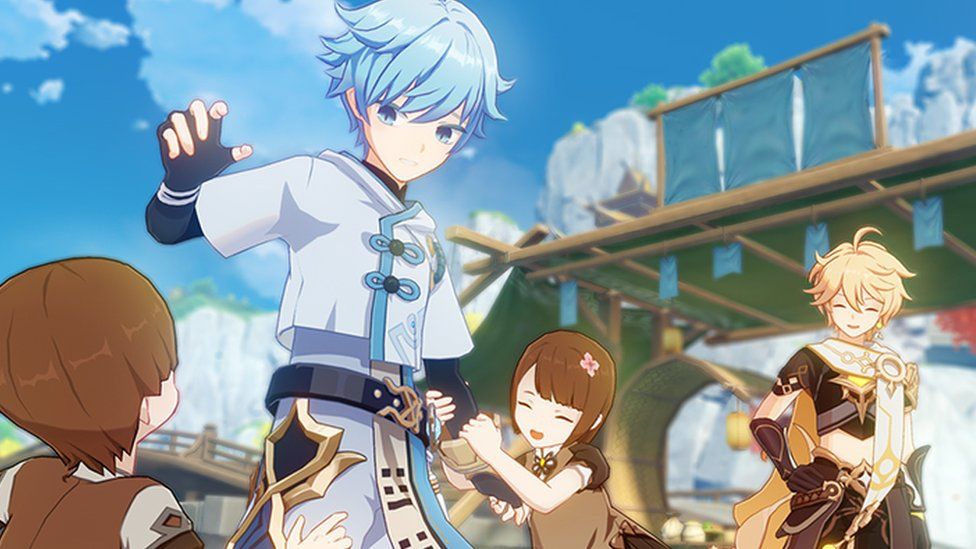 Video game Genshin Impact earned an estimated $2 billion (£149m) in its first year, from mobile phones alone.
The game, which marked its one year anniversary this week, was released on 28 September 2020 on mobile, PC and PlayStation.
New data from app analysis company Sensor Tower shows the game is the third biggest-earning mobile game worldwide in the past 12 months.
Only Honour of Kings and PUBG Mobile earned more.
Genshin Impact has generated $577 million from players in China, where it is the biggest earning mobile game.
It's a free-to-play game about a mysterious traveller in search of their lost sibling - and the bright, intricately designed characters you meet journeying through a sprawling fantasy land.
It relies on micro transactions to make money.
'Genshin was a real shock'
"EA titles like FIFA quite regularly make considerable amounts of money, but that's got the power of EA behind it and many years of video game marketing," video game and tech journalist Jess Weatherbed tells Radio 1 Newsbeat.
"Genshin was a real shock because it just came out of nowhere in the pandemic with seemingly no marketing, especially in the West.
"Within a matter of weeks, it was all over popular streaming platforms like Twitch, it was on most mobile phones of a certain age group. It was practically unheard of for a game to come out of nowhere and be that successful."
And it landed in the middle of a global pandemic, which may also have helped the game find a fanbase.
"It was almost like a rescue remedy for people that were desperately lonely and wanted something to do with their time." says Jess.
"I was entrapped in it with several of my friends for many months."
Developers Mihoyo keep players interested with updates to the game every few weeks.
That money is made through in-game purchases of randomised items, a bit like loot boxes, which is why the game isn't fully available in places like Belgium, where things like this are banned because it's considered a form of gambling.
You might have seen something similar in games like FIFA where, after spending your money to buy the game, you can then drop even more to get the players you want on your team.
Except here, instead of trying for Premier League strikers, you're trying to get a flame-hurling lawyer or an icy exorcist to join your crew - and you're only guaranteed to get them after a spending a variable amount of in-game currency.
"There is a lot of animosity, I think, from what people would consider to be 'real gamers'," says Jess.
"They don't want to be feeling like they're conned out of their money in order to play a game. But you can play games like Genshin without spending a penny and that is part of the appeal."
It's a model known as gacha, or gachapon, named after expensive toy vending machines found in Japan.
Sure, you can play Genshin without spending a penny - like you can with Fortnite - but the game will go out of its way to tempt players with its newest virtual items.
At the end of 2020 it also won a number of awards, including Game of the Year from both Apple and Google.
Jess believes one of the game's biggest draws is the accessibility of being free to play, and available across various platforms.
"You didn't need to buy an expensive gaming laptop, you didn't need to queue up to try and desperately find a PS5, you could just download it onto your smartphone, or play it on PC," says Jess.
"There was a sense of magic there that I haven't had for quite a few years."
Genshin Impact is mostly a solo game, but offered something else for people trapped in their homes who needed an escape from reality.
"With these massive open world games, if you really want to, you can just disappear into them, you've got fully functioning communities within them," says Jess.
"It's very easy to get absorbed into that kind of community - even when you're not in the midst of a global pandemic and you can't leave your home."
After the success of Genshin Impact in its first 12 months, Jess says rival companies will be looking to "up their production values" to try and grab a slice of those Mihoyo millions.
"Other gachapon games usually are card trading games with a little bit of narrative on the side, there's no kind of real actual gameplay to it."
"The bar has definitely been raised."