Sergio Aguero: Man City fans pay tribute to retiring 'legend'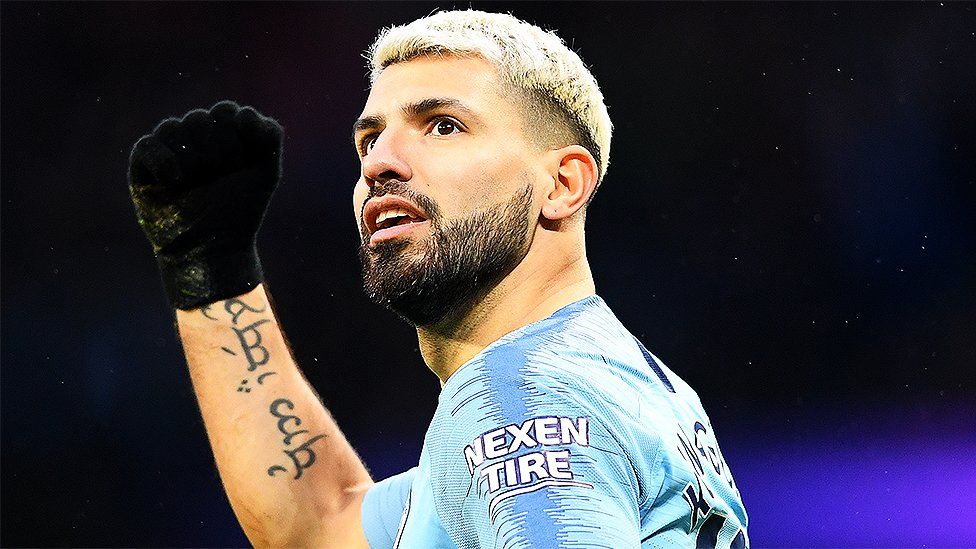 Sergio Aguero, 33, said a heart problem means he is no longer able to continue playing football.
In an emotional press conference, he said it was "a very difficult moment" but that he took the decision for his health.
"I will leave with my head held high. I don't know what awaits me in the next part of my life, but I know I have people who love me."
The striker spent a decade at Manchester City before joining Barcelona this summer. Radio 1 Newsbeat's been speaking to Man City fans about the Argentine's legacy.
For Liv Lang, there's only really one place to start when talking about Sergio "Agueroooooo".
And that's the 94th-minute winner on the final day of the season in 2012 - known by City fans as 93:20 - to secure the Premier League title for Man City over rivals Manchester United.
"Every City fan will have the same answer for his best moment," the 20-year-old season ticket-holder says.
Liv was 11 at the time and was watching the game with her nana and granddad, jumping and screaming so much "the room was shaking".
"No matter where you were watching it or how old you were, you remember that goal. It's engraved in my memory as the best Premier League moment ever."
The BBC is not responsible for the content of external sites.
Lewis Brown was at the game at the Etihad Stadium and says the moment still gives him "goosebumps".
"That memory will live long in most fans memories. I'll treasure that for the rest of my life," he says.
'Took us to the next level'
Lewis, 27, is a football YouTuber for fan channel City Xtra, and says Aguero "always gave you honesty" on the pitch.
"There was never a lack of effort and that's something I admire about any player."
He feels Aguero took City to the "next level".
"He turned us from a team that had capability and talent to win a cup, into a team that could win the Premier League. He gave that extra bit of firepower."
Aguero's scored the most goals of an overseas player in the Premier League with 184 goals, the most Premier League hat-tricks (12) and the joint record for most goals scored in a single match (five).
He is also City's leading goal scorer with 260 goals and won the Premier League Golden Boot for most goals in the 2014-15 season.
Lewis says without Aguero, the club would not have achieved the sustained success it has, which includes five Premier League titles since he joined.
"His consistency over the course of 38 games is what you need, and we've remained at that level for a decade now."
Liv adds: "We wouldn't be where we are today without him."
It's not just Aguero the player who City fans admire, but also the character.
Lewis describes Aguero as "the ultimate professional".
"I think off the pitch he never gave us anything extra that some of the other players did in terms of fan engagement. But at the same time there was never any controversy."
Liv agrees and says while footballers can often have negative stories about them in the media, she "can't remember" anything negative about Aguero.
"He kept to himself and I think a lot of players and fans look up to him for that," she says.
Liv's met Aguero a few times and says "he was always so lovely".
"He was always willing to stop and chat. And I think that's a really good legacy to have, to be known as just a nice person."