Love Island star Demi Jones announces she is cancer free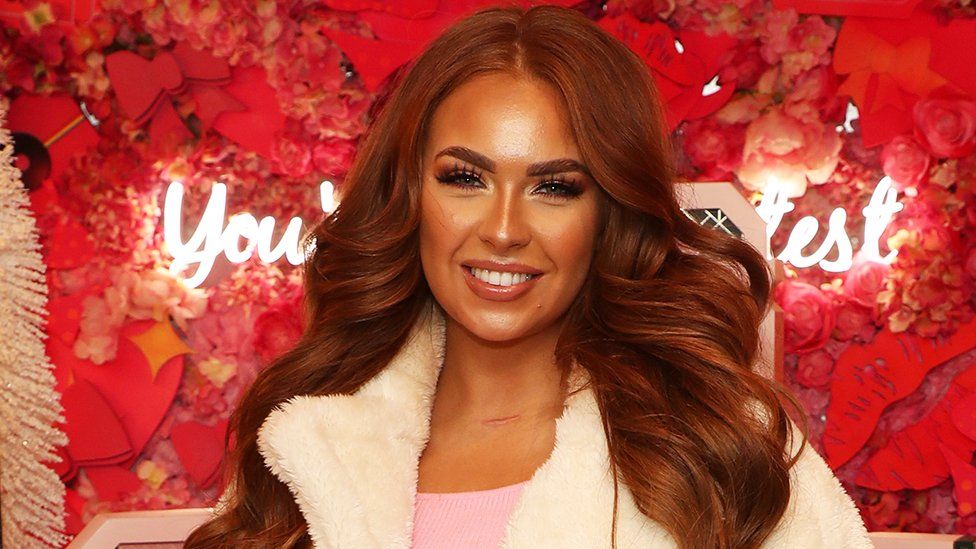 Former Love Island contestant Demi Jones has announced she's free of cancer.
The reality TV star, 23, was diagnosed with thyroid cancer in May and revealed the latest news to fans on Instagram.
She wrote: "I'm cancer free! I did it! I got my full body scan results back and there's not a single cancer cell left in my body."
Thyroid cancer is a rare type of cancer that affects a small gland at the base of the neck that produces hormones.
Demi, who was on the 2020 series of the ITV show, shared a photo of herself outside Queen Alexandra Hospital in Portsmouth.
She wrote: "It's been such a difficult year mentally and physically for me with my surgeries and treatment but I'm beyond grateful for everyone's kindness and support over this past year.
"I will continue to be an advocate for cancer awareness and all my love and strength goes out to those who continue to fight this awful disease, here's to a healthy and happy 2022."
Thyroid cancer is most common in people in their 30s and women are two to three times more likely to develop it than men, according to the NHS.
The BBC is not responsible for the content of external sites.
Demi's Instagram followers have been receiving updates from her since she discovered a lump in her neck in early April.
Her diagnosis came after she was admitted to hospital where she had a "potentially cancerous" lump removed.
Demi entered the Love Island villa on day 16 of Love Island 2020 and made it to the final, coming third alongside Luke Mabbott, who she had partnered up with on the show. They have since split.
Fellow former Love Islanders Sharon Gaffka and Dr Alex George were among those sending their congratulations.
She's currently appearing on ITV's Strictly The Real Full Monty, where celebrities strip to raise awareness of cancer and getting checked.
What you need to know about thyroid cancer
"It's very treatable and for most thyroid cancers, we wouldn't expect them to have a significant impact on your life expectancy," Dr Amy Roy tells Radio 1 Newsbeat.
She's a consultant clinical oncologist specialising in thyroid cancer and says there are four types - with the most common one occurring in younger people.
"There is a small group which can be lethal, but thankfully they are very rare. And they tend to occur in older people."
Dr Roy says for most people, their cancer is picked up by accident when they're having a scan for another reason.
"But for some it will be because they've felt a lump in their neck."
She advises anyone who feels a lump in their neck, which stays there for more than a few weeks and isn't associated with a cold, cough or sore throat, to visit the GP.
Thyroid cancer has a "really good prognosis because there's such good treatments", according to Dr Roy.
Around nine in every 10 people are alive five years after a diagnosis of thyroid cancer. Many of these are cured and will have a normal lifespan.
She adds some of the treatments include surgery to remove the gland - which often is the only thing you need.
"Another might be to give thyroid replacement hormone so your body doesn't produce the hormone which can drive thyroid cancer."
There are other treatments like swallowing a radioactive tablet or liquid that can kill cancer cells - and in "rare cases" you may need more conventional treatments like chemotherapy or radiotherapy.
For more information and support on cancer, visit the BBC Action Line for a list of organisations that could help.