Doctor Who: 'I wanted The Doctor to whisk me away from everything awful'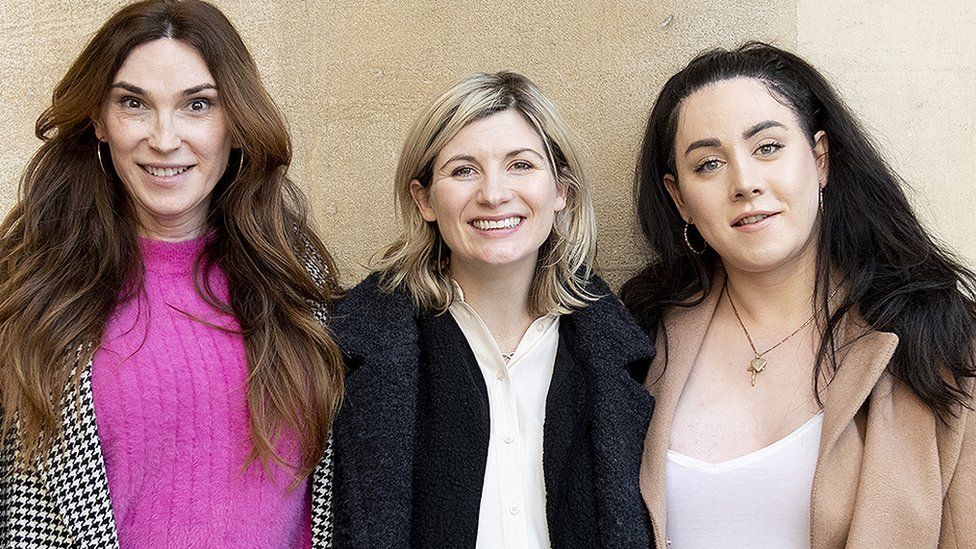 A new Doctor Who podcast spin-off series is making the show more female and LGBTQ+ than ever before.
Doctor Who: Redacted, written by a transgender woman and with a transgender star, premieres on BBC Sounds this week.
It's the story of three young women who make a conspiracy theory podcast about a mysterious blue box that crops up throughout history.
They also end up having an encounter of their own with a certain time-travelling alien.
"It's a real first for the Doctor Who universe to have a cast that's completely led by women and completely led by queer women," writer Juno Dawson tells Radio 1 Newsbeat.
The Jodie Whittaker era has already explored LGBTQ+ themes, including time travel assistant Yaz having a crush on The Doctor - which will be revisited in a new TV special.
"It's important that every person who comes to Doctor Who brings their own little identity," adds Juno.
"And of course, as a transgender woman myself it was important to me to see the lead character being trans as well."
'A real life story for trans people'
That lead character is Cleo, and is played by transgender activist Charlie Craggs, in her first ever acting role.
"It's a trans girl from a council estate in London - which is literally just me," she says.
"Cleo, unlike me, actually has had quite a hard time with her family.
"It's the story that is real life for a lot of trans people. I'm one of the lucky ones. My family were all very accepting, but most of my friends who are trans haven't had that experience."
Juno and Charlie were speaking to Newsbeat the day after hundreds of people protested outside Downing Street in London against government plans to ban conversion therapy for lesbian, gay and bisexual people - but not for transgender people.
The government says it will carry out separate work on transgender conversion therapy and is keen for any policy not to have unintended consequences, describing it as a legally complex area.
"We're living in quite a scary time for trans people. I'm a trans person, and I'm quite scared," says Juno.
"One of the ways things will get better is to let trans people tell stories about trans people."
'Whisk me away from everything awful'
Among many other writing credits, Juno has previously written a Doctor Who novel and two Torchwood (another Doctor Who spin-off) audio stories.
"I was a queer kid growing up in West Yorkshire, and the thought that one day a Timelord would turn up on my doorstep and whisk me away from everything that was awful in my life was a really seductive idea," she says.
"If you are a young person, who in any way feels like a bit of an outsider, it's incredibly exciting.
"You can just hop in a blue box and escape your problems."
Her first memory of Doctor Who was in 1980s, when the role was played by actor Sylvester McCoy, who travelled with an assistant played by theatre icon, Bonnie Langford.
"I was about five years old, and - big surprise - I just wanted to be Bonnie Langford," says Juno.
"That was one of the first times that I knew I really, really wanted to be a girl.
"And so for me, Doctor Who is one of the most significant stories of my life."
Charlie, on the other hand, has never seen an episode of Doctor Who.
But having already been approached by fans of the show since her casting was announced, she's fully aware of how important the show is and describes its fans as "the nicest, queerest and queer-friendliest audience."
"For your first acting gig, come on, getting a lead role in Dr Who is pretty sick, isn't it," she says.
Charlie has previously presented a documentary on BBC iPlayer about her experience as a trans person in the UK - but says trans representation in drama and entertainment is something very different, because it can reach people who might otherwise have no interest in transgender rights.
"When we're integrated into mainstream culture pieces, like big storylines in EastEnders or Coronation Street, it's so powerful because people aren't watching it for that," Charlie says.
"But they can take that from it. It's hard not to feel the humanity of Cleo's character when you're listening to this show.
"You'd have to be some sort of sociopath not to feel something when you hear what she's going through with her mum."
She says it brings people into the conversation "in a natural way" and doesn't make listeners "feel like they're being shouted at."
Charlie knows from very recent experience about the real-life impact of growing anti-trans sentiment in the UK. She was assaulted on public transport in London during the recording of Doctor Who: Redacted.
"It's even more important to me for that reason. We really are at a tipping point where we really need people on side," she says.
"I'm so tired of our community being victims."
'We're really normal, boring people'
Juno hopes positive transgender representation, in places like Doctor Who: Redacted, can go some way to improving public feeling towards - and ultimately the day-to-day lives of - trans people in the UK, in similar ways to LGBTQ+ shows in the past.
"When I look at shows like Queer As Folk or It's A Sin, they have changed the conversation around gay people, about HIV," she says
"I don't think there's been a trans equivalent of Queer As Folk or It's A Sin, and so I'm really hopeful that trans creators, like myself, will be given opportunities to tell our own stories."
One of her biggest hopes for sharing those stories? That people will learn how average trans people can be.
"It's so that people can get to know us, because actually, we're just really normal, boring people," Juno says.
"And sometimes normal, boring people go on adventures with The Doctor - and that's what Doctor Who has always been about."
The first episode of Doctor Who: Redacted will be available on BBC Sounds from Sunday 17 April 2022