Cristiano Ronaldo: Piers Morgan says player 'happy' with interview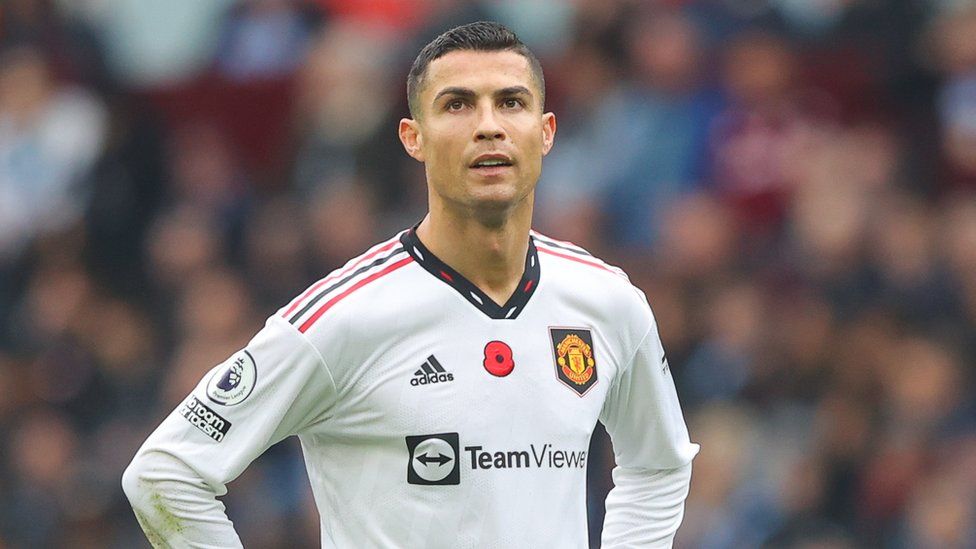 Cristiano Ronaldo is "very happy with the way things have played out" after his explosive interview about Manchester United, Piers Morgan says.
Fans have had a strong reaction to Ronaldo claiming the club has betrayed him.
But Piers says the two have spoken since part one of their interview aired on Wednesday and the star is satisfied.
"He knew what he wanted to say, and how he wanted to say it. He knew what the reaction would be," the presenter says.
TalkTV presenter Piers, who counts the striker as a personal friend, tells BBC Newsbeat Ronaldo "doesn't do anything without giving a lot of thought."
"He gave this a lot of thought," Piers says.
During the pair's chat, Ronaldo said he had no respect for current manager Erik Ten Hag.
He also criticised former team-mates and Manchester United legends Wayne Rooney and Gary Neville, and also took aim at the club's owners.
Manchester United fans have been critical of the striker, with some feeling there is no way back for him.
But Piers feels there are "a lot of people" who will support him after seeing the full interview.
'The worst year of Ronaldo's life'
The former tabloid newspaper editor says he has developed a friendship with Ronaldo over the years.
"I could tell that he was feeling increasingly frustrated," says Piers.
"And then, quite recently, he contacted me to say he wanted to do a big interview."
"He wanted to set the record straight, because for most of this year, he's been on the receiving end of really, I think, a ridiculously overblown amount of criticism."
He refers to problems at the club but also in his private life, with Ronaldo and his partner Georgina Rodriguez announcing the death of their baby boy earlier this year.
"And I think that it's been, as he said, the worst year of his professional and personal life."
He says Ronaldo wanted to "go on the record and set the record straight against what he thinks has been a lot of nonsense written and said about him".
"He's very honest about things that he's done wrong, and he wouldn't do them if he had his time again," Piers says.
Piers says he admires Ronaldo "for speaking up" and thinks "it's likely he won't return to Manchester United".
"But I wouldn't put it past him to have a brilliant World Cup and end up signing for another huge team," he says.
'Young players have too much money'
Ronaldo told Piers he felt younger players around the world do not have the same work ethic as players from his generation.
"Clearly, that's not happening at United. Now, the young players have too much money, not enough hunger," Piers says.
"They're not looking to learn from someone like Ronaldo when they should be knocking his door down every day, trying to glean what made him the greatest to ever play the game."
"I think there's a lot of arrogance there, a lot of complacency.
"And that may explain why Manchester United currently are a very mediocre side."
In one of his columns from 2008, Piers described Ronaldo as "a spoiled brat".
He's changed his mind since he's got to know him personally, he says.
"You see them for what they really are. And I now see him as a very different character.
"To me, he's a stand-up guy. He's been a very loyal friend, to a lot of people. He's a great family guy and is a brilliant football player," Piers adds.
Part two of 90 Minutes with Cristiano Ronaldo airs on TalkTV at 20:00 GMT.