Anthony Joshua opens up about mental health ahead of Franklin fight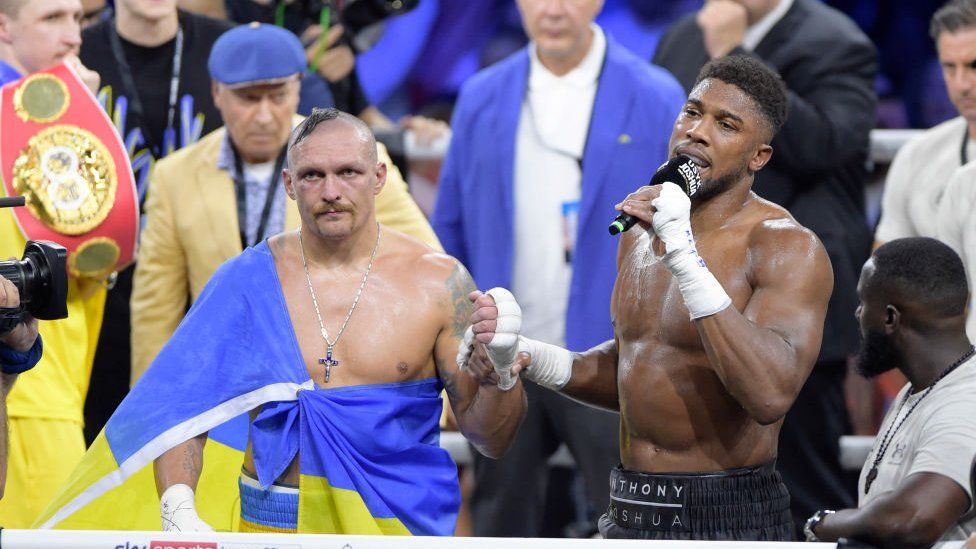 Anthony Joshua's had time to reflect after his last fight - a loss to Ukrainian Oleksandr Usyk.
But the defeat wasn't as memorable as what AJ did afterwards.
First, he grabbed Usyk's world title belts and dumped them out of the ring.
Then he argued with his opponent's corner, before grabbing the mic and telling the crowd: "If you knew my story, you'd understand the passion."
Follow that with his tearful post-fight press conference. "I don't feel anything, I'm just upset. Deep, deep down in my heart," he told reporters.
But today's feeling is a lot different. When BBC Newsbeat catches up with AJ he's getting ready to face Jermaine Franklin on Saturday at London's O2 Arena.
"The minute you give up is the minute your mental health wins," he says.
"You've just got to keep on going."
AJ says he did a lot of soul-searching after his loss to Usyk last August, and "a conscious decision last year to put my heart into boxing and nothing else" got him back on track.
"I couldn't stop. It's a pleasure to be able to stop because of the problems you have in life," he says.
"You don't really have time to deal with your mental health at the time - you just have them quiet moments and outbursts where you just go crazy."
Since then the British boxer has found a new trainer, booked the Franklin fight and been to a training camp in Texas.
"It was bumpy but I was hanging on and look where it's led me now - to the O2 Arena in London competing again."
AJ's been praised for opening up about the toll on his mental health after recent defeats in the ring - something he's encouraged others to do.
He's spoken about the immense pressure he felt before the fight, and feeling as if he'd let fans down with his defeat.
It's a similar weight to one he felt growing up - and one that could have led him down a very different path.
AJ says peer pressure and the desire to fit in - feeling like you have to have "material things" - was something he faced in his youth.
And the boxer, who was born in the UK to Nigerian parents, sees the same in young people growing up in diverse communities today.
"A lot of our parents are first generation immigrants - they moved to this country from another then had us," he says.
"I think that can lead to a culture clash between kids and parents.
"Parents haven't adjusted so how can the kids? I was doing certain things growing up and my parents may not have understood why I was doing the things I was doing."
So his other piece of advice is "stay out of trouble and definitely jail".
"It ruins your chances of jobs, travel and all sorts in the future," he says.
"My past always catches up with me even today. It's still causing me a lot of headaches."
But he has a different outlook now.
"Let's say a pair of new Jordans are more important than me getting the best grades in school... versus if I get better grades for the next five years I can afford to buy that business myself," he says.
"Educate yourself, keep on trying, keep on training, you'll find your place. And if you do find your ways, try and bring other people through as well."