MEPs
CON

Jacqueline Foster

CON

Sajjad Karim

LAB

Theresa Griffin

LAB

Afzal Khan

LAB

Julie Ward

UKIP

Louise Bours

UKIP

Paul Nuttall

UKIP

Steven Woolfe
Parties shown in alphabetical order
Results
Party
Votes
%
MEPs

change

+/-
Labour

Votes

594,063

Votes Percentage

33.86 (

+13.46

)

MEPs

3

MEPs +/-

+1

UK Independence Party

Votes

481,932

Votes Percentage

27.47 (

+11.62

)

MEPs

3

MEPs +/-

+2

Conservative

Votes

351,985

Votes Percentage

20.06 (

-5.56

)

MEPs

2

MEPs +/-

-1

Green

Votes

123,075

Votes Percentage

7.01 (

-0.68

)

MEPs

0

MEPs +/-

0

Liberal Democrat

Votes

105,487

Votes Percentage

6.01 (

-8.25

)

MEPs

0

MEPs +/-

-1

British National Party

Votes

32,826

Votes Percentage

1.87 (

-6.13

)

MEPs

0

MEPs +/-

-1

An Independence From Europe

Votes

26,731

Votes Percentage

1.52 (

0.00

)

MEPs

0

MEPs +/-

0

English Democrats

Votes

19,522

Votes Percentage

1.11 (

-1.31

)

MEPs

0

MEPs +/-

0

Pirate Party

Votes

8,597

Votes Percentage

0.49 (

0.00

)

MEPs

0

MEPs +/-

0

NO2EU

Votes

5,402

Votes Percentage

0.31 (

-1.12

)

MEPs

0

MEPs +/-

0

Socialist Equality Party

Votes

5,067

Votes Percentage

0.29 (

0.00

)

MEPs

0

MEPs +/-

0
Latest updates
North West England (European Parliament constituency)
27.05.2019
00:36
Breaking
Result: Brexit Party take three in North West
The Brexit Party have taken three of the eight seats in the North West.
The Liberal Democrats went from having none to two while the Green Party also got their first ever MEP in the region.
Labour won two seats, one less than last time.
26.05.2019
22:57
Manchester opts for Labour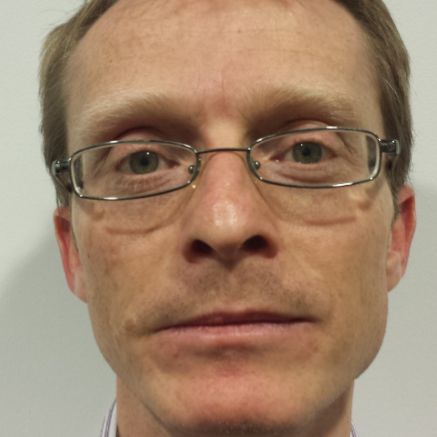 Mat Trewern
BBC Radio Manchester journalist
We're still waiting for the regional result for the North West but we have just had the results from Manchester which are interesting.
Labour finished first, second were the Liberal Democrats, third Greens and the Brexit Party fourth.
I'm not sure that will reflect the results across the North West.
As you look around the tables, the looks from the faces of candidates and party activists can tell you a lot.
There are some pretty glum faces on the Labour and Tory tables, the Brexit Party are looking very happy as are the Lib Dems, and the Green Party as well seem pretty upbeat.
As for Tommy Robinson (pictured above), the former leader of the English Defence League who is standing here as an independent, he seems to suggest he is not overly confident. In Manchester he got about 2,000 votes, just for comparison Labour got more than 40,000.
16.05.2019
09:31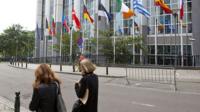 As Brexit dominates the work of MPs and MEPs, how seriously should voters take the European elections?
06.03.2019
13:39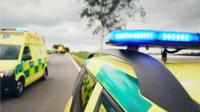 People in rural areas wait over 50% longer for an ambulance service response to life-threatening injuries.
01.03.2019
08:27
Today's weather
Mist, fog and drizzle today with the occasional bright spell in the afternoon. But more wet and windy weather on the way tomorrow.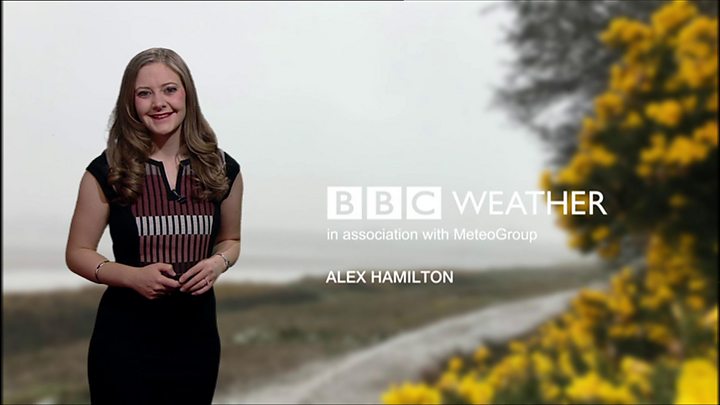 01.01.2019
23:13
Sport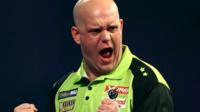 Number one seed Michael van Gerwen holds off England's Michael Smith to win a third PDC World Championship title.
21.09.2018
17:57
Weather: Drier night as storm moves away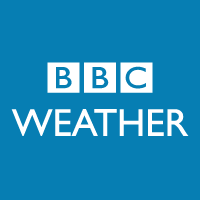 BBC Weather
Drier night with variable cloud as the stormy weather continues to move away. Highs of 8C tonight. A brighter start in the morning.
02.09.2018
06:54
Free Rein is a British-made Emmy-winning TV show which has become a horsey hit with families around the world.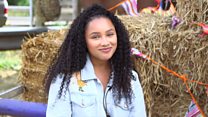 27.03.2018
17:57
Weather: Dry and cold night

BBC Weather
It will be a dry night with the chance of a few isolated showers. Some clearer spells with temperatures dropping away. Lows of 2C.
21.03.2018
16:30
BBC presenters climb mountain for Sport Relief
Annabel Tiffin and Roger Johnson are swapping the BBC North West Tonight sofa for Scafell Pike in the Lake District in aid of Sport Relief.
The highest mountain in England stands at about 3,281ft (978m).
Joining the presenters on their hike was people from around the region who have benefited from Sport Relief money.
There will be updates on the team's progress on BBC One in the North West from 18:30.
Back to top