MEPs
CON

David Campbell Bannerman

CON

Vicky Ford

CON

Geoffrey Van Orden

LAB

Richard Howitt

UKIP

Stuart Agnew

UKIP

Tim Aker

UKIP

Patrick O'Flynn
Parties shown in alphabetical order
Results
Party
Votes
%
MEPs

change

+/-
UK Independence Party

Votes

542,812

Votes Percentage

34.48 (

+14.90

)

MEPs

3

MEPs +/-

+1

Conservative

Votes

446,569

Votes Percentage

28.37 (

-2.84

)

MEPs

3

MEPs +/-

0

Labour

Votes

271,601

Votes Percentage

17.25 (

+6.78

)

MEPs

1

MEPs +/-

0

Green

Votes

133,331

Votes Percentage

8.47 (

-0.33

)

MEPs

0

MEPs +/-

0

Liberal Democrat

Votes

108,010

Votes Percentage

6.86 (

-6.94

)

MEPs

0

MEPs +/-

-1

An Independence From Europe

Votes

26,564

Votes Percentage

1.69 (

0.00

)

MEPs

0

MEPs +/-

0

English Democrats

Votes

16,497

Votes Percentage

1.05 (

-0.96

)

MEPs

0

MEPs +/-

0

British National Party

Votes

12,465

Votes Percentage

0.79 (

-5.26

)

MEPs

0

MEPs +/-

0

Christian Peoples Alliance

Votes

11,627

Votes Percentage

0.74 (

-0.80

)

MEPs

0

MEPs +/-

0

NO2EU

Votes

4,870

Votes Percentage

0.31 (

-0.56

)

MEPs

0

MEPs +/-

0
Latest updates
East of England (European Parliament constituency)
27.05.2019
02:01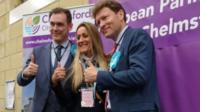 The Brexit Party wins three seats in the EU elections, with the Lib Dems and Greens overtaking Labour.
26.05.2019
23:16
Result: Brexit Party takes three in East
We have a result from the East of England and it's good news for the Brexit Party.
They took three of the seven seats, with the Liberal Democrats taking two and the Greens and the Conservatives one each.
16.05.2019
09:31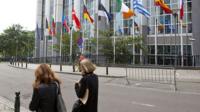 As Brexit dominates the work of MPs and MEPs, how seriously should voters take the European elections?
06.03.2019
13:39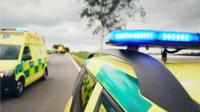 People in rural areas wait over 50% longer for an ambulance service response to life-threatening injuries.
29.06.2017
13:42
Oxford rail link plans open for public consultation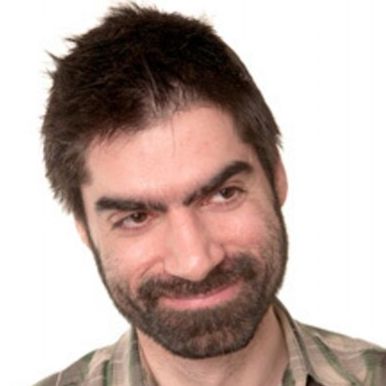 Dave Gilyeat
BBC South
A plan to improve rail links between Oxford and the east of England has opened for public consultation.
It is part of Network Rail's East West Rail project which aims to "make cross-country travel easier".
Phase 2 of the western section of the project will introduce direct rail passenger services between Bedford and Oxford, Milton Keynes and Oxford, as well as Milton Keynes and London Marylebone via Aylesbury.
It will mean passengers and freight services can make the journey between Bedford and Oxford without having to travel in and out of London.
The work is being funded by the Department for Transport with a contribution from the East West Rail Consortium.
Project director Dominic Baldwin said: "We want as many people as possible to engage with our plans which will make travel across Britain easier."
One of the ways to comment is to head to a dedicated website.
05.09.2016
09:38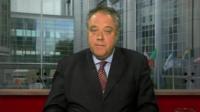 A senior Labour MEP announces plans to stand down from the European Parliament later this year.
24.03.2015
19:50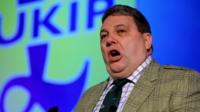 A UKIP election candidate quits the party over comments made by the party's only Scottish MEP about a Scottish government minister.
26.05.2014
15:15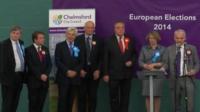 The UK Independence Party tops the poll in the European elections for the East of England.
25.05.2014
23:19
Farage the 'mirage'
standard
Labour MEP Richard Howitt has been re-elected in the East region. But he says his party "must acknowledge the concerns" UKIP has tapped into. "We do not reject those concerns," he adds. "But we do reject the prescription offered by UKIP. We say that Farage is a mirage."
22:37
Messages from Eastern Region
John Curtice
Professor of politics at Strathclyde University
standard
UKIP has come top in this region where it did well in the local elections. Its vote has advanced by as much as 15 percentage points. In contrast Labour's vote is down just seven points. But we should note that the Tories are down by only three points and that, on the results we've had so far, we could not be sure that Labour will surpass the Tories - let alone beat UKIP.
Back to top