Click here for full detail of results.
MEPs
DUP

Diane Dodds

SF

Martina Anderson

UUP

Jim Nicholson
Parties shown in alphabetical order
Latest updates
Northern Ireland (European Parliament constituency)
15.06.2019
07:41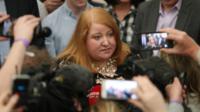 In a new documentary exploring the Alliance surge, leader Naomi Long rejects criticism of her party.
09.06.2019
13:10
Gill McIlmoyle from the National Trust explains what it takes to make a Blue Flag Beach.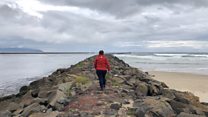 28.05.2019
01:25
The DUP's Diane Dodds, Alliance leader Naomi Long and Sinn Féin's Martina Anderson will go to Brussels with different interpretations of what the vote means for Brexit.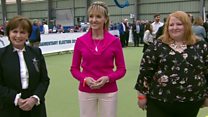 00:37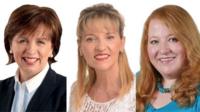 Pro-Remain Alliance secures a record result as the EU elections see all three of NI's seats won by women.
00:31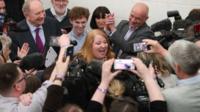 Naomi Long surprised even her biggest supporters by pipping Sinn Féin to NI's second seat.
00:05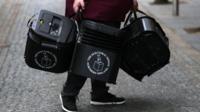 It was a keen pace at the count, and the results could not have been more dramatic.
27.05.2019
23:03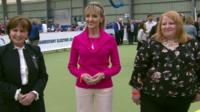 Naomi Long more than doubles the Alliance vote while Diane Dodds and Martina Anderson retain seats.
20:55
And that's it...
After a tense weekend, the results of Northern Ireland's European election were announced faster than many predicted.
It was an election marked by an upsurge in support for the Alliance Party, and is the first time three women have been elected to represent the region in the European Parliament.
Thanks for your company throughout the day. Good night.
20:45
Time to tidy up in Magherafelt
20:37
An election of surprises all round
Jayne McCormack
BBC News NI
Counting has ended for the NI results of the European elections, with three women elected as MEPs for the first time ever. Over in under 12 hours, this election brought with it surprises that few saw coming.
Sinn Féin's Martina Anderson topped the poll but her vote was down. She took the third and final seat.
The DUP's Diane Dodds was the first elected, but it was Alliance leader Naomi Long who exceeded expectations. She took the second seat - and polled more than 170,000 votes - taking transfers from right across the spectrum.
The Ulster Unionists have some reflecting to do - they failed to retain the seat they've held for four decades, with Danny Kennedy only coming sixth.
Now the question is: How long will the three successful candidates be MEPs?
Back to top